Offline retail proves resilient in face of recent obstacles-[Developments in internet technology and logistics technology make Chinese retail more resilient]
2022.09.15 SOURCE:CHINA DAILY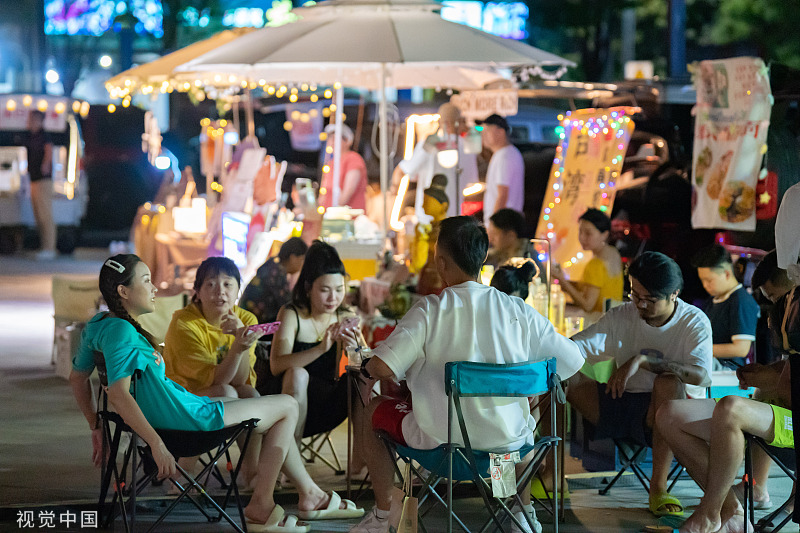 Offline retail demonstrates its strong resilience despite the huge pressure on physical retail by the repeated resurgence of the pandemic, according to a report by the global measurement and data analysis company NielsenIQ.
According to the report entitled China Retail Heartbeat, offline retail sales still represent 60 percent of the fast-moving consumer goods market in China FMCG retail channels, even in the "new normal" of the pandemic.
In specific terms, the modern trade dominated by hypermarkets, supermarkets, minimarkets and convenience stores (CVS) makes up 29 percent of the total, and traditional trade represented by grocery stores accounts for 23 percent; the O2O channel comprised 2 percent in July, but the share increased by 51 percent from January of 2019.
That not only injects new vitality into China's economy that has been slowed down amid the pandemic, but also brings vigor and confidence into physical retail that's struggling to survive during the pandemic.
"China's retail industry has undergone tremendous changes over the past years. With the revolution of mobile internet technology, the gradual improvement of commodity supply chains and the development of logistic and delivery services, retailers have seen remarkable changes in products, consumption scenarios and even management. The changes at both supply and demand ends drive the reshaping of channels," said Nancy Song, Managing Director of NielsenIQ China.
Keeping up with the trends of the retail market, NielsenIQ redefined offline retail channels to explore new growth points and engines, in the hope of bringing unprecedented transformation and development opportunities to the offline retailers and brand operators in China.
In its latest report, NielsenIQ defined modern trade and traditional trade more precisely, introducing terms of new segment channels like "Chain Modern Trade" (CMT) and "Modernizing Independent Trade" (MIT) to improve data granularity and reflect the most accurate market landscape. To be specific, in 2021, the number of "Chain Modern Trade" was 150,000, increased by 14 percent from 2019. "Modernizing Independent Trade" includes independent minimarkets and large groceries, with the numbers respectively standing at 300,000 and 1.11 million in 2021, up 27 percent and 8 percent from 2019, respectively.
In 2021, the Ministry of Commerce issued a policy to promote the construction of "15-minute life circles", empowering and accelerating the near-field retail commerce and the retail developments in lower-tier cities. Shopping convenience and service experience are prioritized among consumer preferences, which are expected to benefit the small and neighborhood format retailers.
Such a trend is also evidenced in NielsenIQ's latest report, which said that small and medium-sized retail businesses lead the growth of chain modern trade against the downstream of hypermarkets, among which chain supermarkets and convenience stores were particularly eye-catching. In 2021, chain supermarkets grew by 14.3 percent year-on-year, the number of convenience stores increased by 22.3 percent from 2019.
Thanks to robust supply chains, centralized logistic systems that ensure product diversity and freshness, competitive product prices and improved shopping experience, small and medium-sized chain supermarkets and convenience stores can quickly penetrate into upper and low-tier cities.
Compared with 2019, the number of chain supermarkets and convenience stores increased by 24 percent in low-tier cities, and by 18 percent in high-tier cities in 2021, leading the overall growth of chain modern trade.