Landmark net-zero industrial park taking shape-[green technology business;carbon peak and carbon neutrality;renewable energy power generation]
2022.09.01 SOURCE:By ZHENG XIN in Beijing and YUAN HUI in Hohhot | CHINA DAILY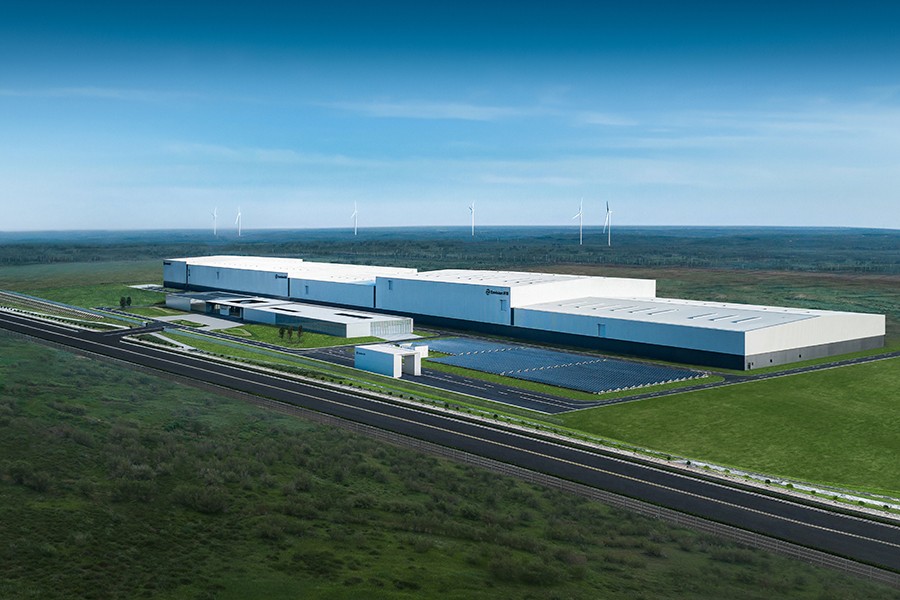 North China-based facility to provide clean power to nearby enterprises

In Ordos, Inner Mongolia autonomous region, the world's first net-zero industrial park powered by the latest wind, solar and hydrogen power technologies, has been gradually taking shape, helping initiate a new industrial transition in the country and across the world.
The industrial park, built by major domestic green technology business Envision Group, will use 100 percent renewable energy, including solar, wind power and energy storage, for production and operation activity by high energy-consuming industries. This will not only play a key role in helping China realize its carbon peak and carbon neutrality goals but also lead the world's net-zero industrial transition, said Zhang Lei, CEO of Envision, during a recent Ordos net-zero industry summit.
Envision said excess power produced in the park will be sold to the grid, and stored green energy will be retrieved from the grid when needed, so as to ensure 100 percent net-zero energy, safe and stable supplies, and reduced costs.
After more than one year's development since the net-zero industrial park was launched last year, the project currently houses a wind power plant as well as battery and hydrogen energy production, with an estimated annual output value of 100 billion yuan ($14.5 billion), the company added.
The industrial park has attracted numerous upstream and downstream powerhouses in the green energy industry chain so far, including LONGi Green Energy Technology, Zhejiang Huayou Cobalt and Shanghai Hydrogen Propulsion Technology Co.
Green hydrogen will also be playing an important role in interconnecting renewable energy and decarbonization of industrial systems within the industrial park, the production of which will be applied to downstream industries to further reduce coal consumption in Ordos.
Ordos is rich in coal reserves. Latest data show that proven coal reserves of the Ordos Plateau stand at 210.2 billion metric tons, accounting for approximately one-sixth of the country's supply, and proven natural gas reserves stand at nearly 5 trillion cubic meters, accounting for one-third, according to local authorities.
In the past few decades, a large number of high-energy-consuming projects have been built in the region, including coal power, coal chemical industry, iron and steel, electrolytic aluminum and big data centers, resulting in an increase in carbon emissions.
The integration of green energy, transportation and the chemical industry will help drive the vigorous development of the net-zero industrial park in Ordos, helping the region-which has unique regional advantages due to its rich and affordable renewable energy resources-further tap its potential, said Envision.
The Energy Research Institute of the Chinese Academy of Macroeconomic Research said regions with rich and low-cost renewable energy, including the southwest and the three northeastern regions, will attract more industries, with rising demand to achieve extensive carbon emissions reduction.
The Rocky Mountain Institute agreed, saying that compared with transporting energy to regions where industries are located, attracting industries to regions with rich and cheap clean energy is a model with great potential for replication.
Li Ting, managing director and chief representative of the Rocky Mountain Institute's Beijing office, said industrial parks are the best places for industrial upgrading and technological model innovation, and play a pivotal role in China's energy transition and dual carbon strategy.
"In the future, we will see more parks practicing energy transition through innovation and implementable models. Among them, the availability of renewable energy will be the starting point of innovation, as renewables will become the main driving force to promote industrial upgrading and the evolution of industrial development patterns," Li said.
"High energy consuming enterprises and parks will be located adjacent to areas with rich solar and wind resources, maximizing the use of green power, and facilitating the innovation of green power procurement applications. The transformation of the chemical industry based on green hydrogen will be mainly driven by renewable energy, and Northwest China will become the largest market for the chemical industry and green hydrogen, as well as the center of the chemical industry transformation," she added.
The development of green hydrogen-based steelmaking will break the current pattern of the steel industry, which is "strong in the east and weak in the west".
Enterprises will pay more heed to regions with abundant renewable hydrogen resources when selecting sites for hydrogen-based steelmaking projects, Li said.
However, one of the major challenges faced by renewable energy is its fluctuation, as the sun is not always shining and the wind not always blowing.
Luo Zuoxian, head of intelligence and research at the Sinopec Economics and Development Research Institute, said renewable energy power generation is very reliant on weather conditions and more volatile compared with traditional energy like coal and oil.
On the other hand, enterprises in the net-zero industrial park are not only high energy consumers, but also high value-added industries. Any outage may lead to serious losses, which makes ensuring complete energy reliability a key priority.
To ensure a stable and steady green power system, the net-zero industrial park will not only accurately predict wind and solar output loads, but also ensure power transmitted to the terminal is controllable no matter how the power generation of renewable energy fluctuates.
With real-time dynamic balance of power generation and load conditions, the park can optimize resource allocation and maximize network efficiency while achieving stable wind power output comparable to that of thermal power, no matter whether the sun or wind cooperates.
Envision said the new power system formed by wind power, photovoltaic, energy storage, hydrogen energy and AIoT (artificial-intelligence-powered internet of things) will become a green, stable and reliable energy system.
As a leading technology enterprise providing "source-grid-load-storage-hydrogen "end-to-end net-zero solutions, Envision believes that the transition to renewable energy will bring great opportunities, and that the net-zero industrial park is a key infrastructure project in the building of a net-zero new industrial system.
Aiming to help popularize net-zero industrial park practices overseas, the company plans to build 100 such parks around the world over the next decade with global partners, with the aim of reducing global carbon emissions by 1 billion tons per year.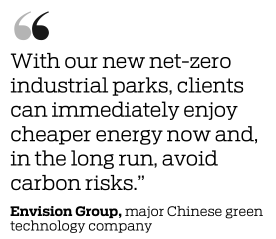 Asia's industrial sector accounts for over 35 percent of global annual carbon emissions, and the region is very pivotal to the net-zero industrial transition worldwide, said a report of United Nations Economic and Social Commission for Asia and the Pacific.
Envision signed an agreement with the government of Spain to build Europe's first net-zero industrial park in July, following the launch of the Ordos project. The one in Spain will include the construction of a gigafactory for batteries for electric vehicles, a development and innovation center for digitalization of renewable energy systems, a green hydrogen generation plant to manufacture electrolyzers, and a wind power generation plant for the assembly of smart wind turbines, it said.
"The agreement with the Spanish government is not only critical for Spain, but also for Europe. With the European Union targeting carbon neutrality by 2050, this partnership is highly significant in securing a firm commitment to make the changes required to reach net-zero," Envision's Zhang said.
Envision believes the cost of reducing carbon emissions will mount over the next few years, and it won't be competitive to remain in the same fossil fuel-powered industrial parks. This makes building net-zero industrial parks in areas that were previously underdeveloped due to exposure to wind and sun a wise choice.
"With our new net-zero industrial parks, clients can immediately enjoy cheaper energy now and, in the long run, avoid carbon risks," said the company.