"China-Europe freight trains break new records-[international industrial chain and supply chain;Freight volume to increase;Build a new pattern of development ]"
2022.08.08 SOURCE:CHINA DAILY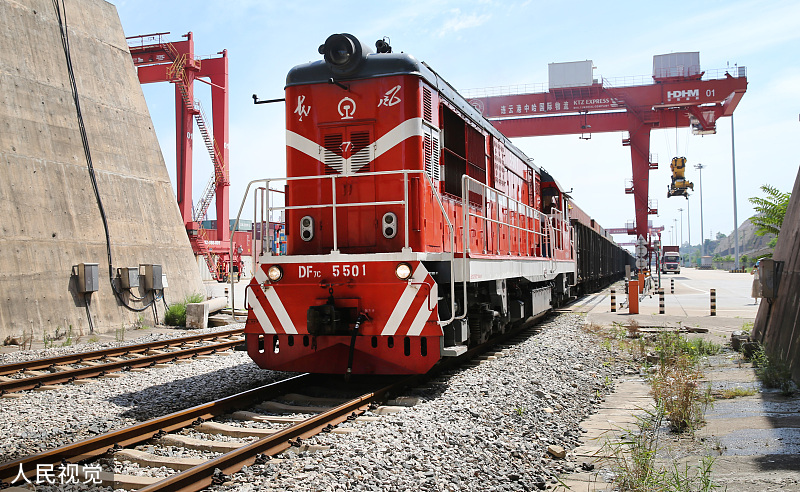 China-Europe freight train network has set a new record both in the number of freight trains and the total freight delivered, China Securities Journal reported on Monday.
Data from China Railway show the network saw the trains in operation reach 1,517 in July and the delivered freight hit 149,000 TEUs (twenty-foot equivalent units) in the same period, up 11 percent and 12 percent year-on-year, respectively.
So far, the network has maintained the level of operating "1,000 trains per month" for 27 consecutive months.
The continuous growth of China-Europe freight train volume ensures the smooth flow of international industrial and supply chains.
From January to July, a total of 8,990 China-Europe freight trains were operated accumulatively, delivering 869,000 TEUs, up 3 percent and 4 percent year-on-year, respectively, according to data from China Railway.
Price advantages and high quality services helped the China-Europe freight trains maintain a good development momentum, ensuring the smooth flow of the international industrial and supply chains and providing strong support for high-quality Belt and Road cooperation, experts said.
The reason for the volume increase is the obvious rise of sea freight prices due to influence of the Russia-Ukraine conflict and the COVID-19 pandemic, said Bai Ming, deputy director of the international market research department at the Chinese Academy of International Trade and Economic Cooperation in Beijing.
The price of China-Europe freight trains has relatively competitive advantage compared to sea freight prices, according to Bai.
In addition, this is also a result of high-quality services of China-Europe freight trains, with an overseas channel network that is smooth, efficient, multi-directional, and interconnected between land and sea in formation.
Statistics show that China-Europe freight trains have reached 200 cities in 24 European countries so far, providing strong support to the development of the Belt and Road Initiative.
In the first seven months of this year, China's total imports and exports to countries involved in the Belt and Road Initiative reached 7.55 trillion yuan ($1.12 trillion), up 19.8 percent, according to the latest data from the country's General Administration of Customs.
The Belt and Road Initiative has maintained a good development momentum despite the COVID-19 pandemic and unstable international situation. This is conducive to China's further cooperation with countries involved in the Belt and Road Initiative, said Hong Tao, director of the Institute of Business Economics at Beijing Technology and Business University.
This shows that under the trend of globalization, countries involved in the Belt and Road Initiative have seen the relative stability of the Chinese market, which has increased their confidence and willingness to cooperate with China, Hong said.
To further promote high-quality development of the Belt and Road Initiative, the country will strive to promote smooth flow, improve quality and prevent risks to accelerate the building of a new development landscape and make new contributions to the building of a community with a shared future for mankind, said Yang Tao, deputy director of the comprehensive affairs department of the Ministry of Commerce.