My CIIE Story • Big Market: Expo generates win-win results-[overflow effect;Chinese market interests;China International Import Expo]
2022.08.16 SOURCE:CHINA DAILY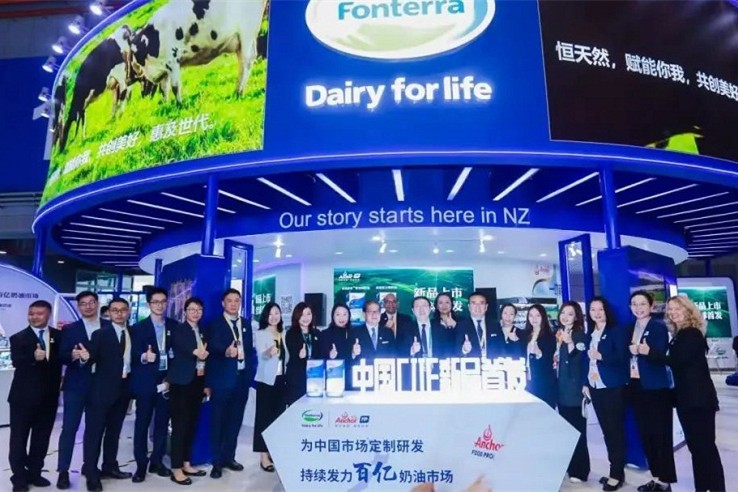 The booth of Fonterra at the third China International Import Expo in 2020. [Photo provided to chinadaily.com.cn]
Editor's Note: Preparations for the fifth China International Import Expo have entered the home stretch. Over the past five years, many foreign companies have developed greater confidence and increased their investments in China through the expo. Numerous organizations and individuals have gained memorable experiences during the fair and witnessed its spillover effects.
The CIIE Bureau and the National Exhibition and Convention Center (Shanghai) launched the "My CIIE Story" activity on June 1 and some excellent works centered on "grand strategy" were published in July. In August, more stories with the theme "big market", which showcases how the CIIE shares benefits of the Chinese market with the world, will be published.
The memories of working with my team to promote Fonterra's new products via live streaming at the food and agricultural products exhibition area of the fourth CIIE in November 2021 is still fresh in my head.
As the chief executive officer of Fonterra Greater China, I will be attending this year's CIIE before long for the fifth time in a row. The continuous involvement in the expo demonstrates our confidence in and long-term commitment to the Chinese market. It is also a result of the shared belief of the CIIE and Fonterra in cooperation and mutual benefits.
Through the expo, I have developed close connections with Chinese customers and partners, and our friendly interactions have produced positive results. The value of deals we have signed during the CIIE has been growing year after year and our business in China has been expanding.
I have also felt the energy of the Chinese market at the expo. With its 1.4 billion population and 400 million middle-income groups, China is the most promising market in the world. As living standards improve and people's interest in healthy products increases, I am certain that the demand for high-quality imported dairy products will surge.
To stand out amid the fierce market competition, a company needs innovative products, flexible marketing strategies, stable product quality, and a reliable brand. I have found that instead of simply showcasing products, exhibitors at the CIIE have been constantly updating their promotion strategies to include flash mobs and live-streaming sessions.
The CIIE offers a window for global companies to further understand the Chinese market and a channel for fine products and services to enter China. The expo has become a preferred platform for Fonterra to launch new products in China.
Teh-han Chow is the CEO of Fonterra Greater China. He obtained a bachelor's degree in marketing at the Northridge campus of California State University and a master's degree in global management at Thunderbird School of Global Management.