Foreign companies show faith in China's business market-[proactive fiscal policies;increasing investment;strong economic resilience]
2022.08.02 SOURCE:CHINA DAILY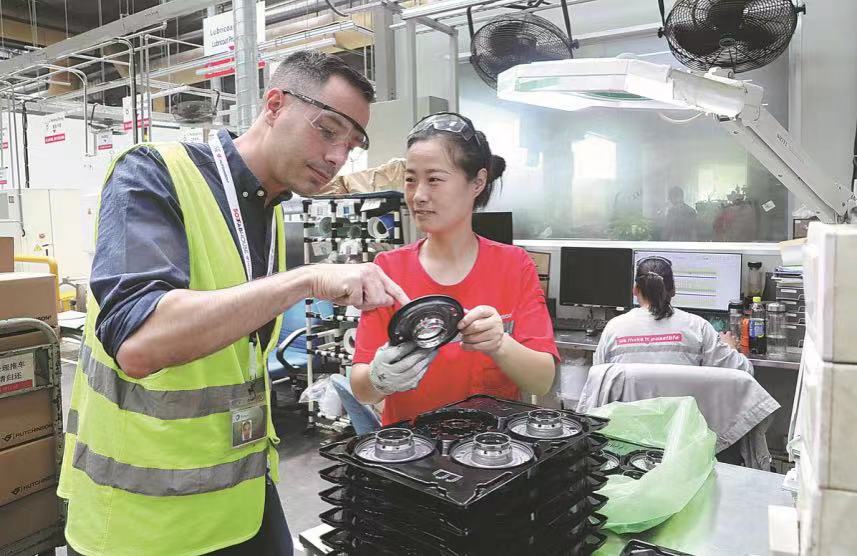 Technicians discuss products at a joint venture in Suzhou, Jiangsu province. [Photo by HUA XUEGEN/FOR CHINA DAILY]
As China issued a series of policies to stabilize the macro economy, foreign companies are optimistic about the country's development prospects and business environment, with their confidence in the Chinese market further boosted, said Feng Yaoxiang, head of the Trade and Investment Promotion Department at the China Council for the Promotion of International Trade in Beijing.
The council released a report on Friday that analyzed the business environment in China for foreign enterprises in the second quarter of this year with more than 500 companies surveyed.
About 89.32 percent of foreign companies think highly of China's tax payment policies, with a feeling of "content" increasing 1.27 percentage points from the first quarter.
Foreign companies that are content about the market access condition in China account for 87.92 percent, up 0.52 percentage points quarter-on-quarter.
Companies that are "content" about obtaining business premises in China accounted for 89.33 percent of total.
Besides, more than 80 percent of companies are "content" about China's proactive fiscal policies such as cutting taxes and administrative fees, favorable monetary and credit policies, optimized visa policies for foreigners coming to China, as well as a variety of measures to stabilize the supply chain and investment.
In the second quarter, 18.5 percent of foreign companies surveyed have expanded their business scale, up 2.1 percentage points from the first quarter, and 72.5 percent saw their business scale maintained.
Foreign enterprises are generally optimistic about the long-term prospects of their business in China, with 11.2 percent of them increasing investment in Q2.
It is worth noting that more than 40 percent of companies view the Chengdu-Chongqing Economic Circle as their main investment area, according to the report.
Global companies prefer China due to its strong economic resilience and powerful competitiveness of the domestic market, infrastructure, as well as the industrial supporting facilities, Feng said.
Foreign enterprises also have some suggestions to Chinese market, including expanding the coverage of companies that can enjoy preferential policies, coordinating pandemic prevention and control with business operations, improving government service standard, increasing logistics efficiency and making it easier for foreign business people to work in China.