ASEAN forum emphasizes opening-up-[cooperation in industrial chain;promote regional free trade zones;Connecting chains]
2022.08.01 SOURCE:CHINA DAILY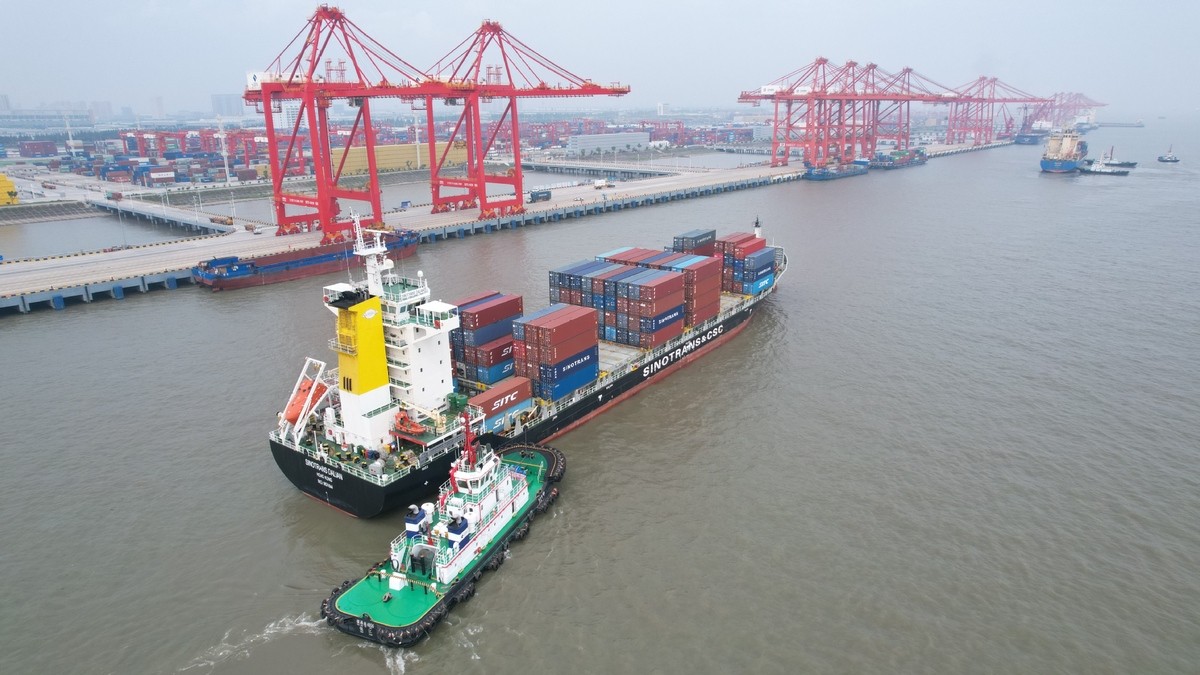 A container vessel docks at Taicang Port in Suzhou, Jiangsu province, June 12, 2022. [Photo/Xinhua]
China welcomes entrepreneurs from all over the world to invest in the country and deepen cooperation in industrial chain and supply chain, senior officials said during a recent forum in Suzhou, Jiangsu province.
Hu Chunhua, Chinese vice-premier, spoke at the ASEAN Plus Three (10+3) Forum on Industrial Chain and Supply Chain Cooperation and the Taihu East Asian Entrepreneurs Forum.
"The world faces a complicated international situation," Hu said. "The security and stability of international industrial chains and supply chains are facing severe challenges.
"China, Japan, South Korea and ASEAN should further strengthen opening-up and cooperation to ensure the industrial and supply chains, which is crucial to enhancing the region's ability to resist risks and promote long-term prosperity."
Hu added that China is willing to work with all parties to promote regional free trade zones and cultivate new momentum for further cooperation.
Themed "Connecting chains, promoting prosperity", the Suzhou forum was jointly hosted by the Ministry of Commerce and the Jiangsu provincial government. It emphasized industrial chain and supply chain cooperation between governments, industries and schools to promote exchanges and cooperation in enterprise-centered fields.
Five subforums on joint demonstration zones for trade and economic innovative development, RCEP implementation, logistics and supply chain development, digital economy and green development, and industrial and supply chain finance were also part of the forum.
Via video at the opening ceremony, Jiangsu Governor Xu Kunlin said the economic hub will further expand opening-up in an all-around way and better serve the process of East Asian regional economic integration.
He said the important opportunity of RCEP's effective implementation should be seized, and that parties should strengthen communication and exchanges in the economic and trade fields, deepen cooperation in industrial and supply chains and jointly build a platform for cooperation to promote the region's common prosperity.
Suzhou is home to 2,794 companies funded by ASEAN member states, 2,987 Japan-invested companies and 2,452 Republic of Korea-invested companies, with their direct investment for reaching $15.01 billion, $13.71 billion and $5.93 billion respectively.
In the first half of this year, Suzhou's trade volume with RCEP signatory countries expanded 8.3 percent year-on-year to 473.72 billion yuan, 37.5 percent of the city's total imports and exports.