Container throughput points to further rise-[global supply chain operations; demand for logistics services;container ports; international logistics]
2022.07.15 SOURCE:CHINA DAILY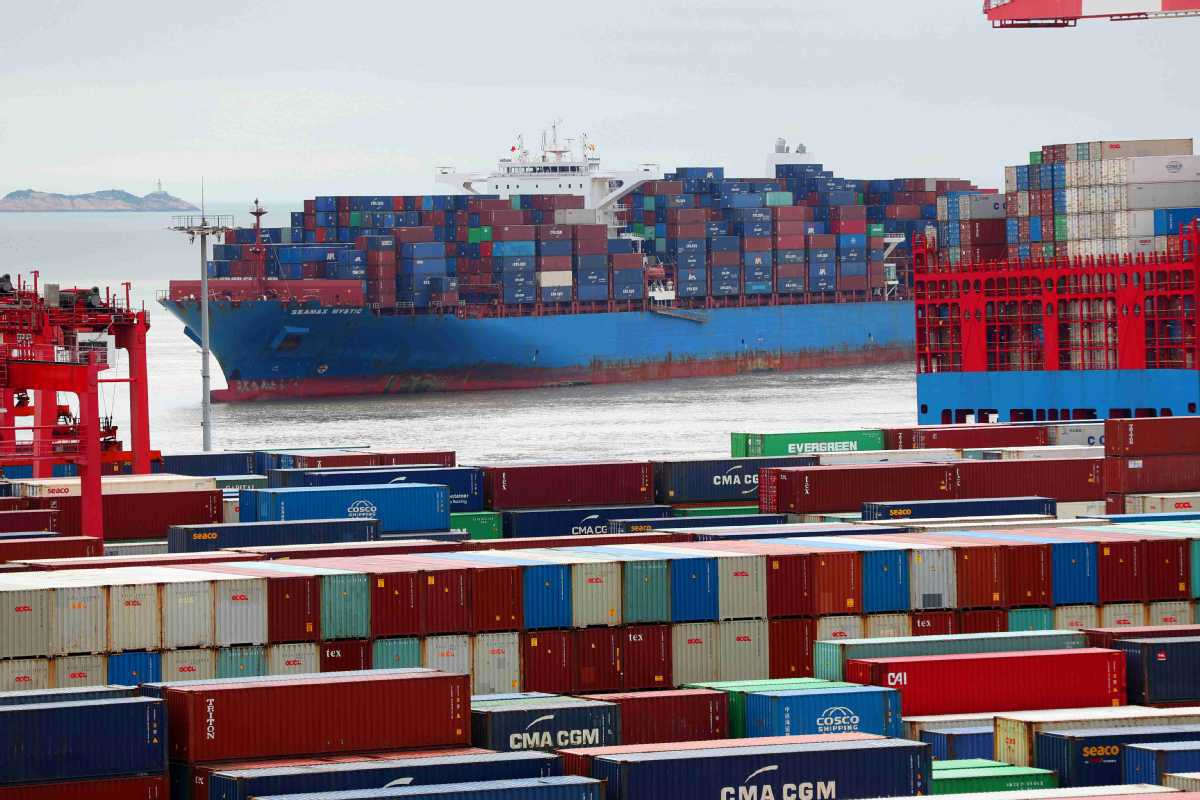 A containership is berthed at Yangshan Port in Shanghai in April. [Photo by Zhu Xingxin/China Daily]
Total container throughput of China's ports will continue to grow this year, giving support to the country's foreign trade and global supply chain operations, according to a report released on Tuesday.
Demand for logistics services in most container ports in China is showing a growth trend buoyed by trade demand, especially at Ningbo-Zhoushan Port in Zhejiang province, Qingdao Port in Shandong province and Tianjin Port, according to "Outlook of Global Top 20 Container Ports", released by the Center for Forecasting Science, part of the Chinese Academy of Sciences.
Among the world's top 10 container ports this year, seven will be in China with Shanghai Port topping the list. The country will continue to play an important role in the stable development of the world's container ports and logistics, the report predicted.
It is expected that Shanghai will have a container throughput of up to 48.2 million twenty-foot equivalent units this year, a year-on-year increase of 2.5 percent. Although overall container volume at Shanghai will decline due to COVID-19 this year, the port's average daily operating volume will remain above 100,000 TEUs, according to the report.
Ningbo-Zhoushan Port, which is expected to rank third, will see a rapid rebound in total container throughput, which is likely to reach up to 33.4 million TEUs this year, a year-on-year increase of 7.5 percent, the report said.
However, impacted by the COVID-19 pandemic and the Russia-Ukraine conflict, the global economy is facing downward pressure, which may lead to a slower growth rate of total container throughput compared with that of last year, the report added.
"Ports are an important part of international logistics and play a vital role in global trade. China is the world's largest manufacturer as well as the biggest country for trade in goods. The country's huge trading activity creates great demand for container ports," said Xie Gang, a professor at the center.
China's foreign trade rose 8.3 percent year-on-year to 16.04 trillion yuan ($2.38 trillion) in the first five months, said the General Administration of Customs.
In the meantime, the country's exports grew 11.4 percent on a yearly basis to 8.94 trillion yuan, while imports increased 4.7 percent from last year to 7.1 trillion yuan.
"China has a relatively high-quality labor force, a complete industrial layout, a well-developed supply chain, convenient infrastructure, and agglomeration centers with greater competition in the product and labor markets, all of which enable the country to maintain its position as a top manufacturing center as well as the largest country in goods trade, and lead the world in container port development," Xie said.