50 billion pieces help deliver China's 'logistics power' plan-[the express delivery industry; new consumption models; modern circulation system]
2022.07.15 SOURCE:CHINA DAILY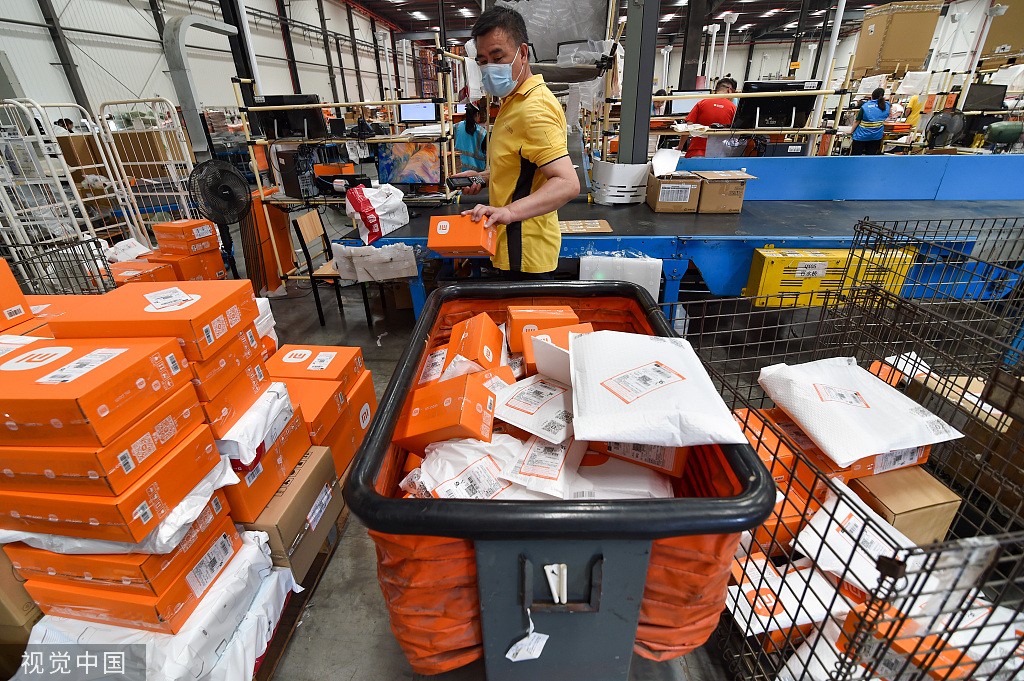 Staff members sort out goods in Nanjing, Jiangsu province, on June 16, 2022. [Photo/VCG]
The number of packages sent by express delivery in China is expected to exceed 50 billion in the first half of this year, generating around 500 billion yuan ($74.42 billion) in revenue, says a State Post Bureau report in June.
As an important part of modern-day services, the express delivery industry can promote the transformation of circulation and the upgrading of consumption. Amid the worldwide economic slowdown, the express delivery sector quickly rebounded after experiencing a temporary decline in scale in the first half of this year. The average daily delivery volume has reached more than 300 million pieces, exceeding the level during the same period last year.
The 50 billion pieces packages delivered in the first half of this year showcase the unchanged fundamentals, strong resilience and great potential of China's economy, which will provide strong momentum for world economic recovery and more business opportunities for other countries.
The growth of China's express delivery business reflects strong consumer demand in the process of its building a new development paradigm. During the COVID-19 pandemic, China's consumer market has been hit hard, but it has also shown strong resilience, vitality and new growth points. The emergence of contactless delivery, unmanned retail, livestreaming retail and other new consumption models have accelerated online and offline integration and released greater economic potential, providing strong support for the construction of a new development paradigm.
As the retail market in first- and second-tier cities becomes saturated, a large number of investors and businesses are looking at markets in less-developed smaller cities and rural areas. In terms of business volume, third- and fourth-tier cities and rural areas are growing rapidly, signaling a new growth point for the country's express delivery market.
According to a three-year action plan for express delivery industry (2020-22) issued by the State Post Bureau, by the end of 2022, the express delivery logistics systems at county, township and village levels will be gradually established, circulation channels between urban and rural areas smoothed, and the supply of comprehensive logistics services in rural areas significantly increased.
If China continues to develop and improve its modern circulation system, it will realize its transformation from a "logistics country" to a "logistics power", inject new vitality into its economic growth, and add new impetus to the stable recovery of the world economy.