FedEx bullish on biz in nation; to expand service in smaller cities-[service network; business environment; Shanghai international express and cargo hub; air cargo market]
2022.07.15 SOURCE:CHINA DAILY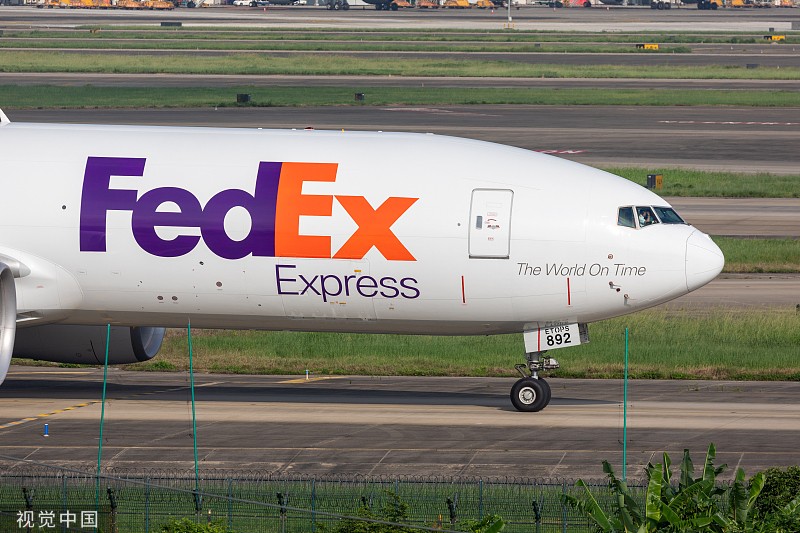 A FedEx Express plane is seen at an airport in Guangzhou, South China's Guangdong province, on June 24, 2022. [Photo/VCG]
FedEx Express, a United States-based express delivery company, will continue to invest in China and expand its service network in the country to more second and third-tier cities in the coming years, said a senior executive.
Since many companies with operations in Shanghai accelerated production to deliver orders around the world in late May and June, the company's pickup and delivery services in the metropolis had been fully restored early last month, supporting full recovery of production, economy, business and trade in Shanghai.
"We are positive on China's business environment, and we are fully confident in Shanghai's economic development and investment outlook," said Eddy Chan, senior vice-president of Fed-Ex Express and president of FedEx China.
The Memphis, Tennessee-based multinational opened its Shanghai international express and cargo hub at Shanghai Pudong International Airport in 2018. It has enabled greater access to the company's global network for customers in eastern China, particularly those shipping goods to the US and Europe.
In addition to operating nearly 200 electric vehicles across China to cut carbon emissions, Chan said the company, for its next steps, will expand its infrastructure and logistics network and improve productivity via technological innovation by generating talent and resources from China and elsewhere.
After launching six new routes from the Asia-Pacific region, including five routes on the Chinese mainland, to North America and Europe with more than 300 weekly international flights in 2021, the company launched a new route between Beijing and Paris last month, further increasing weekly capacity to almost 400 metric tons from North China to Europe.
With this move, Chan said the cut-off time for same-day outbound shipments from Beijing to Europe will be extended, offering more time for customers to arrange their shipments. FedEx is able to further fuel the growth of trade between China and Europe.
As a firm advocate and facilitator of global trade, the executive said that free trade and multilateral cooperation are the best ways to promote common prosperity and inclusive growth.
Chan said that the Regional Comprehensive Economic Partnership agreement, which came into force in January, will not only inject positive momentum towards a world more connected through trade but also help pull the current world economy out of the COVID-19 woes.
RCEP proactively promotes a higher level of interconnection between member countries. Under the harmonized rule of origin and reduced tariffs among the RCEP countries, the cost of production and circulation of goods can be significantly reduced, thus creating a high volume of industrial logistics demand, said Chan.
"With e-commerce incorporated into the RCEP, it will be embracing an even more promising future in the country and the region as well, addressing the demands for timeliness and flexibility in logistics services," he added.
China's air cargo sector displayed its resilience and dynamism during the nation's fight against the COVID-19 pandemic over the past two years, said Luo Renjian, a researcher at the Institute of Transportation Research, which operates under the aegis of the National Development and Reform Commission, the country's top economic regulator.
"It is also playing a vital role in sustaining the supply and industrial chains and unleashing the potential of the country's air cargo market for both domestic and global players," he said.
Boeing, a US airplane manufacturer, plans to launch two production lines for 767-300 Boeing converted freighters this year in Guangzhou, the capital of Guangdong province, in cooperation with Guangzhou Aircraft Maintenance Engineering Co Ltd, a locally based aircraft maintenance service provider, Boeing China said.
Both lines will focus on converting retired 767-300 wide-body passenger aircraft into freighters. The first line was launched in late April and is expected to deliver the first China-produced 767-300 BCF(Boeing converted freighter) in the second half.