Expert weighs in on China's economic recovery-[the smooth flow of logistics; strengthen coordination of fiscal and monetary policies; the tertiary industry ]
2022.07.08 SOURCE:CHINA DAILY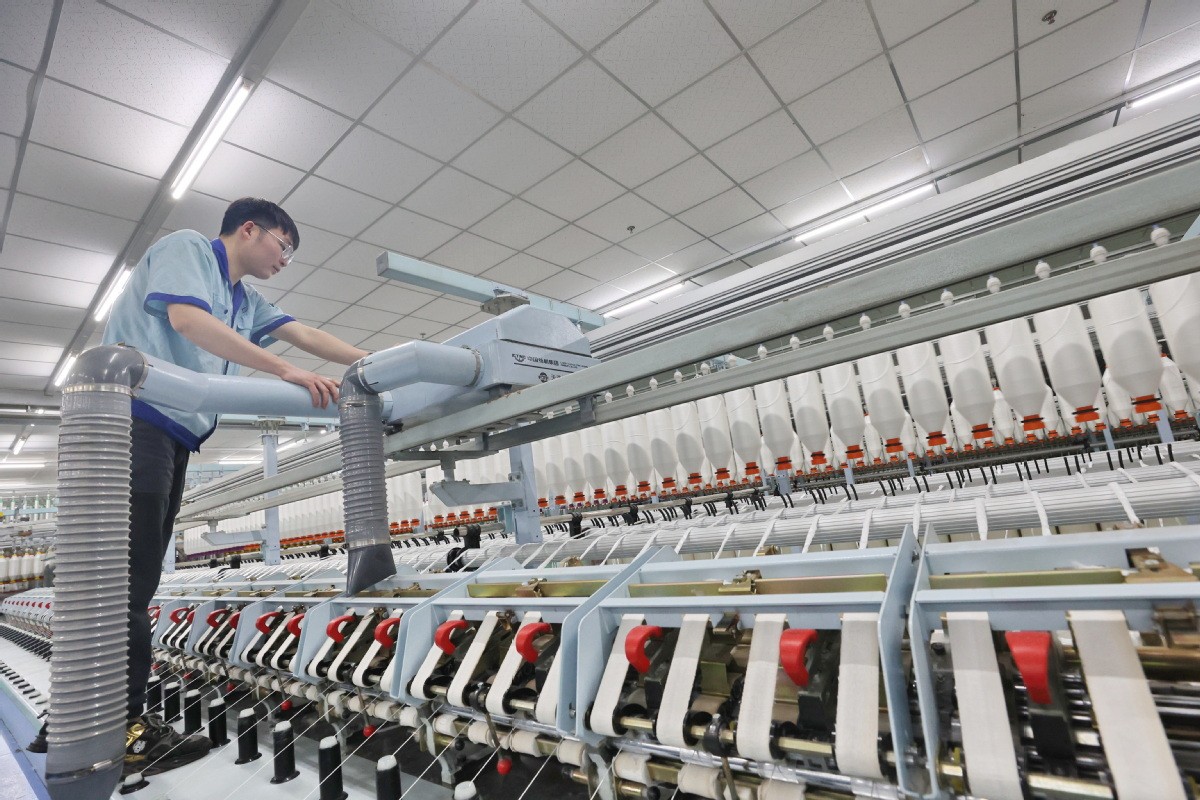 An employee works on the digitalized production line of a textile company in Nantong, Jiangsu province. [Photo by XU CONGJUN/FOR CHINA DAILY]
On the premise of adhering to the dynamic zero-COVID policy, the top priorities for the nation are to ensure the smooth flow of people and logistics, strengthen coordination of fiscal and monetary policies, as well as bring production and operating activities of the tertiary industry back to normal, an expert said.
In an article published on Chinese financial media outlet Yicai, Guan Tao, chief economist of BOC International, said more efforts should be made to support micro, small and medium-sized enterprises and individual businesses in the hard-hit sectors by the COVID-19 outbreak, such as catering, tourism and transportation.
According to Guan, over the past two years, China's employment market has undergone some changes.
Firstly, the number of people working in the primary industry has continued to fall. In 2020 and 2021, the workforce of this sector reduced 9.37 million and 6.43 million respectively.
Secondly, in terms of the secondary industry, an important sector which absorbs workforce transferred from the primary industry and creates new jobs, has seen the decline trend, which started in 2013, be reversed. However, the growth has slowed down between 2020 and 2021.
Thirdly, in the tertiary industry, another important sector which absorbs transferred workforce, saw continuous increases in employment. However, the newly added jobs in this sector registered rapid declines.
The tertiary industry overtook the primary industry to become the largest industrial sector to create jobs in 2011, after surpassing the secondary industry in 1994.
Over the last two years, the expanding trend of the tertiary industry has been hit by the COVID-19 outbreak, with newly added jobs of 2.45 million and 620,000 in 2020 and 2021 respectively.
Faced with a complicated global situation and the COVID-19 impact, the government unveiled a package of policies and measures in May with the intention to keep major economic indicators within an appropriate range and ensure stable employment.
Data from the National Bureau of Statistics showed that from January to May a total of 5.29 million new urban jobs were created. China's surveyed urban unemployment rate stood at 5.9 percent in May, down 0.2 percentage points from April.
China aims to create over 11 million new urban jobs and keep a surveyed urban unemployment rate of no more than 5.5 percent in 2022, according to a government work report.
The tertiary industry returning to normality can help stabilize employment, boost consumption and lay a solid foundation for stable economic growth, Guan added.