Shipping orders to surge with Shanghai going back on track-【Pent-up demand early COVID-19 lockdown, Growing shipping demand, Rising freight】
2022.06.16 SOURCE:CHINA DAILY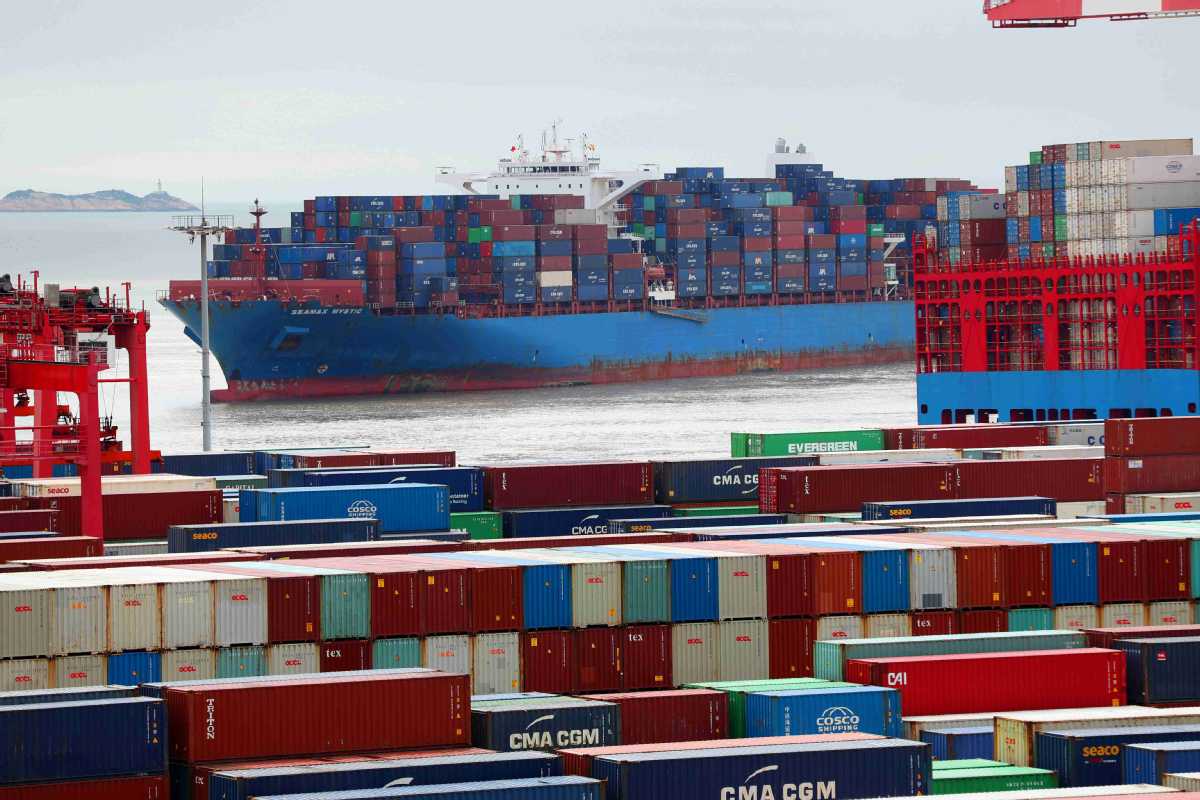 A containership is berthed at Yangshan Port in Shanghai in April. ZHU XINGXIN/CHINA DAILY
Pent-up demand due to earlier COVID lockdown to spur global firms' earnings
Global shipping companies will see more orders from China in the coming months as the COVID-19 situation eases in Shanghai while continuing to adopt new tactics to compete with each other, said analysts and business executives on Wednesday.
As a surge in COVID-19 cases forced a lockdown in April and May in Shanghai-the world's largest container port by throughput capacity-and also because of logistics delays resulting from highway controls in parts of China, the metropolis suffered from a breakdown in the logistics supply chain. Many foreign container ships didn't choose ports in Shanghai to call in during that period.
Even though it will take some time for shipping and port businesses to return to normal in Shanghai, there are huge amounts of pent-up demand, both from factories resuming work and their urgent need for exporting products overseas after the delay, said Zhou Zhicheng, a researcher at the Beijing-based China Federation of Logistics and Purchasing.
Thanks to growing shipping demand and rising freight, the profit growth of global shipping companies, such as France's CMA CGM SA, Denmark's Maersk Group and Geneva-based Mediterranean Shipping Co SA, has soared significantly since 2020, he said.
For instance, CMA CGM's operating profit jumped 69.9 percent on a yearly basis to $8.87 billion in the first quarter, while Maersk doubled its net profit to $9.1 billion, according to their latest financial reports.
Revenue for the full year is expected to continue to be strong as the increase in freight rates on its long-term contract portfolio will add approximately $10 billion in revenue in 2022 compared to 2021, Maersk said in a recent statement.
In addition to deploying more container vessels, the group will add three new B767-300 freighters to its air cargo service between China and the United States in the second half.
"There are significant opportunities in China as its economy is becoming more advanced. Consumers are upgrading in terms of their expectations, so we need to become more competitive in all kinds of services in this market," said Jens Eskelund, China chief representative of A.P. Moller-Maersk, the parent company of Maersk.
From the perspective of market competition, the competitive strategies of shipping companies are clearly differentiated. With abundant cash flows, the industry concentration of major companies will gradually rise this year, said Zheng Jingwen, a senior analyst at the Shanghai International Shipping Institute.
For example, Maersk has acquired more logistics companies to improve its whole-process logistics layout and the Mediterranean has placed more orders for new container vessels, while CMA CGM has been involved in the aviation field and ordered more liquefied natural gas-powered ships.
Domestic shipping giant China COSCO Shipping Corp Ltd said earlier this month that it will continue to deepen integration of the container shipping unit and terminal business segment, continuously reinforce business model innovations via digital technologies, and build a new ecology of smart and green shipping this year.
"The era of scale competition and low-price competition has passed, while green, digitalization, and supply chain stability have become the focus of the global shipping industry," Zheng said, predicting the trend of freight rates may slightly drop in the second half.
The core factor affecting the current freight rate is the supply of the fleet. If no substantial breakthrough can be achieved in port congestion in the United States and Europe in the following months, the container freight rate may continue to maintain a high level. However, the current high container freight rate has aroused great attention from the regulatory authorities of various countries, and it is unlikely that the freight rate will rise further in the future, she added.
Due to shipping groups facing a sharp rise in various costs, such as fuel costs, crew salaries and ship maintenance expenses, and their moves of abandoning the strategy of low-price competition, the possibility of a dramatic decline in freight rates is highly unlikely to occur in the second half, said Mao Wenjun, deputy general manager for the South China branch at COSCO Shipping Lines Co Ltd, a subsidiary of Shanghai-based China COSCO Shipping.