China's logistics slowly getting back up to speed【Economic development, Speed up transportation, Freight volume, Postal and parcel delivery】
2022.05.27 SOURCE:CHINA DAILY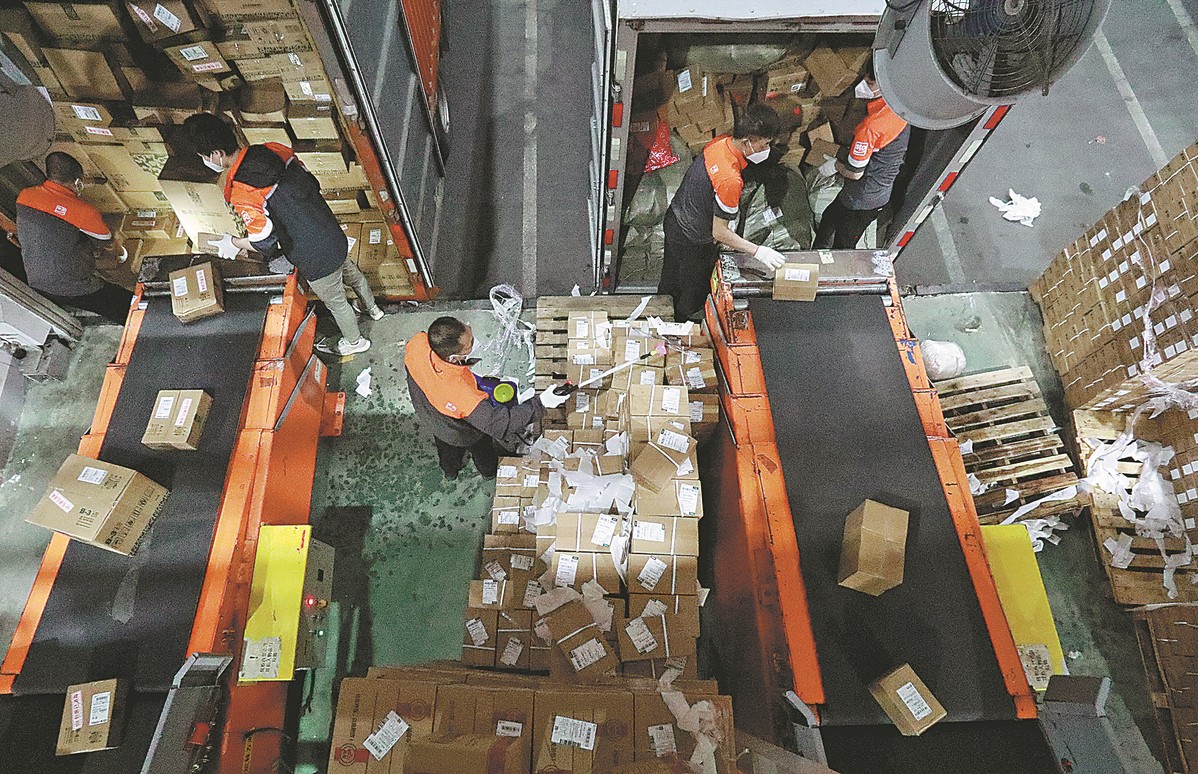 Workers sort parcels coming off trucks at a distribution center of STO Express in Qingpu district, Shanghai on May 11, 2022. The center has resumed service with closed-loop management of staff and strict disinfection measures. [Photo by ZHU XINGXIN/CHINA DAILY]
Logistics in China have gradually got moving again and the country aims to tackle bottlenecks and support economic development amid the latest COVID-19 outbreaks, the Ministry of Transport said on Thursday.
The ministry has resolved a number of problems such as shut tolls and service areas on expressways, and blocked roads hindering the transportation of supplies to rural areas, Li Huaqiang, deputy director of the ministry's transport department, said at an online news conference.
The State Council, China's Cabinet, rolled out 33 measures to stabilize growth earlier this week, including steps to cancel traffic restrictions for people from low-risk areas, and to provide free nucleic acid tests to passenger and freight transport drivers.
Compared with April 18, truck traffic on expressways was 10.9 percent higher on Tuesday. Freight volume on railways and roads increased by 9.2 percent and 12.6 percent respectively, both recovering to about 90 percent of their normal level.
In the past week, China's postal and parcel delivery sector handled as much business as it handled during the same period last year.
China's major logistics and transport hubs have also gradually resumed operation. The daily throughput of containers Shanghai Port handled has recovered to more than 95 percent of the normal level.
In the past week, daily cargo traffic handled at Shanghai Pudong International Airport recovered to about 80 percent of the volume before the outbreak.
Daily cargo throughput at Guangzhou Baiyun International Airport has recovered to its normal level.
A hotline has been established to answer truckers' questions and to provide consultation if they encounter any hiccups on their journeys.
Li noted that more than 1,900 reported issues regarding truck transportation were addressed via the hotline in the past month.
Starting Wednesday, Jiangsu province, an economic hub in East China, canceled all epidemic prevention restrictions for vehicles coming from low-risk areas. Drivers do not even have to present a negative nucleic acid test result.
According to Jiangsu Transport Bureau, the daily number of vehicles on the province's expressways increased from 200,000 to 1.2 million in recent days, and will soon increase to 1.8 million.
"It just took me one minute to show the health code and travel code on my cellphone to those checking at the expressway exit," said Li Zheng, a cable company employee who commutes between Nanjing and Changzhou.
"It used to be a nightmare to spend hours queuing to exit the highway in lines that seemed endless when the epidemic prevention measures on traffic were strict," he said.
He added that Nanjing, capital of Jiangsu, only requires travelers from low-risk areas that have no nucleic acid test results to take two tests over three days to ensure safety.
Feng Wei, an academic from Southeast University's School of Economics and Management, said governments at different levels, from the State Council to local governments, have researched and put forward measures to guarantee transportation and help small and medium-sized companies cope with difficulties during the latest spate of outbreaks.
"Both the companies' profitability and consumers' willingness to spend money have been affected by the epidemic," he said. "The governments have paid great attention to these issues.
"The willingness to spend money might be hard to encourage with new policies soon, since the epidemic isn't over, but the economy can be boosted by means such as new infrastructure investment, the sharing economy and digital economy. By developing the domestic market, China's steady economic growth can be guaranteed."
Vehicles coming from high- and medium-risk areas, including neighboring megacity Shanghai, will still be checked before entering the province, the transport bureau said. More than 20,000 freight transport vehicles from Shanghai enter Jiangsu every day, according to the bureau.
Airports and canals have also eased restrictions and simplified epidemic prevention procedures to speed up transportation.
Lianshui Airport in the city of Huai'an is working with Zhengzhou Xinzheng International Airport to provide new routes for companies to transport products to Osaka, Japan, and some Southeast Asian countries.
Products from the city and neighboring cities can be transported from the airport to many domestic cities, such as Shenzhen in Guangdong province, Chongqing municipality and Chengdu, Sichuan province, within 24 hours.
Jiangsu will soon provide transportation companies with subsidies totaling 50 million yuan ($7.4 million) to help them resume normal production.
In Hainan province, Haikou Meilan International Airport no longer requires a negative nucleic acid test result taken within 48 hours before departing and arriving at the airport.
However, it said that some cities still have different traffic restrictions and that passengers should take into consideration the epidemic prevention policies of their destinations and airlines.
Some cities in Jiangxi province, including Xinyu and Fuzhou, now require fewer nucleic acid tests, with the majority of local residents only needing to take one test in seven or 10 days.