Infineon recovering in financial hub【Semiconductor, chip-related companies returning to normal operations】
2022.05.20 SOURCE:CHINA DAILY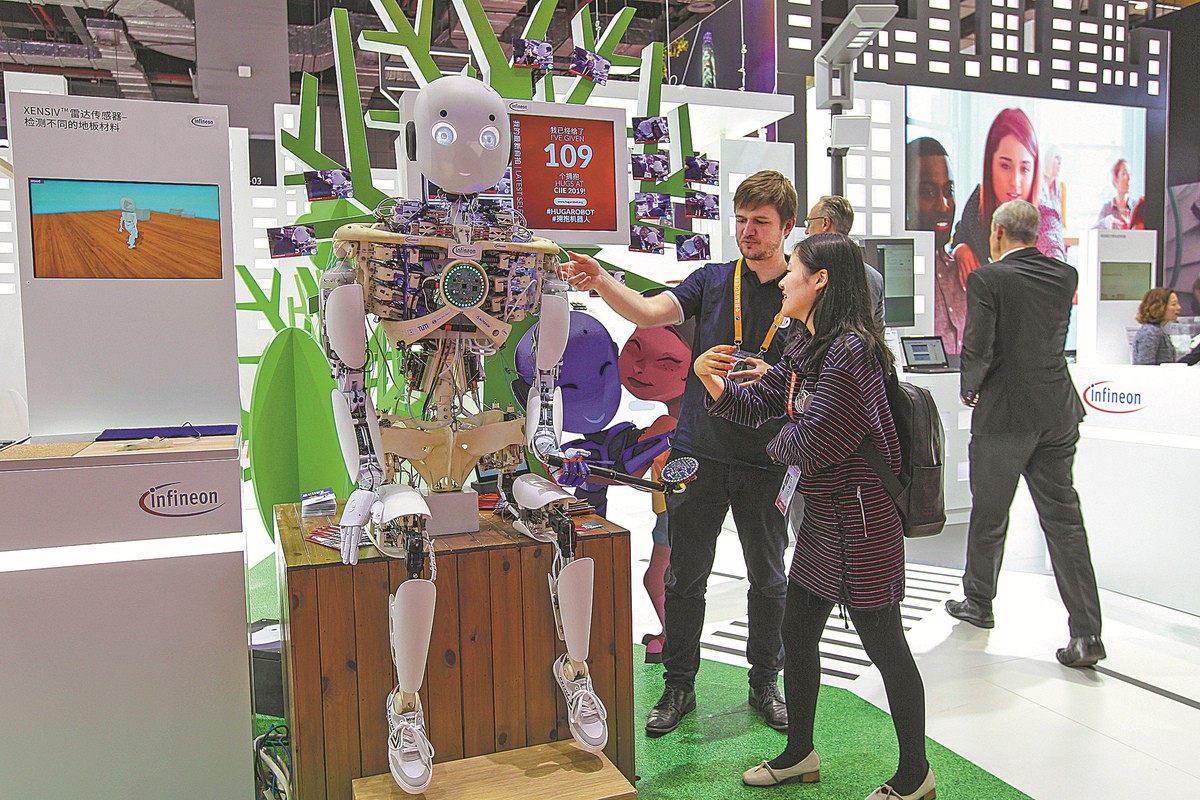 A robot at the Infineon Technologies booth attracts visitors during an expo in Shanghai. [Photo by Gao Yuwen/For China Daily]
German chipmaker Infineon Technologies AG said on Thursday throughput at its distribution center in Shanghai has returned to 50 percent of its normal level under closed-loop management, as local authorities introduce measures to help businesses resume operations from COVID disruptions.
Experts said Shanghai is an important base for China's semiconductor industry and the situation is improving but it will take time for chip-related companies to fully return to normal operations.
Infineon said in a statement to China Daily that it has been included on a "white list" which permits companies to resume work in Shanghai, and it has provided adequate accommodation support and subsidies for its employees resuming work under closed-loop management.
"The Distribution Center China in Pudong is expected to fully resume work in June, according to the local government's arrangement," Infineon said.
According to the company, the transportation of chips and raw materials imported from other countries to Infineon's factory in Wuxi, Jiangsu province, as well as shipments of finished products from the factory to its distribution center in Shanghai, have also largely returned to normal.
"China is the largest and fastest-growing semiconductor market in the world and the largest regional market for Infineon. We have always attached great importance to the Chinese market and have expanded investment through a series of localization measures to better serve local customers in China," Infineon said.
According to the company, it is discussing risk prevention strategies with the local government and logistics providers to better cope with the impact of the epidemic on supply chains and to ensure business continuity and supply stability.
Infineon is a major global supplier of power semiconductors, microcontrollers and other chips that are widely used in automotive electronics and power management.
Shanghai is an important base for China's integrated circuit industry chain. The market size of its semiconductor industry hit 250 billion yuan ($36.95 billion) last year, accounting for about one-fourth of China, according to official data.
Wu Jincheng, director of the Shanghai Commission of Economy and Informatization, said at a news conference last week that chipmakers in Shanghai have been keeping more than 90 percent of their production capacity up and running.
As chip manufacturers such as Semiconductor Manufacturing International Corp and Huahong Group maintain full production, a group of chip equipment, materials, packaging and testing and other support companies in the industry chain will speed up their resumption of work, Wu said.
Shanghai is also the import port for 70 percent of chemical raw materials used in the integrated circuit sector in China. Local news media Shanghai Observer reported that Shanghai Customs has been stepping up its push to check all IC materials and accept qualified ones quickly.
Li Ke, vice-president of market research company CCID Consulting, said in terms of output value, Shanghai ranks second in the domestic IC industry, and neighboring Jiangsu province ranks first. The recent outbreak has had a certain impact on IC companies in the Yangtze River Delta region.
Now the situation is improving, but it will take time for chip-related companies to fully return to normal operations, Li said.