Small firms underlined in restart efforts【Successful containment of the COVID-19 outbreak in Shanghai, Production resumption, Stabilizing economic growth】
2022.05.20 SOURCE:CHINA DAILY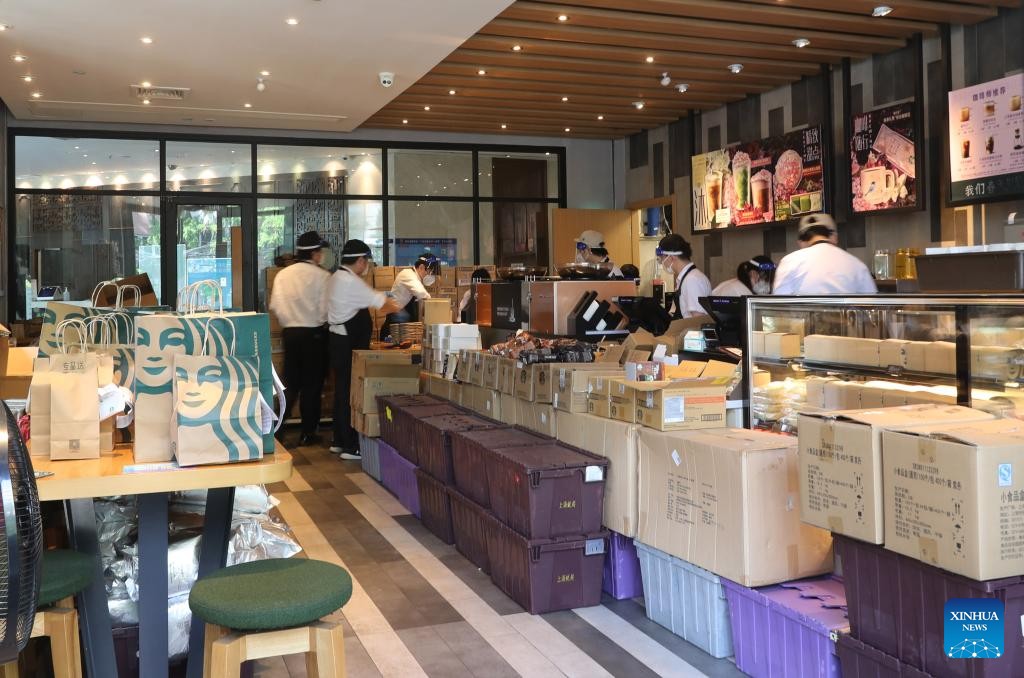 Staff members make coffee ordered online at a coffee shop in Xuhui district of Shanghai, East China, May 17, 2022. [Photo/Xinhua]
As Shanghai inches toward successful containment of the latest COVID-19 outbreak, more efforts will be made to help production return to normal, with special attention given to small and micro-sized enterprises, local officials said on Thursday.
Before the end of this month, areas with no epidemic risks can allow employees to commute between workplaces and residential communities. In such a scenario, the employer concerned should be responsible for closed-loop transportation, said Zhang Wei, vice-mayor of Shanghai, at a news conference on Thursday.
People assuming key positions at non-production companies-for example, those in charge of maintenance or research and development-can work in a closed loop for one week and return to their residences under regulated transportation means. Closed loop shall still be the key phrase for the production resumption at this phase, he said.
Starting from early June, production resumption will be advanced more rapidly, as people will be able to commute between their offices and residential communities as usual, he said.
Wu Jincheng, director of the Shanghai Commission of Economy and Informatization, admitted that the latest COVID-19 outbreak posed much difficulty to small and medium-sized enterprises in the city, with the overall production resumption rate low at present. The services sector-restaurants, entertainment, maintenance and logistics among others-has been hit hard by the epidemic, he said.
Therefore, the municipal government launched on May 5 an online service platform facilitating SMEs' production resumption. As of May 18, more than 8,000 companies have registered on the platform. Some 6,000 specialists working at the platform have received 3,400 production resumption applications and another 16,000 inquiries on related policies.
As the epidemic is being increasingly brought under control, SMEs will resume production at a faster pace, said Wu. Supermarkets, restaurants, software and information service providers will gradually restore their operations, he said.
As SMEs play an important role in stabilizing economic growth, the market and employment, the municipal government will introduce more policies to alleviate their burden, said Wu.
The city will cut corporate taxes to the tune of 140 billion yuan ($21 billion) this year, and SMEs will be the first to receive such tax benefits. State-owned enterprises that lease out their offices or factories to SMEs will receive rental-related tax cut benefits or exemptions worth 10 billion yuan in all this year, he said.
Periodic progress has been made on production resumption, said Zhang. During the first half of this month, companies whose annual sales revenue is at least 20 million yuan have seen their electricity consumption return to 80.5 percent of the level seen during the same period last year.
The daily container throughput at Shanghai International Port has now reached 119,000 twenty-foot equivalent units or TEUs, which is 90 percent of the normal level. The cargo handled at Shanghai Pudong International Airport has also recovered to 70 percent of normal levels to reach 7,000 tons per day.
Up to 78,000 freight vehicles have been using the highway tolls in Shanghai daily, which is two-thirds of the level seen before the latest COVID-19 outbreak. The total value of imports and exports in Shanghai came in at 188.6 billion yuan during the first half of May, up 17 percent from the same period in April, officials said at the news conference.