Parcel deliveries up over May Day holiday【Parcel delivery series, Contact-free delivery facilities】
2022.05.06 SOURCE:CHINA DAILY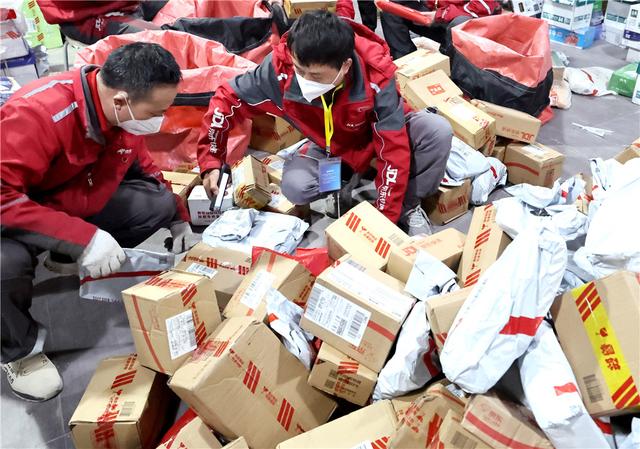 Almost 3 billion parcels were handled during the recent five-day May Day holiday that ended on Wednesday, double-digit growth compared to the same period last year, according to the State Post Bureau of China.
The country handled 2.81 billion parcels during the holiday, a year-on-year increase of 10.7 percent. Some 1.34 billion were collected, an increase of 2.3 percent year-on-year, while 1.47 billion were delivered, 19.7 percent more than the same period in 2021, the bureau said.
With China in an intense battle to eliminate some regional COVID-19 outbreaks, strict epidemic control measures have been implemented, such as a lockdown in Shanghai and encouraging residents to avoid travel to Beijing.
Parcel delivery services have been used to send epidemic control supplies, daily commodities and materials for key enterprises in areas locked down, and have fulfilled residents' buying needs.
The sector has made efforts to resume operations by promoting contact-free delivery facilities in order to ensure people's safety during the epidemic.
In hard-hit Shanghai, the sector has resumed operations gradually. The Shanghai branch of China Post Corp, a State-owned postal and parcel delivery company, recently averaged delivering more than 10,000 metric tons of commodities daily. The company has now prioritized delivering epidemic control items, medicines, daily necessities for residents and materials for key industrial and supply chain enterprises, while parcel delivery stations have not yet reopened to the public.
Beijing has carried out strict epidemic control measures to contain the spread of the virus since late April, such as requiring all residents in some districts to carry out nucleic acid tests on a daily basis from Tuesday to Thursday and closing schools.
SF Express, a parcel delivery company, established a working group to send daily supplies to ensure that people's livelihoods and their needs for receiving and delivering parcels are met.
The company cooperated with the capital's grocery stores to ensure fresh food delivery. It has also offered to provide its warehouses in Beijing for the storage of fresh fruit and vegetables sent to the capital from across the country.
Residents in the capital have been stocking up since the city reported COVID-19 cases in late April, increasing parcel delivery services.
Xue Shan, a courier in Beijing, said he has been busier since late April.
"Some households even receive a dozen parcels in a day," he said, adding that bottled water and toilet paper are among the popular goods.
Shen Peilan, a Beijing resident, bought food, snacks and daily necessities before the May Day holiday when COVID-19 cases were found in the city. Her guest room is filled with commodities.
"It is better to be prepared," the Shanghai native said.
Liu Lin, a resident in Shanghai, bought her best friend in Beijing some ice cream, beer and wine before the May Day holiday.
"Though not necessary items, these little vices make a lockdown just a little bit more bearable if it comes to that," she said.