More firms ride cloud to go global【Digital solution, Overseas expansion, Cloud computing】
2022.04.29 SOURCE:CHINA DAILY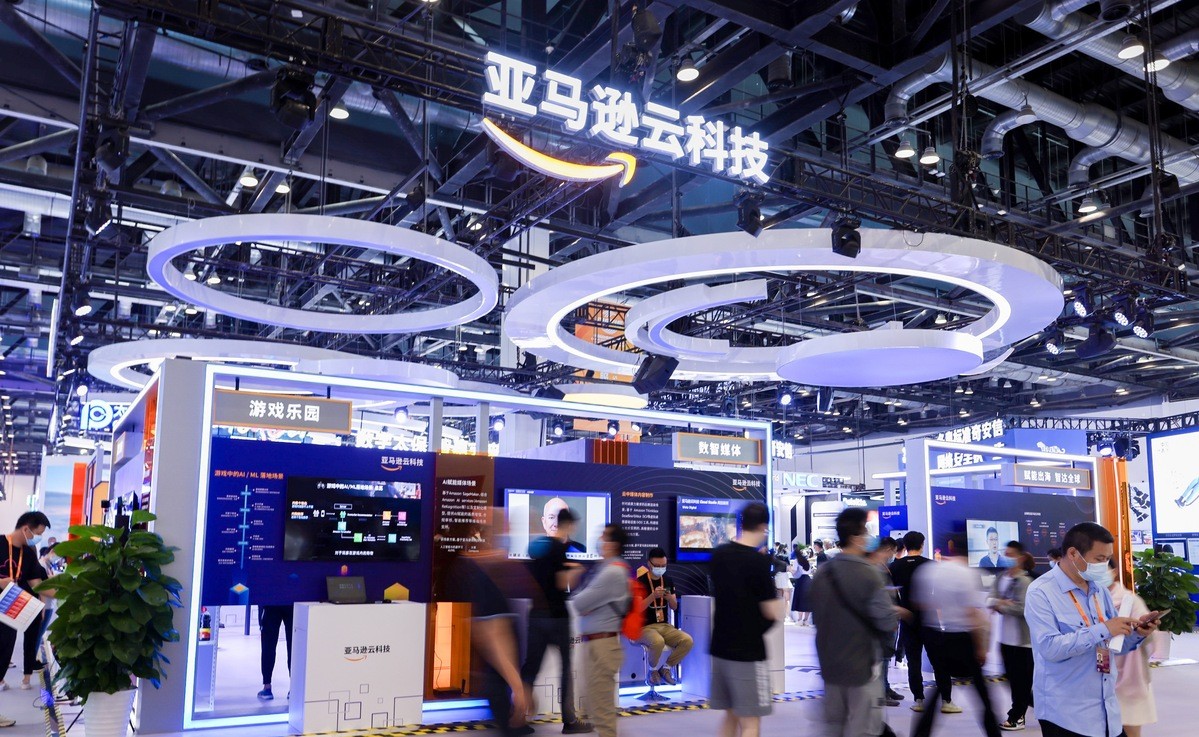 Digital solutions seen as key in transformation and overseas expansion
An increasing number of Chinese companies in traditional industries are leveraging digital technologies to transform and upgrade their global business, as cloud computing is playing an increasingly important role in helping them expand their overseas footprint, according to Amazon Web Services, the cloud service platform of US technology giant Amazon.
Over 60 percent of surveyed companies have established an overseas presence in more than three continents or regions, according to a survey commissioned by AWS and conducted by Sino-Bridges, a leading research and consulting company.
These companies are expanding from traditional overseas markets like Southeast Asia, the United States and Europe to regions such as South America, the Middle East and Africa.
The survey said the first wave of Chinese companies choosing to go abroad through cloud computing technology was mostly from digital industries such as social apps, video streaming and short video platforms. In recent years, traditional enterprises have established a global footprint and enhanced global competitiveness by adopting digital technologies.
"The digitalized and intelligent transformation in the Chinese manufacturing industry has driven the transition and upgrade of foreign trade," said Li Xiaomang, general manager of the commercial sector of AWS China, adding that Chinese enterprises are shifting from labor and capital-intensive manufacturers to exporters of technologies and brands.
Chinese auto brands, including traditional carmakers and electric vehicle startups, are actively making forays into the new energy vehicle sector in overseas markets, Li noted.
More and more Chinese business-to-business or B2B service providers are going abroad, while some companies that have succeeded in business-to-consumer service abroad are expanding into the B2B sector, the survey said.
Moreover, small and medium-sized businesses are showing a stronger desire to go abroad as 65 percent of such companies plan to do so. More startups have global ambitions from day one, especially in sectors like gaming, developer services and SaaS (software as a service), smart devices and e-commerce.
"We are supporting cross-border e-commerce enterprises to build global supply chain systems and overseas sites, and providing assistance to traditional manufacturing industries in upgrading their products with big data, artificial intelligence and the internet of things to increase the added value of products," Li said.
China's overall cloud computing market is expected to increase from 209.1 billion yuan ($31.9 billion) in 2020 to reach nearly 400 billion yuan in 2023, according to the China Academy of Information and Communications Technology.
With an increasing number of Chinese companies relying on cloud services to establish global businesses, step up efforts in localized operations and drive digital innovation and transformation, they have new requirements for the services and capabilities of cloud providers.
Nearly 60 percent of surveyed companies said that security and compliance are the most important factors when choosing an overseas cloud provider. More than half of the interviewed companies said they want to migrate their core business systems to cloud and build data-driven capability for business innovation with artificial intelligence, machine learning and IoT being crucial to driving technological innovation.
Noting the COVID-19 pandemic has propelled the digitalization of enterprises, Cliff Liang, general manager of digital native business at AWS China, said Chinese enterprises should strengthen the security and compliance of their businesses in the global arena.
Liang added that cloud computing is expected to play a bigger role in empowering the digitalization of small and medium-sized enterprises and expanding their global foothold.
Industry experts said that cloud computing is effectively promoting enterprises to accelerate digital transformation and has gradually become an important engine driving the transformation and upgrading of traditional industries and empowering China's digital economy.
Domestic enterprises show increasing demand for digital technologies, localized services, as well as safety and compliance when speeding up their globalization push, said Wang Chengfeng, research director of market research company iResearch, adding the global cloud infrastructure and related services will help digitize their operations.
"In today's digital-first world, business outcomes and innovation are increasingly tied to the ability to develop and use innovative technologies and services anywhere, as quickly as possible. Cloud is the foundation for meeting this need," said Rick Villars, group vice-president of worldwide research at market consultancy IDC.