Transport networks in overdrive to ensure smooth logistics【Logistics bottlenecks, Smooth transportation and unimpeded logistics, Ensure people's livelihood】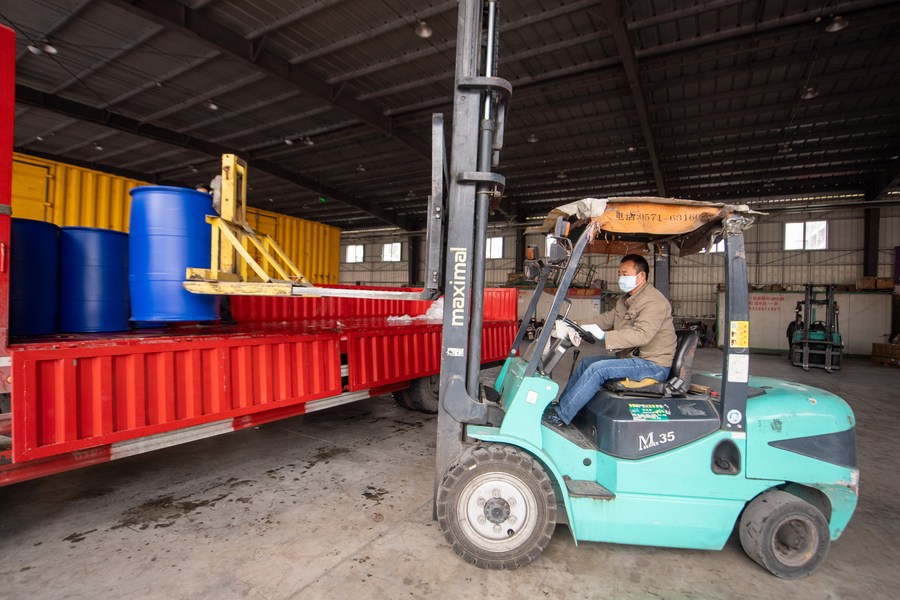 China's transport network has mostly resumed smooth operation to tackle logistics bottlenecks, providing sufficient supplies for people and enterprises in areas hit by the novel coronavirus across the country, officials said at a news conference on Thursday.
In April, the Chinese mainland reported 553,251 local COVID-19 infections in all provincial level regions except the Tibet autonomous region.
More than 95 percent of cases were reported from Shanghai and Jilin province, according to the National Health Commission. The international financial and logistics hub Shanghai is the hardest hit.
Balanced policies have been adopted to secure unimpeded logistics while putting in place measures to contain the virus.
Ministry-level departments have worked together to establish a working group to ensure smooth transportation and unimpeded logistics and tackle problems including setting up unified rules, arranging daily schedules and releasing information, said Zhou Min, deputy head of the emergency response office from the Ministry of Transport, at a news conference on Thursday.
Provincial-level working groups have also been established to better coordinate and handle problems properly, he added.
The ministry has promoted the use of nationally recognized traffic permits. Twenty-four provinces have adopted the use of such permits for truckers. The permit has a unified format, recognized by local governments, easy to apply and valid at all checkpoints, he said.
Other measures have been adopted such as establishing a "whitelist" for truckers, building more logistics transfer hubs, setting up a "whitelist" system for key industrial and supply chain enterprises to meet the logistics needs of those companies.
Compared with April 18, traffic volume is now up 13.33 percent on national freeway networks. Freight volume transported via the national railway and road network is up 8.93 and 9.5 percent, respectively.
Three additional hubs to transfer emergency supplies in Shanghai and nearby regions have been established to ensure people's livelihoods and the production of key industrial and supply chain enterprises.
Trucks entering the Shanghai Port are under management in bubbles to ensure unimpeded logistics. Compared with April 18, the volume of trucks entering Shanghai was up 37.48 percent on Wednesday, while the volume of trucks leaving the city was up 37.38 percent.
Shanghai Port has maintained normal operations on Wednesday, handling more than 100,000 containers on a daily basis.
Zhou recognized gridlocks in the national transport network have been eased, but some problems still exist, such as barring trucks from regions categorized as medium and high-risk areas in some regions.
The ministry will continue to promote inter-government departments and cross-region coordination, promote the recognition of unified traffic permits and health codes, as well as sweeping policies such as closing of highway toll stations and service areas.
Zhou noted the ministry will carry out targeted policies to improve transport efficiency to ensure sufficient materials for key enterprises.
Measures have also been adopted for the national railway system to ensure the transportation of key supplies to ensure people's livelihood, raw materials for production of key enterprises and their products, including coal, oil, grain and fertilizer. It serves the country's energy safety, food security and industrial supply chain stability, said Zhu Wenzhong, deputy head of the passenger department of the China State Railway Group, the national railway operator.
More capacity on major railways has been released. The national railway network has prioritized handling key supplies for people's livelihoods and production of key enterprises, he added.
International railway services such as the China-Europe Freight Train services and China-Laos international train services have also been promoted to maintain a stable international industrial supply chain.