Jilin focuses on getting business back to work 【Get production up, Smooth logistics,Manufacturing industry】
2022.04.22 SOURCE:CHINA DAILY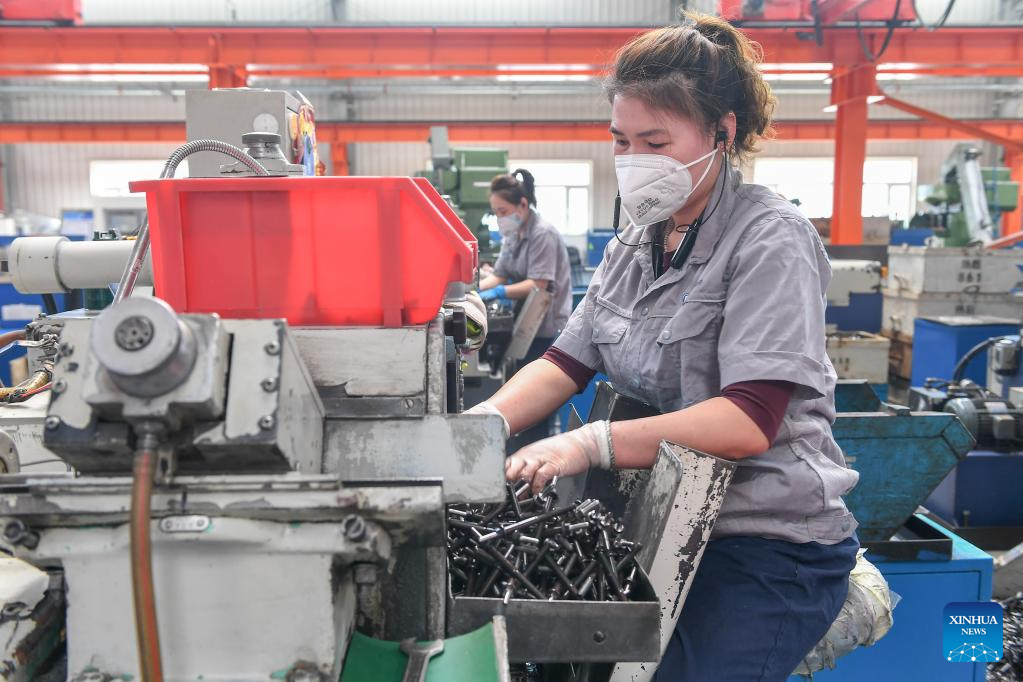 A worker works at an auto parts company in Jilin city, Northeast China's Jilin province, April 19, 2022. [Photo/Xinhua]
Jilin has controlled the novel coronavirus and achieved zero-COVID status at the community level in all parts of the province, and the local government is now making efforts to get production up and running again, officials said on Thursday.
To ensure steady progress, the provincial government has promoted 33 concrete measures involving epidemic prevention and control, smooth logistics, simplifying administrative procedures and financial support, Zhang Chunda, deputy director of the Jilin Provincial Development and Reform Commission, said at a Thursday news conference.
As of Tuesday, 500 key enterprises in Jilin province have resumed production and around 93 percent of 3,207 industrial enterprises above a designated size-industrial enterprises with annual main business revenue of 20 million yuan ($3.1 million) or more-in Jilin have resumed, said Zhang Baozong, deputy director of the provincial publicity department.
Also, 86.7 percent of medical and health enterprises above a designated size have also restarted, he said.
All five automobile plants of Changchun-based automaker FAW Group had resumed work as of Sunday, and more than 25,000 workers have returned to their posts at the group's 276 component supply enterprises.
The group suspended operations at its five automobile plants in the city on March 13.
"Auto manufacturing is an important pillar industry in Jilin and it is of great significance in taking the lead in resuming work and production," said Song Xiaohui, deputy director of the Jilin Provincial Department of Industry and Information Technology. "The provincial government began a plan to restart auto-related enterprises in late March."
To ensure the smooth resumption of work, the department has provided specific services for enterprises in different conditions.
So far, the department has distributed epidemic prevention materials to enterprises, including 294,000 COVID-19 rapid antigen test kits, 182,000 surgical masks and 246,000 doses of traditional Chinese medicine, Jilin Daily reported.
"Under COVID-19 epidemic prevention and control requirements, the plant area has been put under closed-loop management," Shu Bo, deputy director of the Weishan plant of FAW, told Jilin Daily on Tuesday. "Strict measures for epidemic prevention and control have been launched, including nucleic acid testing and disinfection, which will help protect all workers."
"Getting back to work is directly related to residents' livelihoods, so we must do our best to implement the policies issued for supporting enterprises," said Tian Zhongjun, chairman of the Northeast Sock Textile Industrial Park, which is based in Liaoyuan and is the country's main production base for cotton socks.
"There are over 1,200 enterprises in the park, which have faced a series of difficulties after the latest outbreak of COVID, such as suspended production and blocked logistics," Tian said.
Managers of the park have allocated 5 million yuan in financial aid for use by enterprises to cover rent, water, electricity and steam.
Of the 95 new locally transmitted COVID-19 cases that Jilin reported on Wednesday, 88 were found in Changchun, three in the city of Jilin and four in Yanbian Korean autonomous prefecture.
Of the 261 newly reported asymptomatic carriers, 233 were identified in Changchun, 15 in the city of Jilin and 13 in Yanbian.