Parcels to be made priority, says regulator【"last-kilometer" problem, Postal and parcel delivery services, Unimpeded logistics】
2022.04.14 SOURCE: CHINA DAILY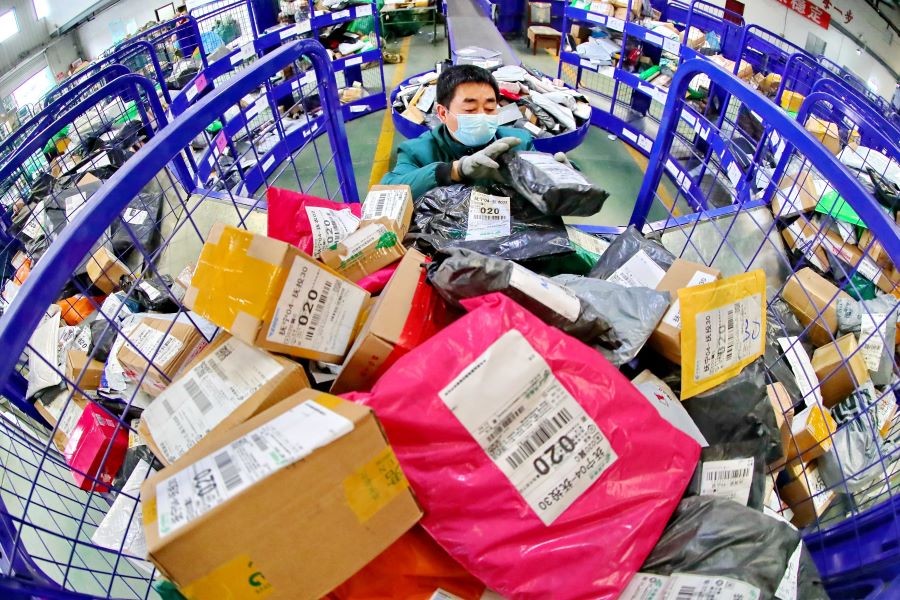 An express worker processes packages at a delivery station in Qinhuangdao, Hebei province, on Feb 24, 2021. [Photo by Cao Jianxiong/For China Daily]
Getting much-needed supplies through critical to ensuring locals' livelihoods
The State regulator of parcel delivery services has required regional regulators to arrange for service providers to resume operation as soon as possible in accordance with epidemic control protocols, aiming to solve the "last-kilometer" problem in ensuring sufficient supplies in COVID-19 hit areas.
The State Postal Bureau of China issued a circular this week to stress the delivery of postal and express packages to residential communities without delay.
The bureau emphasized that postal and parcel delivery services are key to ensuring people's livelihoods.
With the nation grappling with its worst COVID-19 outbreak since the early days of the epidemic, supply crunches are being caused in some areas by stringent anti-COVID travel and testing requirements.
In Shanghai, one of the hardest-hit cities in the recent outbreak, the citywide lockdown caused some households to run short of food and daily supplies.
The bureau stressed that it will work with departments such as the Ministry of Transport to guide enterprises to apply for permits for vehicles transporting key materials.
In areas hit hard by COVID-19, the bureau will accelerate the setting up of temporary parcel transfer hubs-such as distribution centers and transit stations-in nearby transport hubs, logistics centers and expressway service areas. The aim is to facilitate the transfer of mail and parcel delivery.
It will also focus on meeting delivery needs in sending epidemic prevention supplies, emergency drugs and basic living materials to people in epidemic-hit areas.
Local governments are being urged to roll out detailed policies to prevent a backlog of mail and parcels, such as granting access to parcel delivery vehicles, allowing parcels and mail to enter communities and adding contact-free facilities.
Postal management departments at all levels are being required to mobilize industry resources to assist local governments' efforts to ensure people's livelihoods.
The bureau urged local governments to solve couriers' practical problems, such as offering vaccines, free nucleic acid tests and temporary accommodation in areas shut down by the virus.
The bureau requires postal management departments to work with local epidemic control working groups to roll out detailed work plans to ensure smooth delivery services.
The need to ensure unimpeded logistics nationwide was also highlighted in a circular issued on Monday by the Joint Prevention and Control Mechanism of the State Council.
Different areas and departments must make all-out efforts to ensure unimpeded logistics, especially involving medical supplies, daily necessities, government reserves and mailed packages, the circular said, adding that the transportation of key production materials for agriculture, energy and raw materials must be ensured.