Airlines bank on upgraded services to boost revenue【Resurgence of the COVID-19 pandemic,Domestic airlines are under financial pressures, Luggage delivery service
2022.04.08 SOURCE:CHINA DAILY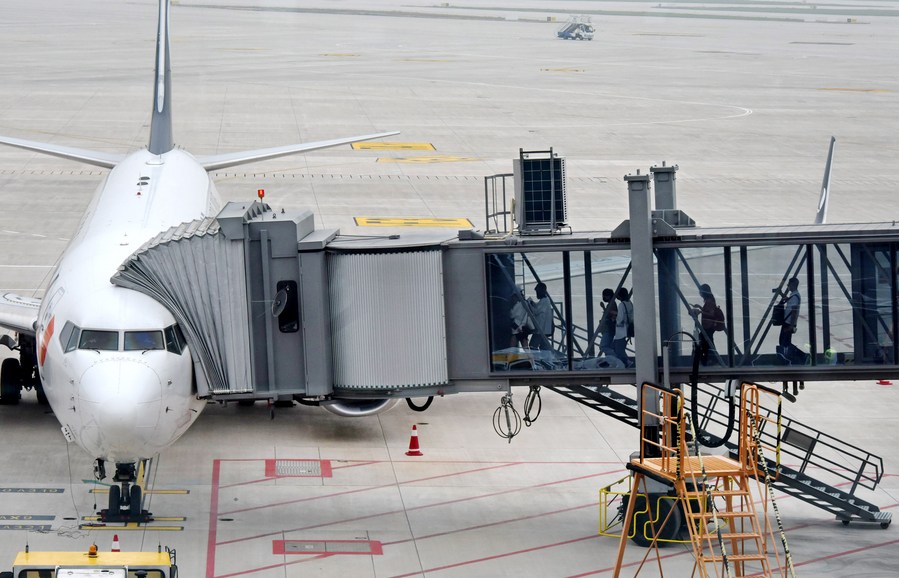 Passengers board a flight at the Qingdao Jiaodong International Airport in Qingdao, East China's Shandong province, Aug 12, 2021. [Photo/Xinhua]
Domestic airlines are taking the brunt of financial pressures caused by the latest resurgence of the COVID-19 pandemic, and they have launched additional innovative services to stay afloat. Yet, analysts remain cautious about the extent to which the service can help carriers increase revenues.
Hainan Airlines, China's fourth-largest carrier, launched a service in late March that helps passengers deliver their luggage home. The service is available at Beijing Capital International Airport and Haikou Meilan International Airport. By ordering the service online, passengers will be able to save the time of waiting for their checked luggage and they don't have to carry heavy suitcases by themselves.
After passengers have checked their luggage at departing airports and within one hour after the flight lands, they can order the service through the app or by scanning the bar code at the airports, Hainan Airlines said. The company didn't disclose the specific number of people who have ordered the service so far.
Ground service employees of the carrier will help passengers to get their luggage and logistics staff will deliver the luggage to designated destinations. Usually, it takes about four to six hours for the transportation after picking up the luggage, and passengers will be able to track the luggage status on their mobile phones, Hainan Airlines said.
It costs at least 85 yuan ($13) to deliver one piece of luggage. For passengers who bought flight tickets for business class, they can get complimentary delivery service for one piece of luggage that is less than 30 kilograms. Next, Hainan Airlines will continue to expand and upgrade its services related to luggage delivery, it said.
"There remain certain challenges to the operations and potential revenues of the luggage delivery service. Overall passenger volume decreased due to the pandemic, and this stands as the biggest challenge for airlines at the moment," said Yu Zhanfu, partner and vice-president for the China unit at consultancy Roland Berger.
"Still, those innovative measures of airlines are worthy of support and encouragement. But it's unclear what kind of business can help carriers to significantly increase revenues," he said.
In February, domestic air transport capacity resumed to 84 percent of the level seen in February 2019, when there was no pandemic, while domestic air passenger flows resumed to 67 percent of the level over the same period. The recovery of the civil aviation sector is still facing multiple challenges, according to projections by Flight Master, an intelligent travel services platform in China.
From March 1 to 27, a total of 8,779 flights took off from Beijing Capital International Airport, down 35.59 percent over the volume in February, Flight Master found.
Meanwhile, in late 2020, Guangzhou, Guangdong province-based China Southern Airlines became the first domestic carrier to launch a luggage delivery service in China. Now, it provides the services at 19 airports and on nearly 200 domestic routes.
China Southern provides luggage delivery services from airports to homes, or from homes to airports, as well as from one residence destination to another in different cities.
The carrier said it would add a protection case and a password lock for every piece of luggage, and each suitcase is equipped with baggage delay and damage insurance. It will also monitor the transportation status of luggage.