Unmanned aerial vehicles used to bolster supply of food, medicine 【Drone delivery,East China UAV Base, Logistics and disinfection】
2022.04.08 SOURCE:CHINA DAILY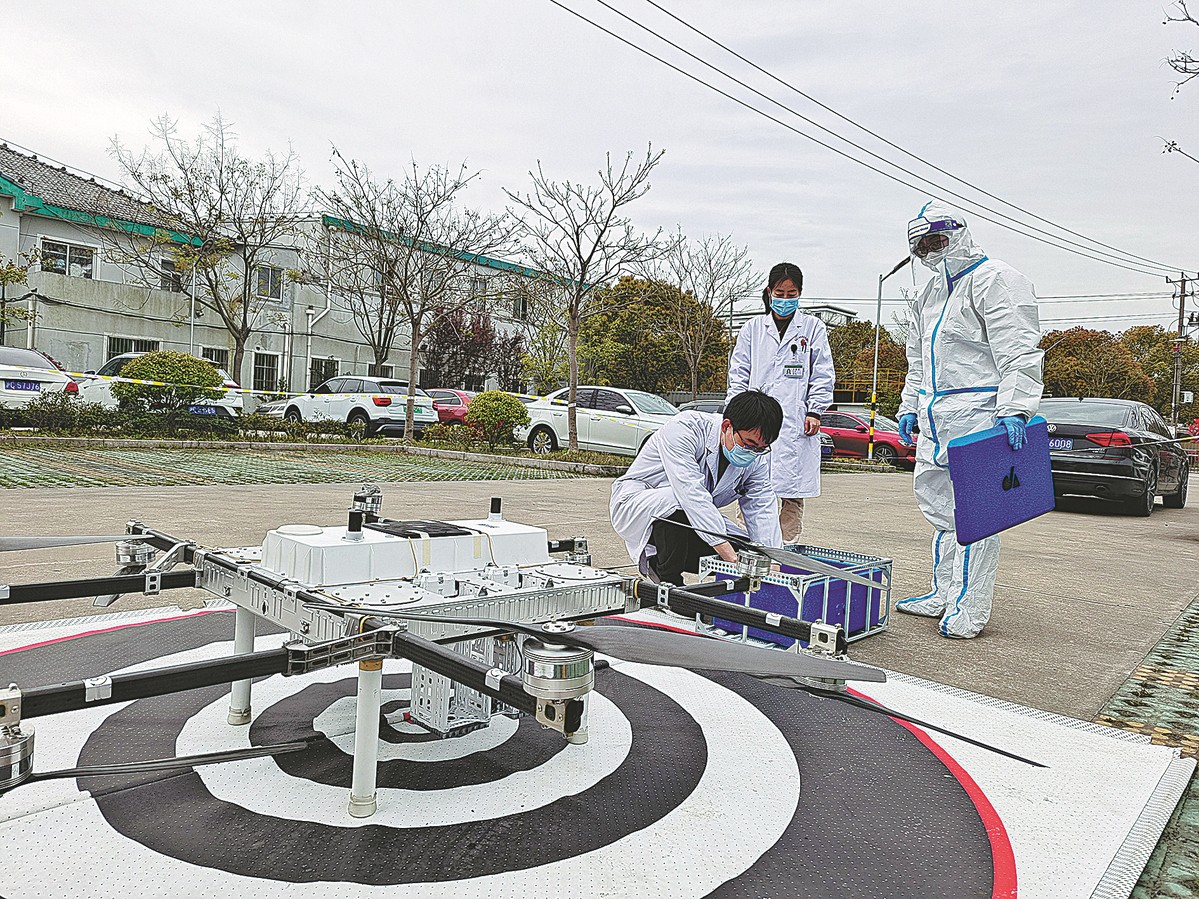 A drone from the East China UAV Base delivers medical supplies to Shanghai's Jinshan district, April 5, 2022. [Photo/CHINA DAILY]
Two drones carrying 20 kilograms of rice and vegetables took off from a distribution warehouse in Shanghai's Jinshan district on Thursday. Five minutes later, the drones landed in an open space in the village of Baowei three kilometers away. The supplies carried by the drones were donated by Hebei province.
After landing, volunteers disinfected the supplies before distributing them to local residents.
The two drones were sent by East China Unmanned Aerial Vehicle Base in Jinshan Industrial Zone.
"We have started to deliver supplies including medicines and lunch packs since the outbreak of this round of epidemic," said Xue Bin, the manager of the base.
"Now we also use them to transport food, such as rice, vegetables and meat."
The recent deliveries are mainly carried by SF Fangzhou X8 UAVs, which have a maximum takeoff weight of 42 kg and are able to carry 10 kg of materials up to 20 kilometers.
"They are mainly used for distribution in the city, but they can also deliver first-aid items. This way greatly improves the effectiveness of emergency distribution as it's not affected by traffic conditions, while it can also reduce the infection risk during delivery," Xue said.
On Tuesday, within half an hour of receiving an urgent request, medicine to reduce blood pressure was delivered via drone to Ji Ruwang, a production supervisor at a printing factory in the industrial zone.
Ji, who ran out of the medicine a week ago, had been working overtime and getting only four to five hours of sleep a day due to the urgent task of building makeshift beds and producing other epidemic prevention supplies. The company soon asked the park's service center to help deliver the medicine.
"It was a real emergency for me. Thanks to the timely delivery by the drone, now I have enough medicine to last a month," Ji said.
On the same day, about 1,200 antigen test kits were delivered from the base to a centralized quarantine site within 20 minutes.
In addition to delivering food and emergency medical supplies, drones have been used to make public announcements.
Since early in this outbreak, communities in Zhuanqiao town in Shanghai's Minhang district have been using drones to inform residents of free nucleic acid tests. An official of the town said that using drones allows authorities to inform more people while using less manpower.
"The base has given full play to its advantages by delivering emergency supplies, disinfecting public areas, and maintaining public safety and order since entering closed-loop management, which reduces the risk of contact and alleviates the shortage of volunteers," Xue added.
Covering 2.73 square kilometers, East China UAV Base was one of the first civil UAV experimental bases in China built in 2018, with more than 50 UAV models used for logistics and disinfection purposes.
More than 30 drones and five experienced operators from the base participated in the latest round of epidemic prevention, which included deliveries, disinfection and patrolling. Cumulative flight time exceeds 500 hours so far.