Container market seeks to ride out rough weather【Container turnover efficiency, International logistics costs, Cross-border e-commerce export】
2022.03.31 SOURCE: CHINA DAILY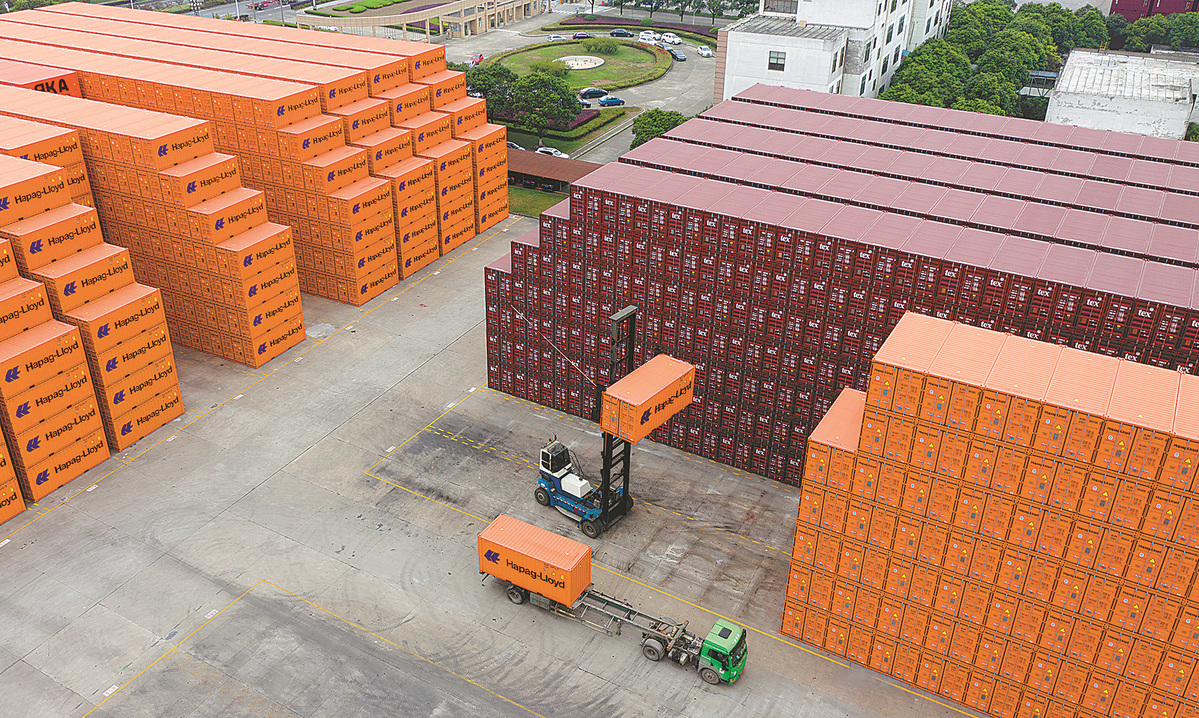 Containers made by CIMC ready for shipment in Taicang, Jiangsu province. [Photo by Ji Haixin/for China Daily]
Tight shipping capacity and high freight rates will continue to dog the global market this year as there is still no end in sight to the impact of the COVID-19 pandemic on the world's supply chains, said the top executive of China International Marine Containers (Group) Ltd, or CIMC, the world's largest supplier of shipping containers by production volume.
Mai Boliang, chairman of Shenzhen, Guangdong province-based CIMC, said earlier this week that the company has benefited from its booming container manufacturing business, with operating profit soaring 81 percent year-on-year to 13.47 billion yuan ($2.11 billion) in 2021. Container orders have remained full for the first and second quarters of this year.
Industry experts have been saying that the twin impacts of the pandemic and geopolitical tensions will crimp the operations of global ports and inland transportation this year.
Global container capacity will be tighter as many containers remain empty on the return leg of their journeys after delivering cargo, which has been affecting container turnover efficiency.
The container market will remain tight due to poor container availability in many countries this year, said Dong Liwan, a professor of shipping management at Shanghai Maritime University.
Given the complexities of the pandemic situation abroad, severe congestion and delays could lead to a decline in the efficiency of the entire supply chain. But, blindly increasing transportation capacity and container supply will not really solve these problems, Dong warned.
A study by the Beijing-based China Council for the Promotion of International Trade found that although many parties, including the government branches, export-oriented manufacturers and shipping container suppliers, had all intensified their efforts to resolve the tight container supply and meet the demand for containers from China's exporters in 2021, tight transportation capacity and high freight rates remain unresolved issues.
Therefore, it is vital for the government to promote cross-border logistics cooperation under regional trade pacts such as the Regional Comprehensive Economic Partnership agreement and support capable companies to build overseas warehouses, said Zhou Zhicheng, a researcher at the Beijing-based China Federation of Logistics and Purchasing.
The government should also further roll out policies in favor of foreign trade and maintain smooth operations of industrial and supply chains, he said.
Thanks to many countries' efforts to boost foreign trade and keep operations at various ports orderly, international logistics costs have significantly dropped in recent months, according to information released by Beijing-headquartered China National Textile and Apparel Council on Monday.
The sea freight per cubic meter of cross-border e-commerce export products has dropped from a peak of 30 yuan ($4.72) last year to about 16 yuan in early March, while the air freight per kilogram has dropped from 80 yuan to more than 30 yuan.
Shipping costs for a container shipped from ports in Shenzhen to ports on the west coast of the United States have also dropped from $17,000 last year to between $8,500 and $9,000 this month.
Despite several Chinese cities enforcing lockdowns to prevent the spread of COVID-19, Shanghai International Port Group and ports in Shenzhen have all maintained normal operations, according to Customs authorities.