Offshore selling points 【China's overseas logistics, Overseas warehouses, Belt and Road Initiative, Cross-border e-commerce businesses】
2022.03.24 SOURCE:CHINADAILY GLOBAL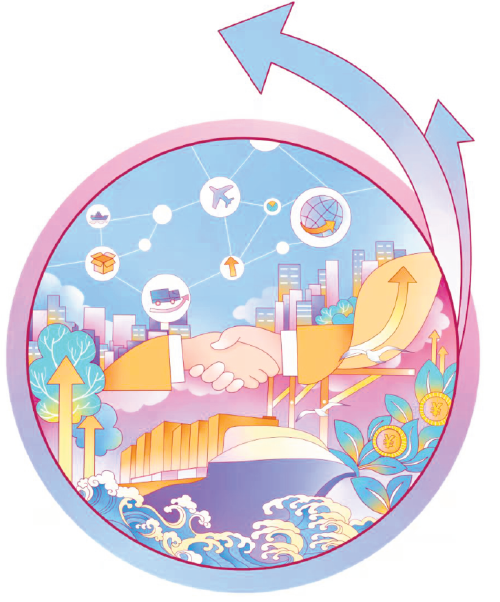 [YAN XUE/FOR CHINA DAILY]
Since 2021, global logistics costs have been on the rise, the shortage of shipping containers has become acute and many ports around the world have experienced congestion, severely impacting the stability and security of global industry and supply chains. China's overseas logistics have major weak links and it is therefore a pressing task to build a global logistics system in which China plays a major role.
Developing overseas warehouses should be considered as a major breakthrough area for the building of China's global logistics system, which combines overseas warehouses with international logistics lines to cover key regional markets around the world. The development of overseas warehouses should be integrated into the building of the Belt and Road and support its development.
In recent years, China's overseas warehouses have developed rapidly, but the endeavor is still in its infancy and it has a relatively small scale. Statistics released by the Ministry of Commerce show that China now has over 2,000 overseas warehouses, twice the number in 2019, covering a total floor space of more than 16 million square meters. But that is still far from enough to meet the demand of the country's vast global market. Also, China's overseas warehouses are mainly located in the developed economies of Europe and North America, Japan and Australia, which account for over 80 percent of the total number, while in most countries involved in the Belt and Road Initiative, few Chinese warehouses have been built.
The existing overseas warehouses are not sufficient to sustain the country's robust global trade growth. For example, global e-commerce giant Amazon recently banned over 50,000 Chinese retailers on its trading platform alleging rule violations including "fake reviews" and "brushing". Owing to a lack of warehouses in the United States, large amounts of Chinese products stored in the warehouses of Amazon couldn't be shipped back to China, and had to be sold to Mexican dealers at 10 percent of their original prices before being resold to Latin American buyers. Without enough overseas warehouses, China's foreign trade is vulnerable to external uncertainties. With the advancement of the Belt and Road Initiative, more and more Chinese enterprises and products are going global. We should not only pay attention to the development of marine shipping, air transport and China-Europe freight trains, but also attach importance to the development of overseas warehouses to cater to the growing demand generated by cross-border e-commerce.
In addition to its small scale and uneven distribution, China faces other prominent problems in developing high-quality overseas warehouses. For example, most of its overseas warehouses are self-built rather than shared ones, have a single function, lack supporting facilities, and have difficulties in financing. Also, there is a lack of a unified digital platform for these overseas warehouses.
Developing overseas warehouses is of great importance for improving China's global logistics system. It can help more Chinese products go global, expand China's global market, safeguard the country's industry and supply chains, and promote the joint construction of the Belt and Road Initiative. A master plan is needed to guide the development of overseas warehouses and form a complete global network of overseas warehouses.
China should prioritize the construction of overseas warehouses in major global free trade ports and areas along China-Europe freight train lines, key international airports, regional hub cities and important border areas in China. In addition to overseas hub warehouses, China should also build B2B or B2C warehouses in important transportation and logistics nodes to form a complete network of overseas warehouses.
The construction of overseas warehouses should be suited to local conditions, instead of being carried out with a one-size-fits-all approach. State-owned enterprises need to play a leading role in building overseas warehouses in developing countries involved in the Belt and Road Initiative with poor infrastructure. Chinese enterprises should properly handle relationships with trade unions, peer enterprises, political parties and NGOs in host countries, and adopt a localized and multiple-stakeholder model of business to form a community of shared interests with enterprises of the host countries. Associations of China's overseas warehouses and cross-border e-commerce businesses should be built and enterprises should be encouraged to form alliances in constructing overseas warehouses. Compliance training in customs clearance, taxation, environmental protection and privacy protection should be offered to companies planning to build overseas warehouses.
A national digital platform for overseas warehouses should also be established. Connected with national customs, foreign currency, tax and commerce systems, the platform will allow regulators to check the authenticity of trade taking place on the platform, and oversee cross-border and offshore trade and settlement. Enterprises could lease and resell warehouses on the platform. Moreover, trade data collected on the digital platform could enable the country to provide more precise and convenient services such as clearance, duty refund and foreign exchange settlement, and make the process of clearance more transparent.
China has a well-established model of cross-border e-commerce based on customs special supervision areas, which greatly facilitates the import of overseas goods. This model could be promoted to countries involved in the Belt and Road Initiative to propel the construction of bonded overseas warehouses in these countries, which will help more Chinese products find the way to Belt and Road markets via e-commerce platforms.
The building of overseas warehouses should be made a priority in the joint construction of the Belt and Road. To that end, policy banks should be encouraged to give financial support to the construction of overseas warehouses, while policy insurance institutions should extend credit lines to facilitate the financing of overseas warehouses. To better leverage the role of fiscal support, local governments should offer discount loans to overseas warehouses, rather than granting direct subsidies. In addition, overseas branches of Chinese financial institutions should be encouraged to provide more mortgage and credit services to the country's overseas warehouses.
The author is director of the Digital Economy Division and a researcher at the China Center for International Economic Exchanges. The author contributed this article to China Watch, a think tank powered by China Daily. The views do not necessarily reflect those of China Daily.