Auto behemoth reveals investors' love for Shanghai (Tesla gigafactory, China (Shanghai) Pilot Free Trade Zone, Foreign investment)
2022.03.17 SOURCE:CHINADAILY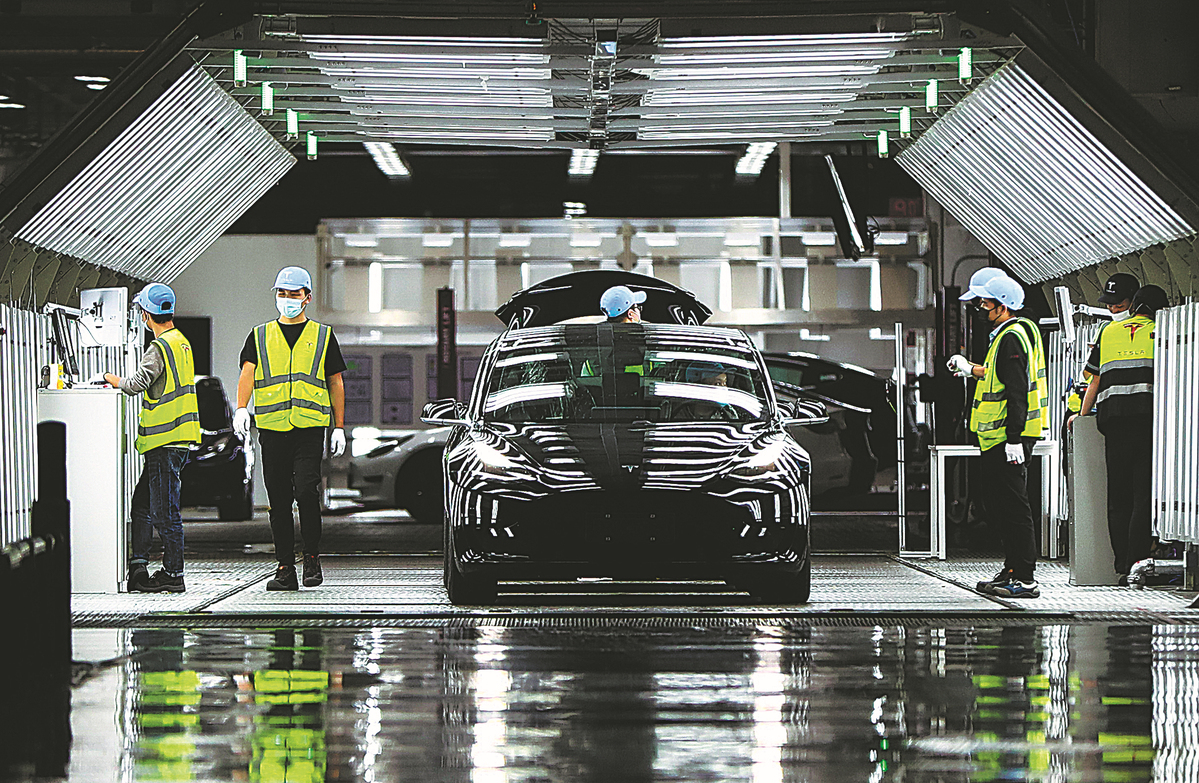 New management regulation poised for large industrial cluster, optimizing biz environment
In a notice released in late February, electric vehicle giant Tesla announced it will be adding more auto part workshops at its gigafactory in the Lin-gang Special Area of China (Shanghai) Pilot Free Trade Zone, only two years after the 50-billion-yuan ($7.86 billion) plant became operational.
The data should explain a lot.
The China Passenger Car Association said Tesla delivered 56,515 cars in China in February, crossing the 50,000 car threshold for the sixth consecutive month. The carmaker exported 33,315 cars from China to the rest of the world in February, up 339 percent year-on-year. The Shanghai plant shouldered half of Tesla's annual output last year.
Tesla stressed in its 2021 fiscal report the importance of the Shanghai factory, especially when the global supply chain comprising logistics, labor and other manufacturing sectors was still being challenged by the COVID-19 pandemic.
A win-win scenario has been created. The EV car industry in Lin-gang, where the Tesla plant is located, has been boosted and became the first 100 billion yuan emerging industry in the area in 2021. A safe, independent and controllable industrial ecosystem has been built, covering car chips, autopilot systems, interior design and new material precision finishing. The industry will see its value exceed 300 billion yuan in 2025, the local administration of Lin-gang said.
Auto part makers with factories set up in Yangtze River Delta region cities such as Suzhou in Jiangsu and Taizhou in Zhejiang, which are within four hours drive from the Shanghai plant, have formed a large industrial cluster, which not only complements Tesla's production but also injects substantial vitality into the local economy.
Liu Ping, chief engineer of the Shanghai Municipal Commission of Economy and Informatization, said in late September 2020 that the "Tesla model" should be promoted to a wider range so that the city's business environment will be more legalized, international and convenient.
In 2021, a total of 19 projects attracting over 10 billion yuan of investment each had been launched in Shanghai by adopting the "Tesla model", according to the municipal government. It took only 16 months for Tesla's Shanghai gigafactory-the first of its kind outside the United States-to produce the first cars after it inked agreements with the Shanghai government in July 2018.
New measures have been taken to make the high efficiency possible. Industrial land can be used for multiple purposes in Lin-gang, the first time such a move has been made in Shanghai. When checking transportation projects, only core materials were required for review and supplementary documents could be submitted at a later date.
The simplified examination process for new projects, which was the one core value of the "Tesla model", has grown into Shanghai's new management regulation on examining and recording foreign-invested projects which took effect on March 1.
Under the new regulation, no enclosed documents, for example, companies' income statements or capital and credit certificates, are required. Documents that can be shared on the government's online administrative platform should not be repeatedly submitted to different government departments. Companies can record all their information on a new project online and certificates are produced.
The new regulation is one of the many efforts that Shanghai has made to improve its business environment. During the sixth session of the 15th Shanghai Municipal People's Congress held in late January, Shanghai Mayor Gong Zheng said that a total of 172 new policies will be adopted this year to further improve the city's business environment.
In a guideline released in late January which aims at soliciting more investment to Shanghai, optimization of the business environment was also highlighted. Services facilitating foreign investment should be improved by coordinating different projects and simplifying application materials, the guideline said.
The strategy of a multinational company is usually decided by the market's openness and business environment, said Zhan Xu, executive director of Volvo Construction Equipment China.
With the help of the innovative policies taken at the China (Shanghai) Pilot Free Trade Zone, the company saw its revenue more than double in two years since it started the first offshore trade business at the Shanghai FTZ in 2018, which gave it the confidence to move its regional headquarters from Singapore to Shanghai in April 2020, he said.
By the end of 2021, at least 827 multinational companies have set up their regional headquarters in Shanghai, while the number was only 347 in late 2011.
Continued efforts are being made to facilitate foreign investment amid precise services provided by the local government, said officials from the Shanghai Municipal Commission of Commerce during a news conference in late February.