Yantai Port injects new impetus into China-Africa trade relations (Cargo shipments, Two-way logistics channel, One-stop service network)
2022.03.16 SOURCE:CHINADAILY
In the first two months of this year, cargo shipments from Yantai Port in East China's Shandong province to Africa increased by 82.4 percent year-on-year, and the two-way logistics channel between China and Africa has injected new impetus into the development of China-Africa trade relations, according to statistics released by Yantai Port on March 9.
Official data showed that the annual delivery volume of the Chinese-African cargo liner at Yantai Port, which is a subsidiary of Shandong Port Group (SPG), has exceeded one million metric tons for the first time ever, up 90.4 percent year-on-year, making the port the largest trade port serving China-Africa trade, and an important part of the Belt and Road Initiative.
With the support of SPG, Yantai Port has developed an innovative model to promote the collaboration between ports and logistics groups, and launched tailor-made services for its customers. Both of which have optimized and upgraded its one-stop service network, as well as helped customers save on logistics costs.
Yantai Port will increase its efforts to expand the cargo liner market of 18 ports along the West African coast, according to SPG authorities. The "China-Africa Two-way Logistics Golden Channel," which will better support the country's dual-circulation growth pattern and assist Shandong Port to develop into a world-class smart and green port, will also be promoted.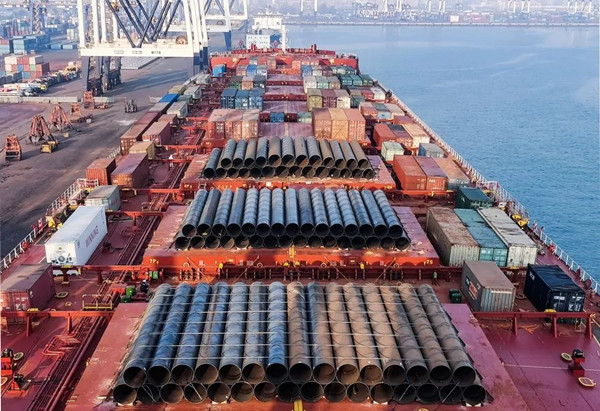 In the first two months of this year, cargo shipments from Yantai Port in East China's Shandong province to Africa show an increase of 82.4 percent year-on-year. [Photo/Dazhong News]