China's e-commerce logistics activities expand in February (E-commerce logistics, The Winter Olympics, Demand for consumption )
2022.03.11 SOURCE:XINHUA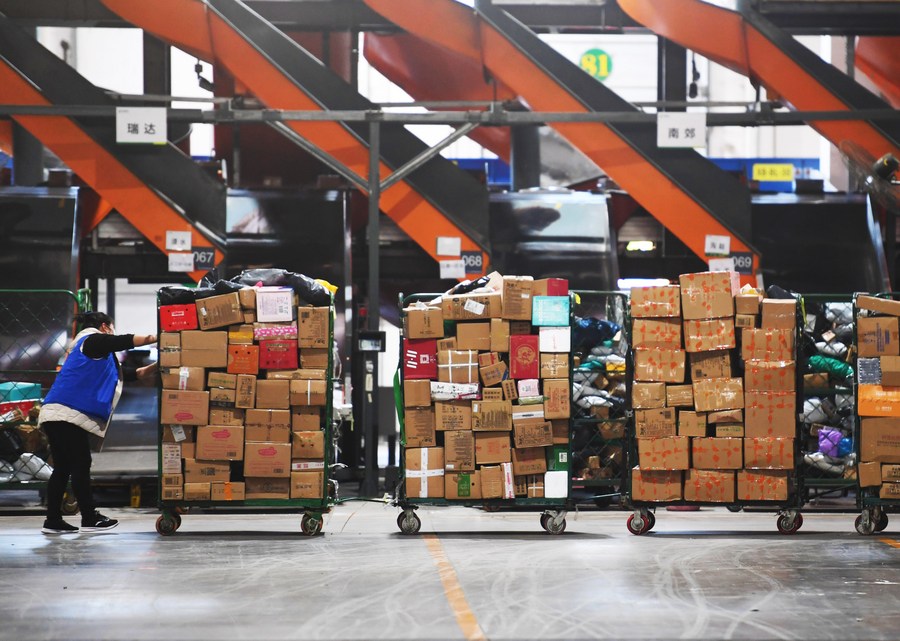 Staff members transport packages at a logistics center in Zhengzhou, central China's Henan Province, Nov. 11, 2021. With orders pouring in at midnight Wednesday, this year's Singles' Day shopping spree peaked on multiple e-commerce platforms in China.(Xinhua/Zhang Haoran)
BEIJING, March 5 (Xinhua) -- China's e-commerce logistics sector posted steady growth in February as the Beijing Winter Olympics boosted demand for consumption, industry data showed.
The index tracking e-commerce logistics activities stood at 108.9 points in the period, up 0.3 points from January, according to a survey jointly undertaken by the China Federation of Logistics and Purchasing and e-commerce giant JD.com.
Total demand for e-commerce logistics expanded last month in comparison with the same period of past years, with the sub-index tracking total business volume rising 3 points year on year.
The Winter Olympics triggered rapid growth in demand for winter sports clothing and equipment as well as Olympic merchandise, which effectively stimulated demand for e-commerce logistics in February, said the survey.
It predicted further expansion of e-commerce logistics activities in March driven by a continuous increase in demand and the recovery of supply as logistics employees fully resume work.