CPPCC member calls for strong support (China-Europe freight train, Qingdao's logistic system, Cross-border settlement)
2022.03.11 SOURCE:CHIANDAILY
The annual sessions of the National People's Congress and the Chinese People's Political Consultative Conference National Committee are underway. Yang Jun, a CPPCC National Committee member and chairman of the CPPCC Qingdao municipal committee, brought his suggestions on three issues that are crucial to the future of the port city to China's top political advisory body.
In his proposal, Yang called for the nation's support for building a China-Europe freight train demonstration center in Qingdao.
Yang said as a place to reach out to Japan, South Korea and the Asia-Pacific market, Qingdao plays an irreplaceable role in opening-up, tapping the potential of domestic demand, and functioning as a circulation and logistics hub.
Qingdao is home to Shandong province's only freight container station connected to the rail network, a good example of Qingdao's multimodal transport logistics system.
In 2021, 621 freight trains operated in the China-Shanghai Cooperation Organization Demonstration Zone for Local Economic and Trade Cooperation up 54.9 percent from 2020.
On Feb 18, the China-Europe freight train from Qingdao to Mannheim in Germany officially started operation.
Trains that depart from Qingdao can reach 49 cities in 20 SCO member countries and the countries involved in the Belt and Road Initiative and a network connecting more than 200 cities and regions across the globe has primarily formed.
Yang's other proposal is about setting up the Qingdao branch of an SCO development bank.
He said that such a bank will help transfer domestic advantageous production capacity to SCO member countries, provide comprehensive services such as fund settlement, repatriation of profits and financing support for private enterprises and build a new cross-border settlement system.
Qingdao has seen a rapid rise in recent years, with a GDP of 1.41 trillion yuan ($223.52 billion) in 2021, an increase of 8.3 percent over 2020.
The city's financial industry is enjoying a bright future, which provides a basis for setting up the bank, Yang said.
Yang recommended that a high-level coordination mechanism to promote the establishment of the bank should be in place, which should involve the China Banking and Insurance Regulatory Commission, the People's Bank of China, the State Administration of Foreign Exchange and the Ministry of Finance.
To better support the opening-up of China's service sector, Yang proposed that Qingdao should be given a chance to be included on the list of the third batch of comprehensive pilot cities for the opening-up of the service sector, and the country should support Qingdao to be a testing ground for projects in key areas such as science and technology, internet, information, finance, education and healthcare.
Also, Qingdao's unique strength in serving the marine industry merits attention.
Yang added that in 2021, the added value of Qingdao's service sector was 859.61 billion yuan, up by 9.2 percent year-on-year, with the service sector contributing 67.8 percent to economic growth. The fact that the service sector is a major engine for Qingdao's growth became more pronounced.
In addition, the official also advised increasing support for promoting the opening-up of the city's healthcare.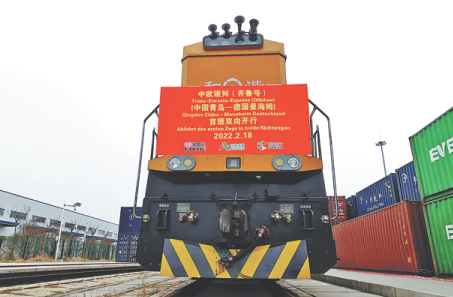 CHEN XINGHUA/FOR CHINA DAILY
The inaugural ceremony of the China-Europe freight train from Qingdao to Mannheim in Germany, which launched on Feb 18.