Auto industry targets global export growth -【Chinese vehicles abroad, Auto industry, Overseas markets】
2022.02.25 CHINADAILY.COM.CN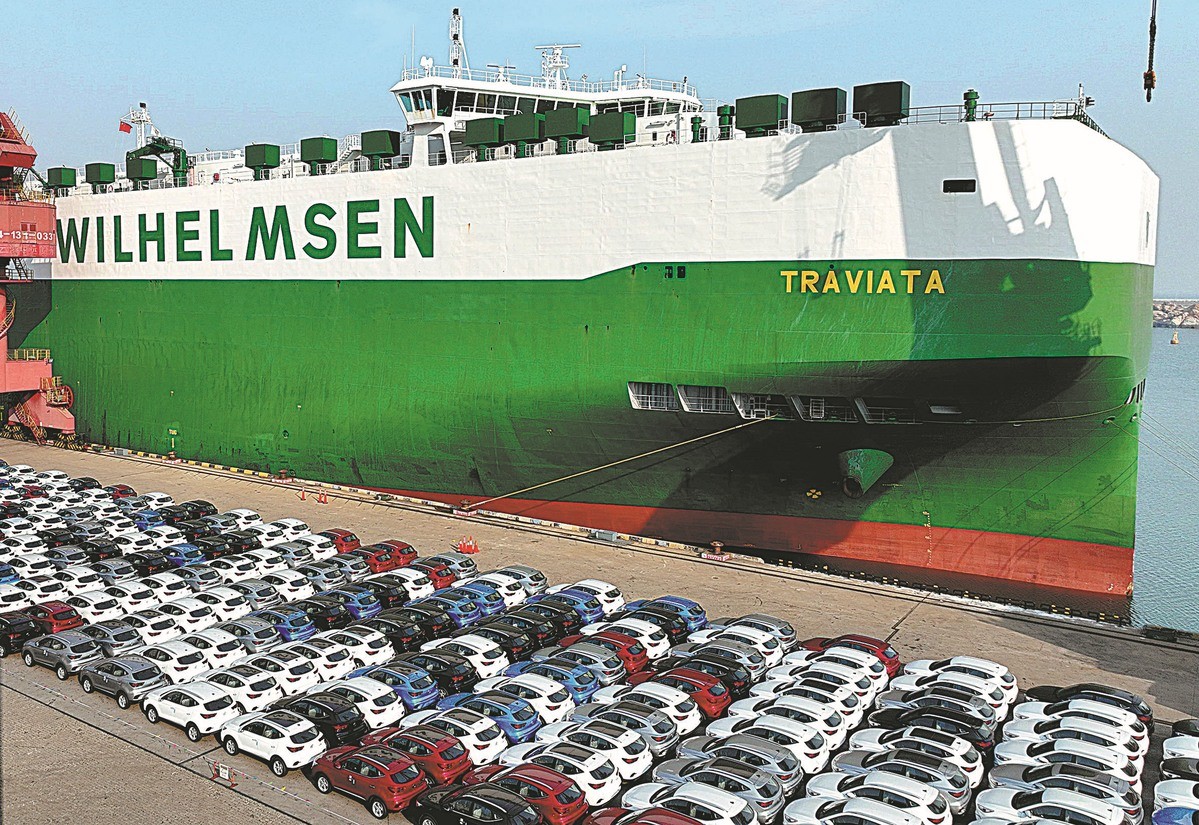 Consumer demand for Chinese vehicles abroad saw huge acceleration last year
Chinese carmakers are stepping up efforts to further expand their global presence after the country's auto vehicle exports doubled to a record 2.02 million in 2021 despite chip shortages and the COVID-19 pandemic.
Great Wall Motors, China's largest SUV and pickup truck maker, said last week that it is planning to start operations in Malaysia, Vietnam, the Philippines and Singapore this year.
The move will see the carmaker's vehicles available in eight member countries of the Association of Southeast Asian Nations this year, said Zhang Jiaming, president of Great Wall Motors' business in the region.
The carmaker is selling in Brunei, Laos, Myanmar and Thailand. In Thailand, it has a plant that will serve as its base in Southeast Asia.
The region is one of Great Wall Motors' latest target markets as it grows overseas. Wei Jianjun, the automaker's founder and chairman, once said Chinese makers will not be successful if they are not competitive globally.
The company started to export vehicles in the 1980s. Last year, 143,000 were sold overseas, up 104 percent from 2020, but still only accounted for merely 11 percent of its total deliveries.
It is accelerating the pace to go overseas as the industry is shifting to electric power. Great Wall Motors is entering the German market this year, with the first two models being a plug-in hybrid SUV and an electric sedan.
"Chinese carmakers now have the courage and ability to take European brands head-on," said the carmaker in a statement at the 2021 Munich auto show.
Qiao Xianghua, CEO of the carmaker's European operations, said entering the European market, where modern vehicles were invented, is an important milestone for Great Wall Motors. "We have ambitious goals for this market," he said.
China's largest carmaker SAIC Motor is introducing two vessels into its international logistics fleet, as its vehicles are gaining popularity in overseas markets.
It has built a global sales network covering more than 70 countries and regions, ranking first for six years in a row among Chinese carmakers in terms of overseas sales.
Last year, its overseas deliveries reached 598,000 units. Of them, big markets include Europe, the Middle East, Australia and New Zealand, ASEAN countries and India.
SAIC's guiding strategy is to offer new and different options, said Yu De, managing director of SAIC's international business department.
In emerging markets, for example, the carmaker highlights its smart connected vehicles, which can connect to the internet and communicate with other devices, while in developed markets like Europe, new energy vehicles have served as an entry point.
European countries are offering generous subsidies to buyers of new energy vehicles, but most local products are hybrids, which creates a competitive edge for pure electric vehicles that Chinese carmakers excel in making.
China's EV startups are making inroads into overseas markets as well.
New York-listed Nio is to sell vehicles in Germany, the Netherlands, Sweden and Denmark this year.
It started exports in 2021, with Norway as the first stop. It has launched its flagship ES8 in the country, with its sedan, the ET7, to follow in 2022.
"By 2025, Nio will establish its presence in more than 25 countries and regions worldwide," said the carmaker.
Chinese carmakers' electrification approach is not limited to Europe. Great Wall Motors said it will offer 10 models in Brazil by 2025, and all of them will be electrified.
The company made the announcement when it took over a Daimler plant in the South American country in January.
The models will have connectivity features and driving-assist functions, according to the carmaker.
Great Wall Motors said it will invest up to 11.5 billion yuan ($1.81 billion) over 10 years in Brazil to become a leading carmaker in the country's new energy vehicle market.
SAIC-GM-Wuling is to sell its popular electric minicars in Indonesia from this year, which will be the first overseas market for the Sino-US joint venture's models built on its mini-EV platform.
Wuling rose to fame in the EV sector in 2020 because of its two-seater Hongguang Mini EV, which once dethroned Tesla's Model 3 as the world's best-selling EV model.
The model and its other small-sized EVs have been successful in China, with total deliveries exceeding 650,000 units so far.
A representative at the company said more than 200 dealers from 70 countries and regions have expressed interest in the Hongguang Mini EV model.