ebm-papst Group:Drives with local intelligence
Ⅰ
Internal material transport systems transport suitcases, packages, storage containers, and entire pallets reliably on roller conveyors, divert via deflectors, and sort piece goods. Intelligent, compact, high-performance drives with integrated control electronics from ebm-papst open up interesting perspectives here.


In comparison to conventional AC drives, this automation task can be performed more elegantly, with fewer components, and entirely without compressed air with intelligent ebm-papst drives.


No compressed air and fewer sensors
The roller drive is installed right in the feed rollers and there is room in the frame for the compact divert drive. Better use is thus made of the available space since there are practically no protrusions. The belts can be positioned closer together horizontally or vertically or positioned close to the floor. Installation is also simplified, in particular because no compressed air lines need to be mounted and no mechanical force transfer elements such as toothed belts are needed. In addition, only one sensor is needed for position detection at the divert and, if necessary, a single drive can shift the divert in two directions. So for two-way diverts, it is even possible to dispense with three sensors.


Drives with local intelligence
The compact EC drives from drive specialist ebm-papst owe their intelligence to their integrated K4 control electronics. Three main operating modes are possible, with the motor working in speed, positioning or torque mode. The drive's functionality during operation can also be controlled by monitoring numerous quantities such as voltage, current, speed, temperature, etc.


Modular construction
The powerful control electronics can be integrated in various external or internal rotor EC motors. The drive systems can be adapted quickly and flexibly to the specific task at hand thanks to their modular design. In other words, they can be combined with transmissions, encoders and brakes as needed. Several thousand variants are possible in all, with designated preferred types ready to ship within 48 hours.
Output power reaches 120 watts for the electronically commutated VARIODRIVE Compact external rotor motors and 750 watts for the ECI series of internal rotor motors making trouble-free transport possible even for very heavy pallets.
Ⅱ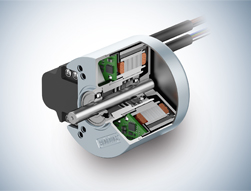 Fig. 1: VARIODRIVE Compact EC external rotor motors with up to 120 watts of output power with integrated control electronics, great efficiency, and higher power density.
Fig. 1 - ebm-papst

Characters - Approx. 2,400, including headings and sub-headings
Tags - drives, sorting diverter, compressed air, transport systems
About ebm-papst


The ebm-papst Group, a family-run company headquartered in Mulfingen, Germany, is the world's leading manufacturer of fans and motors. Since the technology company was founded in 1963, it has continuously set the global industry standard. With over 20,000 products in its range, ebm-papst provides the best energy-efficient, intelligent solution for virtually every ventilation or drive engineering task.
In fiscal year 2018/19, industry leader ebm-papst generated revenues of 2.18 billion euros. It employs over 15,000 people at 28 production sites (e.g. in Germany, China and the US) and in 48 sales offices worldwide. Fans and motors from the world market leader are used in most industries, including ventilation, air conditioning and refrigeration, household appliances, heating, automotive and drive engineering.
Katrin Lindner

Trade press coordinator

Phone: +49 7938 81-7006

Fax: +49 7938 81-97006

Katrin.Lindner@de.ebmpapst.com

Corinna Schittenhelm

Trade press coordinator

Phone: +49 7938 81-8125

Fax: +49 7938 81-98125

Corinna.Schittenhelm@de.ebmpapst.com

Press office contact

ebm-papst Group

Phone +49 7938 81-7105

twitter.com/ebmpapst_news

facebook.com/ebmpapstFANS

youtube.com/ebmpapstDE

www.ebmpapst.com

ebm-papst Mulfingen GmbH & Co. KG
Bachmühle 2 · 74673 Mulfingen · Germany · Phone +49 7938 81-0 · Fax +49 7938 81-110 · info1@de.ebmpapst.com · www.ebmpapst.com