China Southern expands fleet to boost cargo operations -【AGV, Logistic, Air Cargo, Supply Chain, Warehouse, ERP system, Logistic Management, Chinese Market】
By Zhong Nan | China Daily | Updated: 2020-06-12 09:38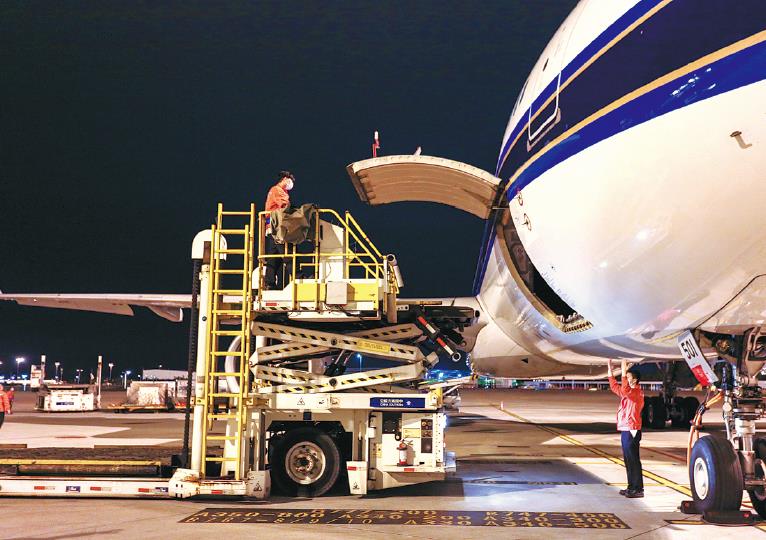 China Southern Airlines employees prepare to load cargo onto an aircraft at Guangzhou Baiyun International Airport in Guangdong province in early May. [Photo/China Daily]


China Southern Airlines, the country's largest carrier by passenger volume, added two Boeing 777 cargo aircraft to its fleet and pledged to enhance its cargo capacity via retrofitted passenger aircraft to bolster the country's insufficient airfreight capacity caused by the COVID-19 pandemic.


With the two new aircraft added in late May, the total size of the centrally-administrated State-owned airline's cargo plane fleet now stands at 16, and the number of scheduled international all-cargo flights is now capable of reaching 56 per week. They will be deployed on air routes between Guangzhou and Frankfurt; Shenzhen, Guangdong province and Chicago; and Guangzhou and London.


This will enhance China's air cargo capacity in the global market and better respond to the government's call to help fix and prevent disruptions to the world's supply chains caused by the pandemic, as well as support the growth of the Guangdong-Hong Kong-Macao Greater Bay Area, said Wu Mingfeng, deputy director of network planning at China Southern's freight division.


To maintain solid economic fundamentals, the government emphasized the importance of focusing on the "six priorities" of safeguarding employment, people's livelihoods, the development of market entities, food and energy security, the stable operation of industrial and supply chains and the smooth functioning of society.


After the extended Spring Festival holiday, the Guangzhou-based group had operated more than 1,000 cargo missions-many by retrofitted passenger aircraft-from Chinese cities including Urumqi, the Xinjiang Uygur autonomous region; Guangzhou and Shenzhen in Guangdong province; Beijing and Shanghai to fly 11,200 metric tons of medical supplies, parcels, industrial goods and daily necessities to 22 countries and regions across Europe, the Asia-Pacific, the Middle East and Africa as of May 20, Wu said.


"The central government's new policy measures announced in late May will help stabilize global supply chains and enable civil aviation firms to upgrade their international cargo handling capacities," he added.


According to the new rules, airlines can receive back 80 percent of the costs involved in converting passenger aircraft into cargo aircraft from the government and they are encouraged to fly international cargo flights during the COVID-19 prevention and containment period.


As a number of countries have shut down their ports or borders during the pandemic struggle, air cargo has become increasingly critical in the world's COVID-19 fight amid surging demand for medical supplies, said Feng Hao, a researcher at the National Development and Reform Commission's Institute of Comprehensive Transportation.


Feng said the new policy will provide financial support for air transportation companies to cushion against COVID-19 impact and maintain smooth operation of global supply chains via stable cargo deliveries.


Apart from commissioning 185 international cargo flights weekly to restore its operational presence, China Southern officially started operations of its Daxing China Southern Airlines City in late April as part of an expansion of its aviation and land-based business in the country's capital.


The centrally administrated State-owned enterprise said its development focus in Beijing has shifted from Beijing Capital International Airport to the new Beijing Daxing International Airport, which started operations last year. The first phase of this big-ticket project comprises floor space of more than 360,000 square meters, allowing 17 operating units to function.


After the relocation, China Southern's three largest projects in Asia will be put into operation gradually, offering guaranteed flights and providing better services to passengers at the new airport, include Asia's largest transportation control center, the largest single hangar and the largest production base for in-flight food.


The group started its major move to Beijing Daxing International Airport in mid-April despite the COVID-19 pandemic. It expects to complete 60 percent of the move during the second and third quarters of this year. The airline plans to have more than 200 aircraft operating at the new airport in 2025, with more than 900 flights taking off and landing daily.


In addition to its nine full cargo aircraft, Eastern Air Logistics Co-the freight unit of Shanghai-based China Eastern Airlines and peer of China Southern-has decided to retrofit 14 widebody passenger aircraft into cargo aircraft to better develop its long-distance cargo business, creating the largest passenger aircraft-converted widebody fleet in China.


Backed by 860 passenger and cargo aircraft, sales revenue of China Southern reached 154.32 billion yuan ($21.59 billion) in 2019, up 7.45 percent year-on-year, while China Eastern recorded revenue of 120.86 billion yuan, up 5.16 percent year-on-year and Air China's top line hit 136.18 billion yuan, dropping by 0.43 percent year-on-year, said the State-owned Assets Supervision and Administration Commission of the State Council.