Logistics Manager Analysis: Automated Storage and Retrieval… More than meets the eye -【AGV, Logistic, Air Cargo, Supply Chain, Warehouse, ERP system, Logistic Management, Chinese Market】
From Logitics Manager Magazine


Logistics depends not just on warehousing, but on people and the Covid-19 pandemic has highlighted this dependency more than ever before. So how can storage and retrieval processes benefit from further automation, and remove human risk factors? Michelle Mooney reports.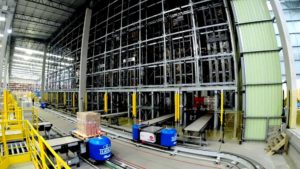 Good logistics needs property, transport and people. That truth was put to the test in the early days of the Covid-19 pandemic when, faced with the inability to use that crucial third pillar – people – in an effective way some logistics operations were forced to close.


For years automation has been the way to remove humans from the process, eliminating pesky practices like boredom or fatigue or sleeping or family life from the movement of goods – particularly those bought online – in the warehouse. This is especially prevalent when it comes to storage and retrieval.


Andrew Hoyle, head of automation at Wincanton says: "Automation of storage and retrieval is particularly key to high speed operations demanded by the online sales world, especially where customer service is measured by product availability and the ability to meet challenging delivery cut-off times.


"The heart of any fulfilment system is the capability to efficiently manage inventory into the optimum format and store goods ready for fast processing. For smaller products in particular, this could mean using an automated shuttle system or an autostore-style robotic-led storage system."


So, if you can successfully integrate an automated processes, you want it to work as hard as possible, and after coming out of the coronavirus pandemic, we will begin to see what the "new normal" actually consists of, says Jim Hardisty, MD at Goplasticpallets.com.


"I suppose like any asset you need to make it work as hard as it possibly can, so throughput will be the key, and even more so in the "new" normal we will see, as we come out of the coronavirus pandemic, but into a recession of sorts. The faster the retrieval, and slicker the inventory control, the more the space will work harder."


The new normal will include the automation of storage and retrieval in a way the industry has never seen before.



IntraLogisteX 2020 – the UK's only intralogistics and materials handling show this year – takes place on 29th and 30th September at the Ricoh Arena, Coventry. For more details go to: www.intralogistex.co.uk
Robots in the aisles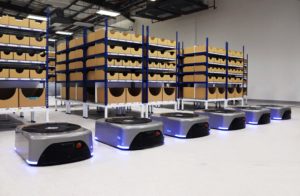 Frazer Watson, head of sales, Europe, for Hikrobot at Invar Systems says that an automated goods-to-person order picking processes can offer a significant boost to warehouse performance.


"Perhaps the key advantage of bringing the goods to the person is that it cuts out dead time in walking the warehouse floor during picking and put-away activities," he says. "Miles of walking a day can be eliminated, allowing static pickers to perform their actions with great speed and, importantly, great accuracy, if the right technology is used."


Limiting unnecessary tasks and improving ergonomics for employees should be a priority for an efficient and productive warehouse, says Watson: "The big revolution that is taking place within the warehouse is the use of mobile robots. AI and robotics is transforming order picking. High cap-ex automation, where conveyors and shuttles are bolted to the floor, is not seen as flexible enough for the fast-changing world of e-commerce. Mobile robotic systems are agile, flexible and scalable.


"A fleet of autonomous robots can fetch mobile shelf units of products and present them to a picking station in a pre-determined stream, according to order management. At the same time, pickers can replenish shelves, and the robot carries away the shelf unit to a high-density storage area, ready for the next activity. This is the future of order picking."


So, there should be no problem with adding technology that can work alongside human employees, and this in turn will optimise storage space, alongside retrieval.


Megan Crossman, head of customer success at OW Robotics, believes that robotics is the answer to storage and retrieval issues: "The Amazon effect means that storage and retrieval needs to change in order to keep up with demand. In this decade, customers expect next-day delivery as an offering, and to ensure your customers' expectations are met, warehouses must cater for this increase in level of service."


Crossman says that robotics is the answer for efficient storage and retrieval because the robots work through the night to shift pods when your customers place out-of-hour orders. Furthermore a robotic storage and retrievalprocess will process the order through a control system, and spring the robots into action so they can collect and send the pods containing the products to the picking station overnight. When pickers return to work the next morning, customers' orders are right in front of them to pack for the morning delivery.


Crossman says it is e-commerce that is adopting automation at the fastest rate – because all online retailers are compared to Amazon – but there is also evolution taking place in the wholesale industry "so we're slowly seeing a rise in B2B businesses adopting automation, too".


The food and drink industry is also a big contender for automation, with the likes of Ocado having already introduced robotics to its warehouses for storage and retrieval. In the early days of the Covid-19 pandemic supermarkets fell victim to stocking pressures and, Crossman believes many would have benefited from having products on the shelves at a quicker rate.


"Sadly, it's the unforeseen circumstances that can shed light on any cracks in an operation, so it's expected that there will be an increase in automation for supermarkets as a result of the pandemic," she says.

The 24th Supply Chain Excellence Awards, with new categories for 2020, will take place on 12 November – including Best Use of Robotics – Sponsored by Unipart Logistics. For more information, including how to enter and sponsorship opportunities, contact daniel.jessop@akabomedia.co.uk


Not every task can be automated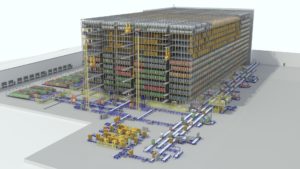 Chris Roberts, head of industrial robotics at Cambridge Consultants, says that against this backdrop, the need for improvements to the storage and retrieval of goods is clear.


"Even before the onset of Covid-19, the use of automation and robotics to advance the state of the art in this field, and when the current crisis is dealt with, I expect that trend to continue. However, as with the use of robotics in many different markets, not every task can be automated, so the key to success will be to identify the most commercially compelling cases.


"Most of the easily automated tasks have already been automated," Roberts says, "the remaining ones need more intelligence and flexibility to be integrated into the robotics before they'll succeed."


So, while warehouse automation has taken great strides over the last decade, today's robots cannot emulate human dexterity at the point of picking diverse individual items from larger containers.


"By giving a robot additional human-like senses it can feel and orient its grip around an object, applying just enough force, while being able to adjust or abandon if the object slips," says Roberts. "This allows you to address the challenge of handling individual items, however much they vary in size and shape."


Eric Carter, solutions architect at Indigo Software, says that when deployed correctly, robotics offers incredible cost savings, but the initial investment remains out of reach for many SMEs and now, after the COVID-19 crisis, these capex investments could be unfeasible in the medium term.


"Apart from the cost savings, there are other benefits, for instance, ergonomics, as robots can undertake heavy jobs that can cause long term injuries like RSI. We have seen this at customer sites, where investments in robotic packing arms to assist operatives have resulted in big cost savings. Depending on how the economy eventually recovers after coronavirus we could see a lot of companies who may have had to reduce their workforces in the short term, decide to automate wherever possible, to avoid having to re-hire people. Anything could happen now. But for SMEs, some of whom will have needed a coronavirus business support loan, it is still an investment of potentially hundreds of thousands of pounds, which may be out of reach."


Reducing risk
Wincanton's Hoyle says the justification for automation investment is always about reducing risk. Covering a level of volume with automation protects the supply chain, he says, while also providing known levels of reliability, accuracy and safety.


"In uncertain times where labour availability and performance are not easily guaranteed, we see the addition of an automation capability a key desirable in new warehouse solutions. RoI is a big factor, but before a business gets to that stage, they need to carefully evaluate the potential savings to be had because it is still a very significant investment decision."


Gwynne Richards, director of Apprise Consulting, says there are other arguments for automation outside of RoI, including reducing order lead times.


"Many retailers view later order cut-off times and speed of delivery as competitive advantages in this new retail battleground," he says.


"Up until the Covid-19 virus working in a warehouse was not seen as essential work and pay rates reflected this. This resulted in fewer young people wanting to work in the warehouse. As a result, we have ended up with an ageing workforce. In fact, Motorola in a recent report suggests that companies should be designing elder friendly warehouses. AS/RS systems can be an element of this."


With regard to RoI Richards says that some providers of automated and robotics systems are now offering variable cost models and suggesting a tipping point when Robotics as a Service (RaaS) is introduced with a unit cost that is less than or equal to the unit cost for warehouse operators undertaking the same task.


"This can be a very attractive option for fulfilment operations operated by logistics service providers," he says. "The introduction of automated storage and retrieval systems can enhance warehouse operations by increasing pick rates and accuracy levels. However, it can come at a cost, although many companies are now seeing a quicker return on investment through productivity and accuracy but also through utilising less overall floor space leading to reduced infrastructure costs."