State logistics firm helps in world virus fight -【AGV, Logistic, Air Cargo, Supply Chain, Warehouse, ERP system, Logistic Management, Chinese Market】
By ZHONG NAN | China Daily | Updated: 2020-05-29 09:34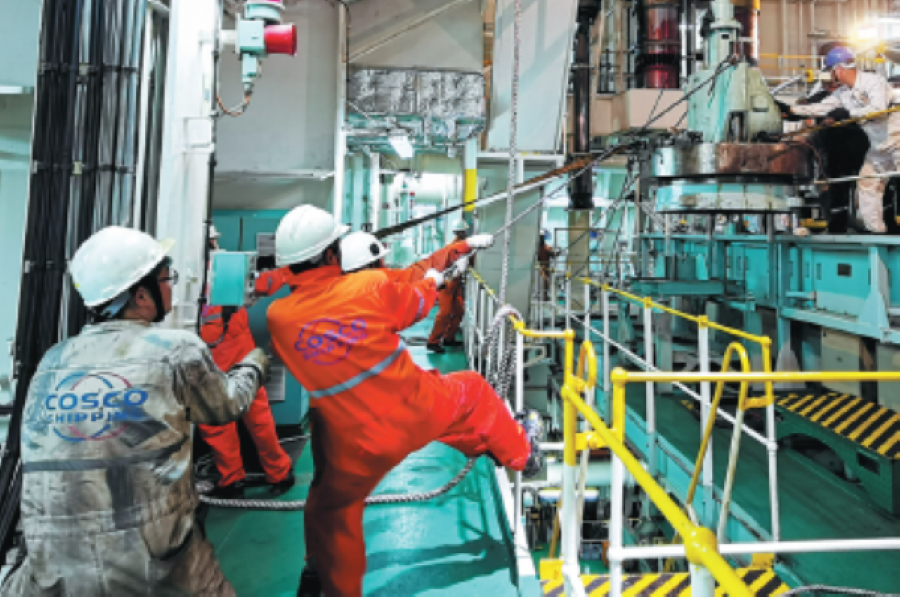 Crew of the MV. Yuan Jian Hai, a dry bulk carrier owned by China COSCO Shipping Corp, handle engineering equipment in the vessel's engine room in early April. [Photo provided to China Daily]

China COSCO Shipping playing vital role in fixing industrial, supply chains


With its vessels having delivered many batches of aircraft components from Germany to Airbus SE's Tianjin plant, medical supplies from China to countries including Italy, Greece and Uruguay, and frozen pork from Canada to Shanghai so far this year, China COSCO Shipping Corp has been rushing to fix and prevent disruptions to the world's industrial and supply chains caused by the COVID-19 pandemic.


The Shanghai-based group has been helping other centrally-administrated State-owned enterprises including China National Chemical Engineering Co, China Railway Rolling Stock Corp and Aluminum Corporation of China to either export their chemical goods and trains or import commodities from countries including Saudi Arabia, India, Indonesia, Vietnam, Thailand, Turkey and Guinea in the first four months of the year.


"As a key player in the global shipping business, we have taken more than 80 targeted measures and responded to the new situation in a flexible way to ensure the smooth operation of domestic companies' overseas projects, international production capacity cooperation and the timely export of goods since the pandemic broke out," said Xu Lirong, chairman of China COSCO Shipping, the world's largest shipping company by fleet size.


Apart from assisting domestic companies from both private and SOE sectors in stabilizing their supply chains, the company also delivered key components for the production of A320 aircraft by Airbus in the Tianjin Binhai New Area in mid-April amid the closure of many overland routes.


Facing the outbreak of COVID-19, Xu said the group's global team in charge of this project has focused on epidemic control and operation, ensuring a smooth international supply chain for the Airbus project. Beginning in June 2008, the Chinese firm has undertaken the entire logistics transportation process for the European aircraft maker's final assembly plant in Tianjin.


Despite the outbreak generating a number of uncertainties in global trade and logistics activities beginning in January, the group's European branch has maintained close contact with the representative office of the China (Tianjin) Port Free Trade Zone's administrative committee in Europe and Airbus' Hamburg, Germany plant to ensure safe and smooth operations in Europe.


To complete the work, China COSCO Shipping secured a stable line to and from Europe within which key components are shipped and punctuality and delivery guaranteed to meet client requirements to push forward the entire logistics transportation plan.


China COSCO Shipping delivered components of 25 aircraft from Europe to China between Jan 24 and mid-May, thus helping maintaining the global logistics supply chain for the Airbus project.


Xi Jinping, general secretary of the Communist Party of China Central Committee, chaired a leadership meeting on the effective implementation of regular epidemic prevention and control measures on May 14.


The meeting of the Standing Committee of the Political Bureau of the CPC Central Committee also studied measures to boost the stability and competitiveness of industrial and supply chains.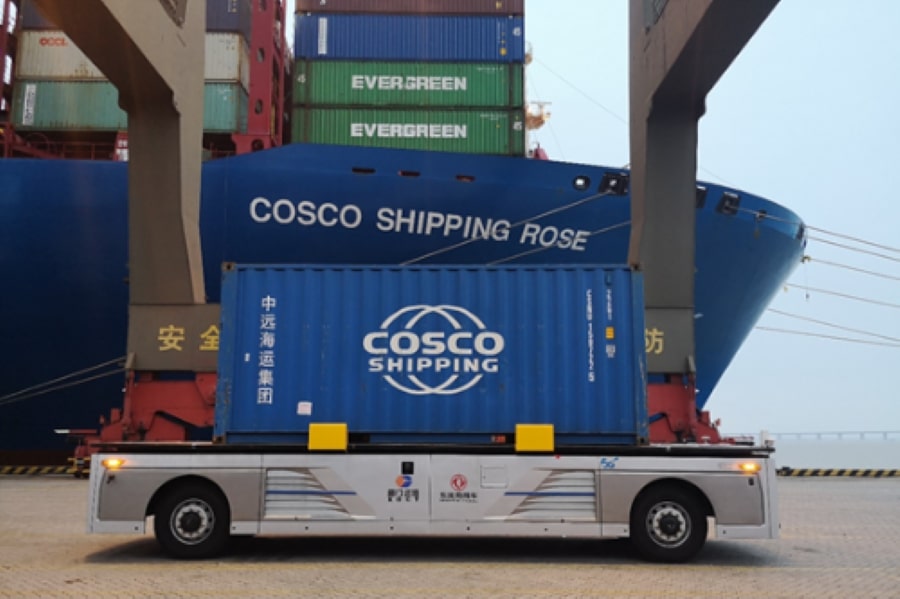 The unmanned carrier of COSCO at Xiamen Yuanhai 5G smart port in Fujian province. [Photo/coscoshipping.com]

Efforts should be made to reestablish the foundations of industries, upgrade industrial chains and bolster scientific and technological innovation, read a statement issued after the meeting.


On the premise of implementing regular epidemic prevention and control measures, China should promote coordinated business resumption focusing on major industrial chains, leading enterprises and key investment projects, according to the meeting.


As the pandemic has forced many airlines to cut service to several regions of the world, China COSCO Shipping's container ships have begun to carry international mail and other parcels for China Post Group Corp from Shanghai to Japan, New Zealand and the Middle East.


Encouraged by this new partnership formed late last month, Xu from China COSCO Shipping said that these new shipping channels will greatly ease pressure on international postal services caused by the contagion and facilitate the smooth flow of international mail and medical supplies.


To maintain solid economic fundamentals, the government emphasized the importance of focusing on the "six priorities" of safeguarding employment, people's livelihoods, the development of market entities, food and energy security, the stable operation of industrial and supply chains and the smooth functioning of society.


While the global shipbuilding industry still faces headwinds amid waning demand, Xu reiterated that the group will continue to focus on developing maritime transportation, logistics, finance, equipment manufacturing, shipping services and social services industrial clusters to further facilitate the integration of its shipping business and build the company into a competitive global logistics services provider.


"These businesses will effectively transform the group's shipping activities into a more diversified operation. They can take full advantage of the opportunities that have already arisen from the Belt and Road Initiative and the growth of the Yangtze River Economic Belt, and will encourage domestic companies to expand overseas with better support services," said Zhang Qi, a shipping industry professor at Shanghai Maritime University.


For the next step, Zhang said China's huge consumer base, reform and opening-up policy measures will further attract global companies to invest in its markets and create new demand for products and commodities, and it certainly will generate new momentum for shipping companies in both China and elsewhere.


Supported by more than 140,000 employees, China COSCO Shipping owned 1,310 vessels, including 424 bulk vessels and 204 oil tankers with a capacity of 105.92 million dead weight tons by the end of March, ranking tops worldwide.


It has also invested in 59 terminals across the world, including 51 container terminals, to enrich its global business lines. The annual throughput of its container terminals is about 125.85 million twenty-foot equivalent units.