Stimulus packages to help sustain economic momentum -【AGV, Aviation Logistic, Supply Chain, Warehouse, ERP system, Logistic Management 】
By Zhong Nan | China Daily | Updated: 2020-03-19 09:42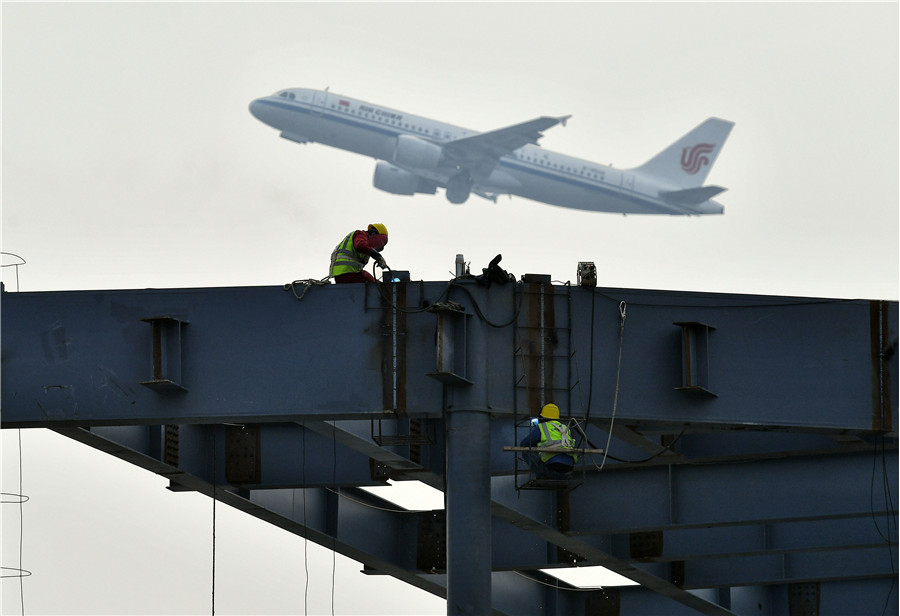 Stimulus packages to boost infrastructure investment will likely be an important policy tool used by local governments to shore up the economy, job and consumption markets on a long-term basis, analysts and industry experts said.

Their comments came after over 20 provincial and municipal governments announced a series of infrastructure investment projects worth nearly 7.6 trillion yuan ($1.09 trillion yuan) this year, indicating the nation is injecting growth momentum into the economy after an extended period of slowdown caused by the novel coronavirus outbreak.

Beijing issued a list of 300 key projects with a planned investment of 252.3 billion yuan for this year late last month. About 66.2 billion yuan is expected to be used for 100 infrastructure projects, including seven national railway projects, five suburban rail projects, 16 subway and 12 highway projects.

Central China's Henan province plans to invest 837.2 billion yuan this year on sectors like waste disposal, airports and logistics facility development.

Zhou Lisha, a researcher at the research institute of the State-owned Assets Supervision and Administration Commission of the State Council, said that while the impact of the outbreak is regional, short-term and manageable, the big-ticket infrastructure projects will help many service businesses and manufacturers to resume operations and production soon, create jobs and boost economic growth.

CCCC Road and Bridge International Co, a subsidiary of State-owned China Communications Construction Co, won the bid for a road extension project in Shunde district of Foshan in South China's Guangdong province late last month. The project's contract value is 1.89 billion yuan and expected to be operational in 54 months.

This project will reduce the road travel time between Shunde and Nansha New Area in Guangzhou. It will also promote the integration of the Guangdong-Hong Kong-Macao Greater Bay Area and attract foreign direct investment, said Sun Ziyu, vice-president of the Beijing-headquartered CCCC.

Wang Jun, vice-president of China Railway Rolling Stock Corp, the country's biggest train manufacturer by sales revenue, said infrastructure projects in railway sector this year will create opportunities for the application of the group's 400 km/h conventional trains and maglev (magnetic levitation) trains with a designed top speed of 600 km/h.

Zhang Yansheng, a senior researcher at the Beijing-based China Center for International Economic Exchanges, believes that unlike monetary measures, higher investment in the infrastructure sector is a practical way to deal with the economic slowdown and stimulate manufacturing activities. It can also help regain economic vitality, he said.


Infrastructure accounted for 31.2 percent of China's GDP growth last year, while consumption and exports contributed 57.8 percent and 11 percent respectively, according to data from the National Bureau of Statistics.

Chinese provinces and major cities will not only speed up investment in the development of traditional infrastructure categories such as railroad and regional airport development, but also add resources to public health services, 5G networks and cutting-edge manufacturing technologies, amid efforts to mitigate the impact of the epidemic outbreak, said Zhang Liqun, a researcher with the Development Research Center of the State Council.

These infrastructure projects can also bring growth points to global companies looking to jointly develop businesses across the country, Zhang said.

The Shanghai government has released a list of major projects to be constructed this year. It involves 152 projects, including the expansion of Shanghai Disney Resort, the second phase development of the Tesla Gigafactory in Shanghai, and the integration platform of the civil aircraft avionics system and the industrial chip development program.


Jerome Bendell, the China CEO for Thales Group, a French industrial conglomerate, said: "We will continue to collaborate with our local partners to deliver more innovative technologies to support the future development of China's civil aviation, ground transportation, digital identity and security industries."

Thales is also actively participating in the development of China's civil aircraft industry, and hopes to bring high-end technologies and solutions for Commercial Aircraft Corp of China's CR929 aircraft project, he said.

In terms of enhancing the weak links of infrastructure, the government will also enhance construction in causes such as poverty alleviation, transportation and energy, people's livelihoods and the renovation of old urban residential areas, according to new policy measures released by the National Development and Reform Commission on Tuesday.