Intelligent robots join the virus battle - 【Medical logistics,Warehousing logistics,AGV,CeMAT ASIA】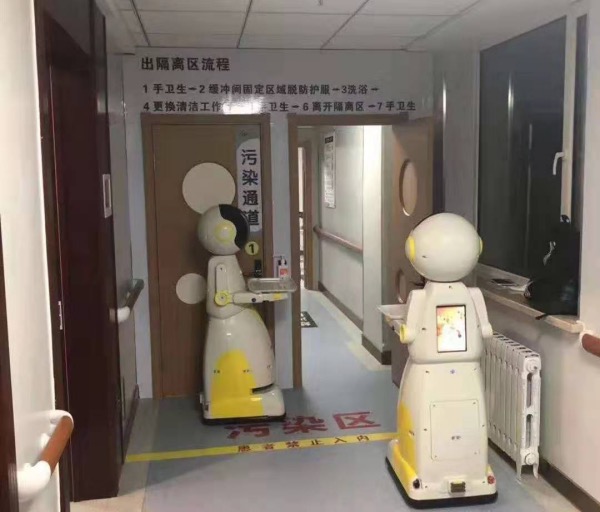 Medical distribution robots have been sent to the First Affiliated Hospital with China Medical University in Shenyang for nursing and treating novel coronavirus patients. [Photo provided to chinadaily.com.cn]

Intelligent robots will join in the front line of fighting against the novel coronavirus in Shenyang city, capital of northeast Liaoning province, according to city officials.

Shenyang-headquartered SIASUN Robot and Automation Co (SIASUN) donated a total of 31 intelligent robotic units to the virus prevention and control centers of the city through the Shenyang Red Cross on Feb 5.

The donations included seven SL-AC1-A medical distribution robots, 14 SRYC1402C multi-functional catering service robots and 10 L-MB1-A intelligent nursing beds.

Of these, officials said that the medical distribution robots and intelligent nursing beds were sent to the First Hospital Affiliated to the China Medical University for the care and treatment of virus infected patients and suspected cases.

Officials said the multi-functional catering service robots were distributed to the Shenyang Culture, Tourism and Broadcasting Bureau. These will help with the services and catering in the epidemic-prone areas.

The medical distribution robot adopts cutting-edge technologies such as laser positioning and intelligent navigation, multi-sensor fusion, human-computer interactions and multi-carrier designs to facilitate sterilization and disinfection.

These can be used for the distribution of medicine, equipment and consumables in infectious disease areas, which will help improve the hospital efficiency of material management during epidemic prevention.

The intelligent nursing bed can help with the patients' self-feeding, rehabilitation and other activities, which is expected to greatly reduce the contact time between medical staff and patients and reduce the probability of infection.

Meanwhile, the multifunctional catering services robot has interactive functions such as face recognition and voice recognition, which can effectively avoid unnecessary personnel contact and reduce the possibility of epidemic spread.

"Intelligent robot products can effectively replace some related work done by medical staff", said Teng Wei, deputy director of the First Hospital Affiliated to the China Medical University.
More information, please click here.