Volunteer drivers ship veggies to frontline of virus fight -【CeMAT ASIA, warehousing, supply chain, logistic industrial,cold chain】
Since the onset of the novel coronavirus outbreak in Wuhan in central Hubei province, most people have avoided going to the city in order to reduce the risk of being infected.

Nevertheless, a group of volunteer drivers from Inner Mongolia recently answered the call of compassion to travel to the epicenter of the epidemic – and it's all about veggies.

Driver Li Gaofeng from a transportation team in Xiliinhot, together with Li Gang and Fan Zhizhong, volunteered to transport more than 30 metric tons of donated fresh vegetables to Wuhan to help with local citizens' vegetable supplies.

They departed from Xilinhot to Beijing to load the vegetables on Jan 30.

Traveling more than 1,700 kilometers from grassland to plain, they successfully arrived in Wuhan on Feb 1.

Over a three-day period, the drivers did not dare stop and took turns driving. They only ate instant noodles to save time along the journey.

Li Gaofeng said that he has been paying close attention to the virus fighting conditions and obtained the volunteer task via publishing his information on an information sharing platform supporting Wuhan.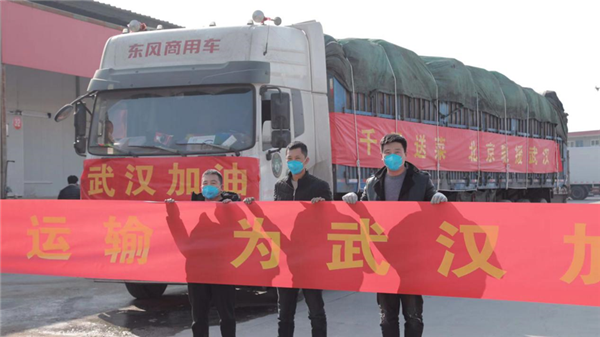 More information, please click http://innermongolia.chinadaily.com.cn/2020-02/07/c_450961.htm