Can-the-hybrid-fridge-future-proof-sustainable-cold-chains -【CeMAT ASIA, warehousing, supply chain, logistic industrial,cold chain】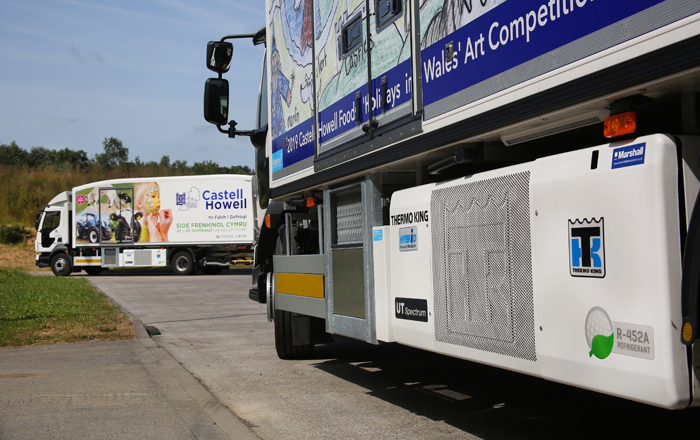 Like other supply chain sectors, cold chains are facing challenges when it comes to finding green, sustainable solutions.
However, for cold chains, powering refrigeration is one inescapable fact they must contend with.
Now the UK food wholesaler, Castell Howell Foods, is introducing a hybrid fridge system on the trucks and trailers it uses, supplied and installed by Marshall Fleet Solutions.
"We have been using Frigoblock electric units in our fleet for over 15 years and we've been waiting for a solution that would combine both the Frigoblock and Thermo King technologies in a rigid truck refrigeration system," says Martin Jones, the Director of Transport at Castell Howell Foods.
Future Proofing the Cold Chain
This hybrid fridge technology had its first UK unveiling at the 2019 Commercial Vehicle Show.
It enables transport and delivery firms to future proof the cold chain using clean technology.
Castell Howell has been working closely with Thermo King, Frigoblock and Marshall Fleet Solutions to first test a prototype of the hybrid fridge system.
This is an undermount application for trucks and drawbar trailers, built on technology used in the Thermo King SLXi Hybrid trailer and Frigoblock alternator and inverter-drive.
As Marshall Fleet Solutions Managing Director, Mark Howell explains,"Thermo King was the first company to offer its European customers true hybrid and non-diesel truck and trailer refrigeration solutions. Currently it has more than 25 electric products in its portfolio providing superior performance for customers."
The hybrid fridge system works by switching between diesel and electric power modes on the vehicle's Thermo King unit. This enables the vehicle to run in residential areas, inner cities and other low emission zones.
Reducing the Cold Chain's Carbon Footprint
Castell Howell has been testing the TK Hybrid system since May 2019, on a combination of motorway and city centre routes in real-world circumstances, making around 30 daily deliveries.
Combining the best of both alternator-driven electric and diesel technologies, the Thermo King system enables cold chain vehicles to make significant fuel savings, with a positive impact on the bottom line.
"With the hybrid mode switched on continuously, we're experiencing fuel savings of approximately 20 litres of fuel a day, six days a week," says Castell Howell's Martin Jones.
The firm's drivers adapted well to the new system, due to the simple transition between technologies. The driver simply sets the vehicle when leaving the depot and the hybrid technology does the rest, switching between diesel and electric modes.
This occurs seamlessly throughout the working day, depending on the unit's requirements.
"The versatility and fuel efficiency of a unit running on the power of the truck where it can, with backup of a conventional diesel on certain routes with long stops or intense drop counts, will definitely increase the flexibility of our operations."
The hybrid fridge technology also aligns with Castell Howell's sustainability strategy, enabling the business to reduce its carbon footprint.
"We're really looking forward to demonstrating this new hybrid project to our customers. It marks another step in creating more sustainable and environmentally cautious forms of transport for the future."
Read more at: http://www.logisticsvoices.co.uk/can-the-hybrid-fridge-future-proof-sustainable-cold-chains/
‍