Geek+ launches three new products
On the CeMAT ASIA 2019, Geek+ introduced three new products, the flexible unmanned bin overall solution, the F16R high-position smart forklift and the M20 small handling robot.
Mr. Xiaogang Cao , Senior Director of Geek+ Solutions, told reporters that Geek+ Flexible Unmanned Warehouse is the industry's first commercialized and intelligent warehouse full-process flexible unmanned warehouse solution. This solution breaks the rigid design concept of traditional automation equipment. Based on the "extreme wisdom cloud brain", it can perfectly integrate with customers' different systems, equipment, operation modes, planning layouts, etc., achieving high flexibility, high compatibility and high. Expanded unmanned warehouse deployment and operations management, while reducing customer operating costs and improving operational efficiency.
The F16R high-position smart forklift is another new product that Geek+ introduced at this exhibition. This product is jointly customized by Geek+ and other country's first-line forklift manufacturers. It has the advantages of intelligence, high efficiency, energy saving, environmental protection and safety. With a maximum load of 2 tons, the product can safely and steadily lift the cargo to a 9m environment, while supporting manual switching operations. With the AI vision algorithm and self-developed laser SLAM navigation scheme developed by Geek+ for intelligent forklift product training, it can adapt to a variety of complex road conditions and various factory production lines and storage environments, and easily respond to production line cutting and high shelf access. Various industrial/warehouse application scenarios such as soft library stacking.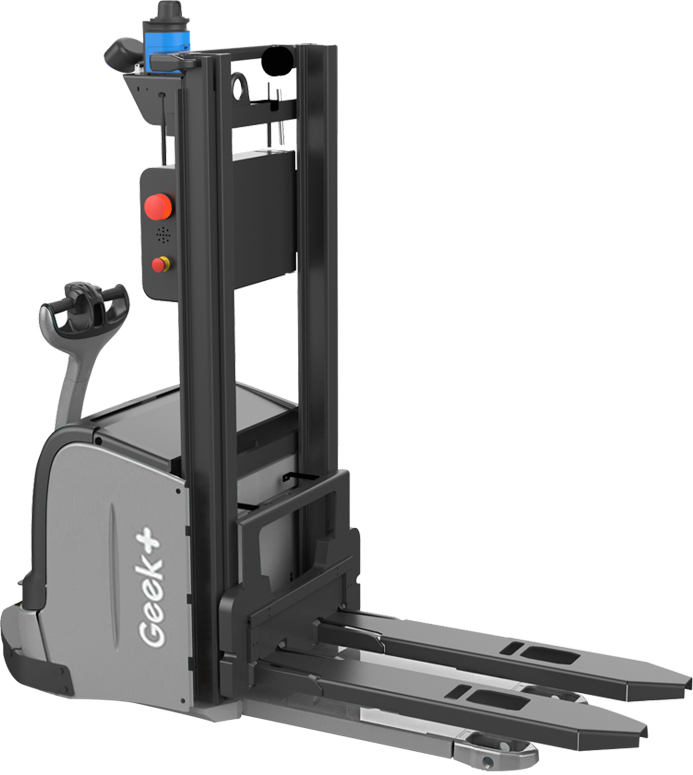 The M20 small handling robot is only 560mm*515mm, which is mainly suitable for small warehouses such as front warehouses and hospital pharmacies. The M20 is equipped with a human-computer interaction platform above the robot, so that the human can directly operate the tablet to control the robot. The M20 provides a flexible solution for the intelligent transformation of small warehouses, which can be deployed without affecting the normal delivery status of existing warehouses. With the order-to-person system, more than 300 robots can be scheduled to work together, and the path can be intelligently planned, greatly improving the efficiency of order shipment.
Xiaogang
Cao
said that the new product release reflects the latest product layout of Geek+ based on CARE strategy. It is committed to customer-centered, artificial intelligence-driven, and promotes ecological empowerment, ultimately helping customers to achieve digital and intelligent agile supply chain for customers. Create real, comprehensive business and social values.
Reprinted from the network