Beijing Machinery Industry Automation Research focuses on four intelligent logistics solutions
Founded in 1954, Beijing Machinery Industry Automation Research Institute is a scientific research institution directly under the former Ministry of Machinery Industry. In 1999, it was transformed into a large-scale technology enterprise directly under the Central Government.
Beizi is a unit that researches and develops automated logistics technology in China. For decades, it has been adhering to the fine traditions of the company, continuously absorbing advanced technology, accumulating design and construction experience, and has now become a domestic logistics system integrator, at home. leading position.
According to the characteristics of various industries, North has adhered to design innovation, manufacturing innovation and management innovation in the field of warehousing and logistics technology. Various types of automated machinery and related control systems, such as roadway stackers, palletizing robots, conveying equipment, shuttle trucks (RGV), automatic guided carts (AGV), EMS, sorters, etc., have been developed around automated logistics systems. And logistics equipment and software products for system simulation software, logistics management software (WMS), image acquisition and processing software, monitoring software (WCS), scheduling software and ERP system interface software used in different industries, and successfully applied to various automated logistics Among the system projects.
North has successfully completed more than 500 automated logistics system projects, and its business chain covers the entire logistics industry from production logistics and distribution logistics to large logistics distribution centers.
Participating in the CeMAT ASIA 2019, Beijing Machinery Industry Automation Research has concentrated on the four intelligent logistics solutions.
1. Synthetic fiber manufacturing full process intelligent logistics solution:
It provides the all-round automation solution for the spinning workshop from the wire-drawing, loading, sorting, packaging, warehousing and MES systems of the winder, and has been applied to more than 10 chemical fiber leading enterprises in the country.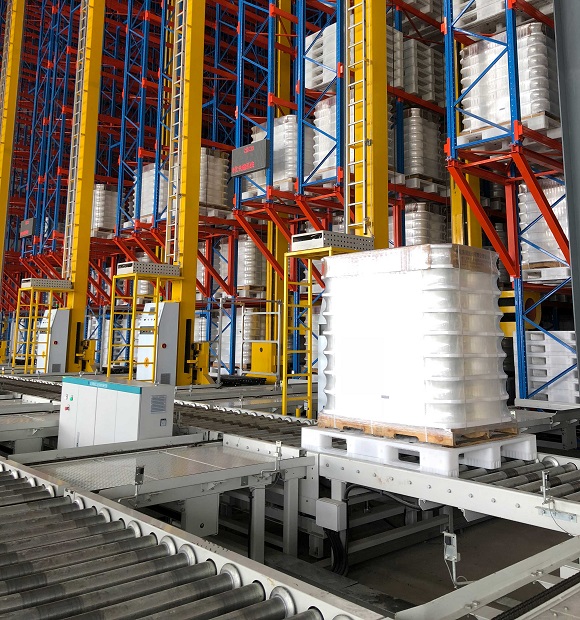 2. Cold chain logistics automation solution:
Dozens of automated three-dimensional cold storage projects have been completed, and a large number of design and construction experience of shelves, automation equipment and control systems in low temperature environments have been accumulated. The company has successfully developed a stacker for -30 °C and introduced a variety of different solutions such as stackers and shuttles.
3. Shuttle smart storage solution:
It can meet the high-density, high-efficiency, automatic, low-cost logistics storage needs, and is widely used because of its convenient and safe use. The solution can increase storage capacity by about 20% and reduce construction costs by about 10%. It is suitable for food, cold chain, military, fast-moving consumer goods and other industries, and has been successfully exported to Europe and Asia.
4. Goods picking system solution:
Unified management, scheduling and optimization through information systems. The multi-layer shuttle system is based on box storage and automatically accesses goods with the picking station to achieve order caching and sorting. It has super high processing capacity and is accurate and efficient. The picking station can process 4 independent orders at the same time, which improves the efficiency of the staff's zero-removal picking. Each workstation can complete 500-1000 picking tasks per hour. The goods-to-person picking system has successfully achieved overall export to Southeast Asian countries.
Chuanjun Chen said that China's logistics equipment market is in strong demand. Beijing Machinery Industry Automation Research will continue to strengthen product research and development, integrate advanced technologies such as artificial intelligence and big data, and realize continuous innovation of equipment, software and algorithms to provide better quality for customers' high-quality development. Solutions and services.
Reprinted from the network