Charging for 10 minutes and running for 8 hours, no one forklift came
A Dutch company has developed the smallest and most compact pallet AGV on the market today!
Friendly tips, it is recommended to enjoy under wifi, with knowledge of traffic!
Pallet AGV, commonly known as self-propelled pallet truck. Mainly used in the library work scene, the function is to carry goods in trays.
The Nipper AGV in the video is a palletized AGV that can move completely autonomously. It relies on WIFI communication capabilities to automatically navigate through the natural structure of the natural environment without the need for additional infrastructure.
Nipper AGV technical advantage
1) Strong endurance
The battery management system provides a charging time of only 10 minutes, after which Nipper can run for 8 hours.
2) Human-machine safety and harmonious operation
Nipper is an unmanned, compact AGV for internal pallet transport. It can safely work with the staff in the warehouse without mutual interference or influence.
3) Independent programming, flexible operation
Nipper can be programmed independently, and the built-in line process is easy to adjust. Simply manually modify or add work lines with intelligent software, it can be automated to run in the warehouse.
4) Accurate positioning, no infrastructure navigation
Nipper uses structures and outlines as a reference for localization in its work environment. There are no sensing wires, magnets or reflectors. A reflector can be used to increase the positioning from +/- 1 cm to +/- 1 mm.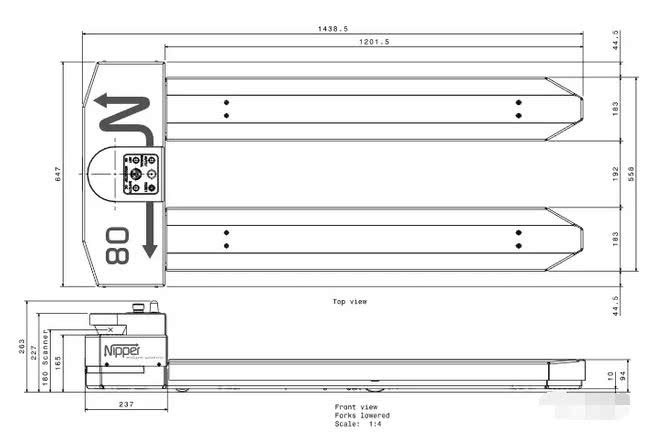 Technical specifications
Weight: 120 kg
Load capacity: 1000 kg
Safety: laser scanner with integrated safety zone
Navigation: Free programming according to the structure and contours in the work environment
Driving speed: 2km / h standard (optional 4km / h)
Management: BMS (Car Battery Management System)
Charging station: fully automatic loading without manual intervention
Battery charging time: 10 minutes
Battery voltage: 24V
Chemistry: Lithium iron phosphate
Battery capacity: 50AH
Rotating circle: rotating around its own axis
Applicable to: warehouses with a lot of pallet operations. It not only completes fully automated handling, but also saves manpower and avoids or reduces damage to the goods caused by manual work.
Reprinted from the network