Logistics becomes smarter – improving the efficiency of the entire supply chain
Businesses face enormous challenges: act as efficiently as possible. Material flow and internal logistics processes must be optimally coordinated at all times. If you encounter obstacles at a certain point, it will affect the entire value-added chain – and will ultimately affect competitiveness. Intelligent sensors and networked systems ensure an efficient logistics process within the framework of Industry 4.0. Data is collected, prepared in real time, and forms the basis for decision making for both autonomous and controlled processes. In fact: the entire process of tracking goods and processes combined with intelligent systems to achieve an independent optimization process.
A material warehouse that inspects its inventory in real time and orders supplies. A shuttle that coordinates orders and routes. Or a transportation system that arranges its routes independently: these complex systems require high-performance products and technologies to work reliably. As one of the leading manufacturers, SICK has proven sensors and software solutions that provide greater security, flexibility and efficiency for a wide range of industries – along the entire value-added chain.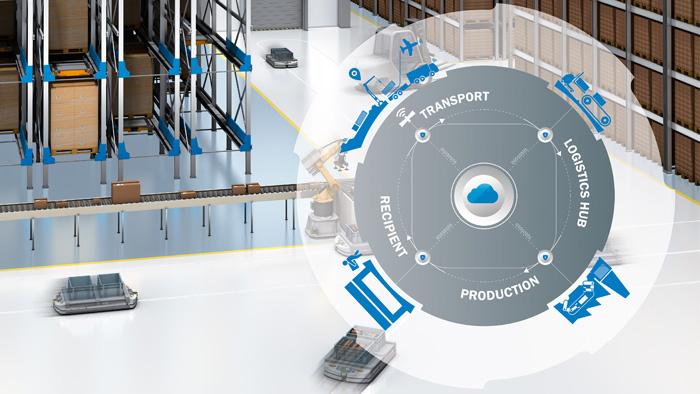 Increase process flexibility through intelligent networking
Networking is the foundation for increased flexibility along the value-added chain. The logistics process can be controlled and optimized in real time through intelligent, data-based services. But networking is not limited to the door of your own factory. Processes can be networked, synchronized, and coordinated globally through the cloud.
There is a very wide range of ways to connect logistics processes without gaps. Programmable Sensor Integration Machine (SIM) or TDC gateway systems can centralize and transmit different data signals, which can then be prepared on a local server or through a cloud service. As a founding member of the International Data Spaces Association (IDSA), SICK places great emphasis on data sovereignty. Any company should have complete control over its data and a separate decision on how to handle it. In addition, SICK supports secure data exchange between partners.
Safe transportation and uninterrupted tracking of goods
Whether at the container terminal, on the railroad, in the warehouse or at the airport: the tracking system ensures uninterrupted tracking of the goods. Systems in the areas of driving assistance, motion monitoring and safety ensure smooth transportation.
Take port logistics as an example: the terminal and transportation processes are basically automated and follow fixed rules. In order to minimize the risk of collisions and damage to cargo and port equipment, a large number of sensors are used to detect containers, measure distances and protect transport vehicles.
In industrial environments, vehicle protection is also becoming increasingly important. Cameras, radio frequency identification and laser technology provide reliable collision protection for manned transport vehicles and autopilots, and easy handling of cargo.
These techniques are also used in the semi-automation of tracking cargo train cars or pushing the aircraft back. The result: high availability of the means of transport, thus shortening the transport time and improving the working conditions of the employees while avoiding shipping errors.
Efficient solutions for internal logistics applications
The automation solution offers great potential for increased efficiency and maximum throughput for both the warehousing and logistics center. The reason is the increasing speed of cargo turnover and increasing storage and space costs. The goods must be transported from point A to point B more and more quickly - the delivery error will be lodged by the recipient.
In the messenger, express, parcel and postal industries (KEP), success depends primarily on two factors: throughput and sorting accuracy. Even at higher speeds, the tracking system can measure and identify packages. With the size data, the generated postage can be determined as needed. Tracking systems - for example, can be mounted on conveyor belts - ensure transparency along the supply chain.
In addition, SICK's parcel analysis software provides the possibility to monitor the system and overview its performance. This ensures traceability while improving measurement accuracy and sorting process efficiency – whether on the conveyor belt, in the freight center or throughout the network.
In complex warehouse systems, sensor solutions ensure optimal storage space and safe handling through warehouse shuttles to eliminate accidents. The integrated camera and photoelectric sensor automatically recognize the object, check for possible protrusions and position the shuttle in front of the cargo. Safe and efficient.
Automated stacking and picking with robotic solutions with SICK sensors – and through data streaming as part of the best connected industrial environment.
Automated supply production
In production, sensor-based internal logistics solutions are also becoming more important. In addition to efficiency, autonomous processes can often improve safety and quality.
Whether it's an automatic navigation vehicle (AGV) or a towed train: these mobile platforms provide efficient and flexible supply of new equipment and return to empty containers. With the latest RFID and reading technology for almost any kind of cargo, the inspection process at the time of loading or unloading can be done flexibly and quickly. LiDAR sensors, cameras and radar sensors make autonomous, semi-autonomous or manned vehicles safer in the production area. Obstacles on the route will be immediately identified and bypassed.
Material handling within the production range is simpler: sensors for positioning (for example based on UWB or LiDAR technology) make all important objects in the manufacturing process completely transparent. Material is delivered in time by automatic ordering for kanban shelf containers or by means of robots and cranes. Intelligent internal logistics solutions save time, operations and manual request for materials.
Whether it's a pharmaceutical package or a machine part: a personalized tracking solution with SICK sensors enables a clear identification of a single object at any time and a continuous trace of its route along the production steps.
Full transparency for the recipient
Each shipment has a recipient – either a device for the production employee or a package delivered to the customer via courier. Intelligent logistics makes the process transparent. The recipient knows in real time where the goods are currently located or when they are expected to arrive.
Once the component arrives, it can be easily credited to the recipient's system via the tracking system. Uninterrupted tracking is guaranteed across multiple workstations.
Data protection and data sovereignty are critical to senders and recipients. Data exchange is only possible among trusted partners. This way, each company has complete control over who can access which data.
Reprinted from the network