Growth and acceleration of the mobile logistics robot market
In 2017, the mobile logistics robot market value was 240 million US dollars, and it is expected to reach 11.269 billion US dollars by 2025, and the compound annual growth rate is 21.2% from 2018 to 2025.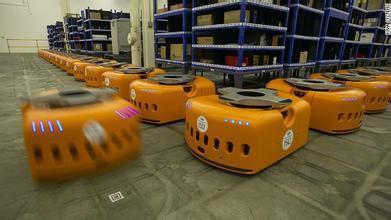 Mobile logistics robots are automated machines that increase the efficiency of logistics operations. The use of robots in logistics networks can be an effective alternative to traditional belt-based transportation systems. These robots are smart devices equipped with sensors, manipulators, control systems, power supplies and software to perform tasks more efficiently. The integration of warehouse and robotics helps ensure accuracy and automation while increasing warehouse storage space and operational efficiency.
The main companies covered in this report:
Aethon, Asic Robotics, Clearpath, Fetch Robotics, Kuka AG, Mobile Industrial Robots, Omron Corp Adept Technology Inc., Amazon Robotics, Savioke and GreyOrange.
According to business requirements, the development of logistics robot settings reduces the associated time loss and theft and intimidation. For example, according to the International Federation of Robotics, the mobile logistics robot industry experienced strong growth in 2017, with 69,000 units installed, an increase of 162% over 2016. It is estimated that a total of 485,000 units will be sold between 2019 and 2021. The compound annual growth rate is 18%. In addition, logistics robots are expected to be equipped with active binocular 3D cameras and fisheye cameras, ultrasonic sensors, 10-hour battery life, 50 kg capacity payload, fleet management software and cloud services.
Research and analyze global mobile logistics robot consumption (value and quantity) by key regions/countries, product types and applications, historical data.
- Understand the structure of the mobile logistics robot market by identifying its individual sub-segments.
- Focus on the world's major mobile logistics robot manufacturers, define, describe and analyze sales, value, market share, market competition, SWOT analysis and development plans for the next few years.
- Analyze the personal growth trends of mobile logistics robots, their future prospects and their contribution to the overall market.
- Share details of key factors affecting market growth (growth potential, opportunities, drivers, industry-specific challenges and risks).
Reprinted from the network