A detailed explanation of the rise of logistics giant DHL
First, from joining to direct marketing, from international express to integrated logistics
(1) Development process: 50 years of two-stage transformation, from international express delivery to integrated logistics
In September 1969, Dalsey used credit cards and accumulated customer resources as funding conditions. Hillblom used $6,000 as start-up capital. Lynn was funded by a commitment. Three people created a small express delivery in San Francisco, USA, with their initials. Company - DHL.
DHL's 50-year history can be divided into two phases:
DHL DHL (1969-2001): During this period, DHL focused on the international express delivery business and adopted the franchise system to achieve rapid expansion. In the 1980s-1990s, DHL grew into an international express leader.
DPDHL Deutsche Post DHL (2002-present): In 2002, Deutsche Post completed a comprehensive acquisition of DHL. Based on the integration of DHL and Deutsche Post brands, M&A integrates other businesses to form a comprehensive network of leading supply chain services. Logistics group.
Second, global status: highest revenue but lowest market value
Global integrated logistics provider Top3: In terms of comprehensive indicators, UPS ranks first among the three largest integrated logistics companies in the world, and DHL and FedEx are equivalent.
The highest revenue but the lowest market value: DHL's operating income ranks first among the three major integrated logistics companies, and the 2018FY revenue is 480 billion yuan. However, DHL's market capitalization and profitability are relatively backward. In 2018, the DHL 3.3% net interest rate is also different from the other two giants.
Third, the most balanced: comprehensive layout, business balance
Relative to FedEx and UPS's business structure based on express delivery and less-than-truck, DHL's business extends to multiple segments of the large logistics market such as supply chain and postal service, and each business has a balanced ratio, all of which are above 15%.
DHL achieves high-quality layout on the basis of comprehensive balance, and achieves the world's third in terms of freight forwarding and supply chain business (including air freight and shipping freight forwarding, supply chain). Logistics, etc.).
Under the balanced business layout, the highest level of profitability of the express delivery business is low: the express delivery business is the high-margin track in the logistics field, and the EHR profit margin of the DHL express business is 12%, much higher than other businesses. DHL Express has a business volume of 1.5 billion units, which is lower than UPS (5.3 billion units) and FedEx (3.6 billion units). The non-delivery low-margin business dilutes the overall profitability.
Fourth, the most international: the international express business pioneer
DHL's international express delivery business started in the early 1970s: DHL established its strategy of prioritizing the development of international express delivery business. In 1971, DHL established its first overseas network in the Philippines. At this time, FedEx was just founded; in 1972 DHL will The business expanded to Japan, and YAMATO has not yet launched the express delivery business; DHL has expanded its overseas footprint at an alarming rate. In 1980, its business covered more than 120 countries and regions. In 1990, it covered more than 180, and DPDHL is now in the world. More than 220 countries and regions provide high quality international express delivery services.
Fifth, the most comprehensive: the global leader in supply chain logistics
Strong supply chain logistics design capability is the embodiment of comprehensive logistics service level.
DHL supply chain logistics revenue scale is the world's first:
The scale is far ahead: 2018FY, DHL supply chain logistics revenue is 103.1 billion yuan, the market share is the world's first; the global market share of the second largest XPO supply chain logistics revenue is only 40.1 billion yuan.
The profit margin is similar: 2018FY, DHL supply chain logistics EBIT margin is 3.89% (4 years average is 3.69%), XPO is 3.56% (4 years average is 3.36%), Kuhne & Nagel is 2.63% (4 years average is 3.01) %).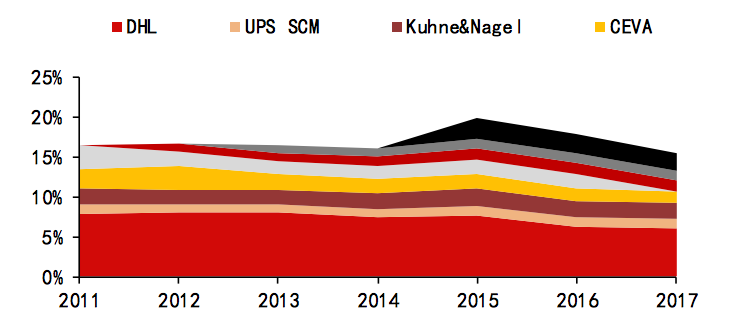 Reprinted from the network