Delivery to car scheme extended
From Logistics Manager Magazine
A project to deliver goods that have been ordered online to parked cars is being extended to Berlin following a successful trial.


The project, named chark, is organised by Lab 1886, part of Daimler and is open to drivers of recent models of Mercedes-Benz cars.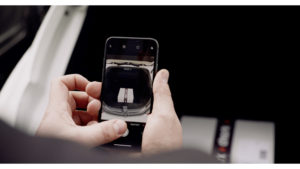 Daimler is testing chark, an in-car delivery service for online purchases.


Under the chark scheme, the user temporarily gives the digital vehicle key of the parked car to a service provider he/she has previously booked. The vehicle can only be unlocked and locked once, and cannot be moved.


If a customer wishes to have an online purchase delivered directly to the boot of the car, he or she enters the address of the chark hub as the delivery address when ordering, and his or her personal chark ID as an address supplement.


The user can decide the time window and parking location in which the service provider is permitted to open the vehicle. As soon as the delivery service is within a range of 500 metres of the indicated parking location, it is able to locate the vehicle by GPS and unlock it.