Price rises for M6 toll
From Logistics Manager Magazine,
Published Monday 17 June 2019 2:55 pm

Midland Expressway is increasing lorry tolls on the M6 toll road by 20-50p depending on the time of travel.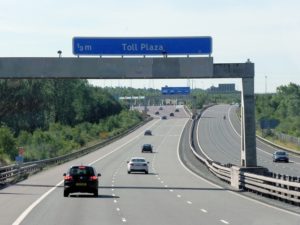 M6 Toll Road, Approaching Main Carriageway Toll Plaza, Southbound
cc-by-sa/2.0 – ©David Dixon


Tolls for light goods vehicles will increase by 10-50p, while car tolls will rise by 10-30p depending on time of travel.

Weekday pricing will change from the current day and night rates to include an additional off-peak discounted rate for drivers travelling on Monday to Friday between 5am – 7am and 7pm – 11pm.

Chief executive Andy Cliffe said: "Since 2014 we've seen a 14 per cent increase in trucks using our road – our prices and the structured deals we offer based on travel frequency have been carefully designed to ensure that the road remains attractive to HGV businesses of all sizes, and that they continue to feel the operational value of using the road."