Hydrogen fuel cell van for DHL
From Logistics Manager Magazine,
Published Friday 24 May 2019 1:49 pm
DHL Express and electric vehicle maker StreetScooter are collaborating on a 4.25 tonne electric van with an added hydrogen fuel cell which will give it a range of up to 50 kilometres.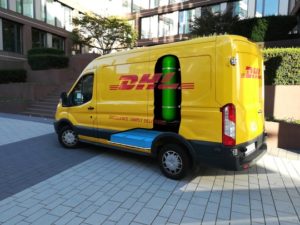 Markus Reckling, chief executive of DHL Express Germany, said: "With the H2 Panel Van, DHL Express becomes the first express provider to use a larger number of electric vehicles with fuel cells for last-mile logistics. This underscores our aspiration to be not only the fastest and most reliable provider on the market, but also the most climate friendly.


The H2 Panel Van, is based on the StreetScooter WORK XL delivery vehicle already used by DHL Parcel. It has cargo capacity of some ten cubic metres – about 100 express parcels. Like the StreetScooter WORK XL the new vehicle is being developed in collaboration with Ford.


The 4.25 tonne vehicle can be driven by drivers with passenger car licences and has a maximum payload of 800 kilos.


DHL Express has ordered 100 of the fuel cell vehicles, with delivery expected from 2020 through to 2021. There are no plans to sell the H2 Panel Van to third parties outside the Deutsche Post DHL Group.