Amazon introduces click and collect option
From Logistics Manager Magazine,
Published Friday 17 May 2019 10:19 am
Amazon has launched Counter in the UK and Italy that allows customers to collect their Amazon parcels in-store at a partner location such as retail outlets and convenience stores.


Counter partners include NEXT, Italian bookstore chain Giunti and the network of Fermopoint and SisalPay stores across Italy. Amazon is looking to bring onboard more partners across the UK both small and large businesses.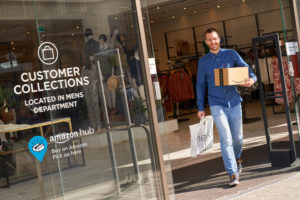 Delivery to an Amazon Counter location is available on the tens of millions of items sold on Amazon.co.uk and Amazon.it. It works with One-Day and Standard Shipping and is available at no extra cost to Prime members.


After shopping online, customers can select a Counter pick up point as their delivery location at checkout. Once their package arrives in store, they receive a notification with a unique barcode as well as the address and opening hours of their selected store. Customers have 14 days to collect their parcel.


When in store, staff will scan the barcode, retrieve the package, and hand it to the customer.


"The ability to collect Amazon parcels from hundreds of NEXT's UK stores provides a helpful and exciting new service for UK consumers," said Next PLC chief executive Lord Wolfson. "Amazon Counter combines the internet's power to offer unprecedented choice with all the convenience of local stores. In a tough retail environment, our aim is that Amazon Counter will contribute to the continued relevance and vibrancy of our stores."


* Amazon is set to be the largest investor in Deliveroo's latest funding round, which has been launched to raise $575 million.


Doug Gurr, Amazon UK country manager, said: "We're impressed with Deliveroo's approach, and their dedication to providing customers with an ever increasing selection of great restaurants along with convenient delivery options."


The money will be used to expand Deliveroo's engineering team based in its London headquarters, as well as expanding its delivery reach.


This takes the total Deliveroo has raised to date to $1.53 billion.