10 pc of DPD's fleet to go electric by 2021
From Logistics Manager Magazine,
Published Friday 26 April 2019 10:37 am
DPD plans to have more than 550 electric vehicles by 2021 – some ten per cent of its delivery fleet.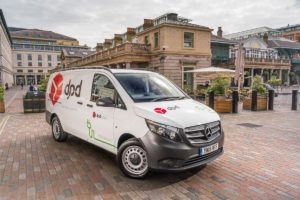 As part of its electrification plans, DPD is to introduce the new fully-electric Mercedes-Benz eVito van to the fleet and has commissioned ten of the 3.2-tonne long-bodied versions of the van.


The vans will be used in London, where DPD currently has three all-electric depots in Westminster, Shoreditch and Hyde Park. The eVito will also play a part in a nationwide roll-out of DPD's EV fleet later in the year.


The Mercedes-Benz eVito employs an electric motor which channels its 116 hp output to the front wheels via a single-speed automatic transmission. It can be fully recharged in six hours which gives it a range of approximately 93 miles.


"It is an exciting time. The all-electric micro-depots have exceeded our expectations and we'll soon have eight such sites in London," said DPD chief executive Dwain McDonald. "We've got plans to add over 100 more EVs to our fleet in 2019 as we begin our roll-out across the UK. We will double that in 2020, and double it again in 2021 to over 550 electric vehicles.


"Effectively, we're already in a position to grow as fast as the manufacturers can supply the vehicles, so the more UK vehicles that are available, the faster the roll-out will be."