Pall-Ex and Staples partner for plumbers merchant contract
From Logistics Manager Magazine
Published Thursday 21 March 2019 2:46 pm
Pall-Ex and partner Staples Solutions has won a contract to provide warehousing and distribution for "Graham The Plumbers' Merchants", which is part of Saint-Gobain.


Goods will be warehoused at Staples' 500,000 sq ft facility at Rockingham. Pall-Ex has created a new groupage service for the contract. It currently transport more than 100,000 pallets a year for Staples.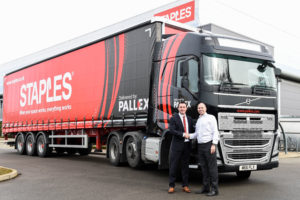 The new contract is the result of providing Saint-Gobain firm Jewson with a service over the last 18 months and is being marked with the launch of Pall-Ex and Staples new joint livery.



Pall-Ex managing director Kevin Buchanan said: "Over the last 18 months we have worked closely with Staples to develop a full-service offering, increasing Pall-Ex's corporate volume by 15 per cent and our network volume by 5.2 per cent.


"Our newly created full-load & part load service, the capabilities of our network and the addition of two new Pall-Ex staff, who are based at the Staples site, will ensure we exceed the expectations of Grahams and Saint-Gobain.


Staples is now a full solutions provider to UK businesses, with 50 per cent of sales coming from non-core office products, including technology, work wear, janitorial supplies, washroom, break room and products bespoke to customer needs. Supply chain director Kevin Lewis said: "The core values of our companies are closely aligned, which ensures our customer-focused approach is maintained throughout, from warehousing to product delivery, while the Pall-Ex network supports our need to provide customers with the shortest possible lead times."