Demon Group: Annual party of logistics industry—Damon stereoscopic sorting system
Today, in the annual big party of logistics industry - CeMAT Asia, Damon Group exhibites tridimensional conveyor sorting system tailored for new retail, e-commerce giants and garment factories, which includes the DUCK overhead conveyor and sorter system, the i-G5 modular intelligent conveyor platform and carton-type high speed reciprocating vertical lifter. DUCK overhead conveyor and sorter system has a variety of uses such as transporting garment bags and hangers. The succinct design makes the DUCK system stable and durable, while maintaining minimum maintenance costs. With the transportation capacity of 9000 pcs/h and sorting throughout of 5000 pcs/h, it is the best choice for e-commerce DC centers, new retail sorting centers, garment factory and logistics centers. It has items handling, sorting, buffering and other functionalities. i-G5 is Damon's fifth-generation modular intelligent conveyor platform. Compared with the previous generation of cartonconveyors, i-G5 h a s evolutionary upgrades and innovations in the aspects of Internet of Things thinking, industrial design, flexible layout, high efficiency and convenience, energy saving and environmental protection. High-efficiency material
handling capacity of 120 meters per minute is especially suitable for logistics centers of fast-paced e-commerce, new retail and other enterprises.
Carton -type high speed reciprocating vertical lifter: It can realize "multi-input and multi-out" highefficiency vertical conveying operation, suitable for any operation scene. Driven by servo motor, it has a high speed and fast acceleration. Driven by synchronous belt, it has the features of maintenancefree, pollution-free and low noise. The high degree of standardization makes it perfect for being used in the cartontype conveyor system. It's easy to arrange and relatively independent. It can be coordinated with i-G5 horizontal conveying platform to realize high-speed conveying of materials across floors.
President Zhuo Xu provided his own opinion: "Firstly, standardization, modularity, flexibility are three key words of the trend; secondly, equipment manufacturer should be good at creating innovative design of transmission equipment according to the new different scenarios; lastly, the involvement of digital platform, big data and cloud technology."
"Damon constantly explores the technical boundaries, using technology integration to overcome the technical difficulties of conveying products, and finally becomes one of the excellent providers of logistics conveying and sorting solutions in China. Damon not only provides logistics equipment, but also empowers the industry to achieve synergy." Mr. Zhou Binghua, Director of Strategic Business Unit, proudly said.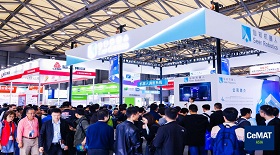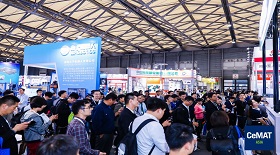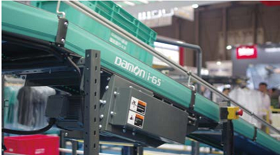 The Asia Logistics Trade Show is in progress.