Selected Exhibitors(Ho Jin Logistic & Machinery Co.,Ltd.W2-D3)
HoungFuh specialize in factory automation, conveying equipment, spray painting, lifting, automatic warehousing and sorting systems. Bearing our corporate philosophy of "Technological Innovation", "Customer Satisfaction", "Diversified Services" and "Reliable Quality", we stretched our progressive expansions overseas, subsequently setting up our Malaysia(Port Klang) and China (Shanghai and Chuzhou) factories. Our management, including our founder himself, came from highly technical engineering background, with more than 30 years of industrial experience, it helps us sustain a high level of service to our customers in the Asia Pacific region, while also gaining praise from Japanese and European clients.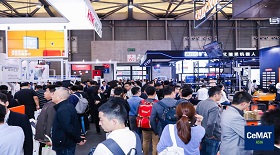 The Asia Logistics Trade Show is in progress.